View Blargh


Japanese Bakeries


I finally got a chance to return to Mont Blanc Bakery and Bakery Crescent. With a hungry stomach making my eyes quite optimistic, I loaded up on $20 worth of baked goods. As a Pastry House Hippo (PHH) fan for several years, that will be the bar to which the others are compared.

First up was Bakery Crescent which specializes in breads and buns. I picked up katsu-curry buns, sweet potato buns, mocha buns, pizza buns and blueberry cream cheese pastries. Overall, I would say that this is a good bakery that is on par with PHH, but since they are located in a separate strip mall and close at 5 or 6, I can't see a reason to go here over PHH.

The regular curry buns at PHH are quite oily and so were these katsu-curry buns. I guess all American curry buns are oily. The katsu (fried breaded pork cutlet) gives these the edge over PHH, but the oiliness of both versions is a major detractor. The sweet potato buns were pretty good and are not available at PHH. The mocha buns are pretty good: creamy and tasty but not overly rich. PHH has coffee danishes or chocolate creme filled buns but I'd have to give the mocha bun a slight edge. The Japanese style pizza buns have hot dogs instead of sausage or pepperoni and were pretty tasty. I have not had the ones from PHH so cannot compare. Lastly the blueberry cream cheese pastry was pretty good, about the same as PHH.

Next up is Mont Blanc Bakery (next door to Bakery Crescent) which specializes in cakes. Their signature dessert is the Mont Blanc which is a cupcake with a special chestnut topping (below left). This stringy looking frosting is popular in Japan and I saw several uses of this style at bakeries in Tokyo last year. Unfortunately, I did not quite understand the draw of this stuff. It wasn't particularly tasty in Japan and this version at Mont Blanc Bakery wasn't very special either.

The next dessert I tried was a Kahlua cake (below middle). It looked good but I couldn't really taste Kahlua. It tasted like a pretty average tira misu. Also, it had too much cocoa on top: when I was about to eat some, I ended up inhaling the cocoa which resulted in a bout of coughing. The last dessert was a Blueberry Cassis (below right). I couldn't taste the Cassis and other than a very mild blueberry flavor, the rest of the cake wasn't anything special.

Unfortunately, I was not impressed by Mont Blanc Bakery and I probably won't return. I'd rather pick up an Earl Grey or Green Tea pound cake, a tiramisu, or a specialty cake from PHH where they seem much tastier to me.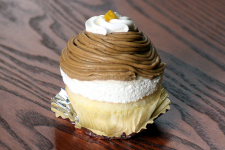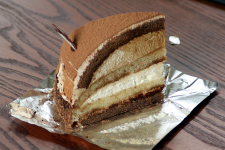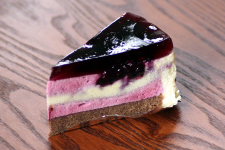 Posted 11/22/2008 01:17 AM in Chicago, Dessert, Food, Japan, Restaurants, Reviews | Total Comments: (2)
Link To This Blargh




Comments


Reviews reversed?
Are you sure you don't have your chopstick ratings reversed there, Fil? You were not impressed by MBB and probably won't return, yet it's the one that gets the chopsticks o' pleasure. On the other hand, BC is on par with PHH and only loses because of its location and closing hours, but it gets the chopsticks o' meh. Maybe PHH isn't all that great to begin with, creating a different standard of evaluation?
Submitted by Dan on 11/22/2008 06:59 PM





Oh, I guess I did switch them. It's hard to remember which is which... Looks like I had the summaries switched too.
Submitted by filbert on 11/22/2008 11:32 PM





Add Comment