View Blargh
Bethel Japan Missions Trip 2011 Newsletter 4
8/22/2011
In this issue:
Final Days in Japan
God's Work in Japan
Prayer Requests
---
Final Days in Japan
Wednesday was our final work day in the Shintate neighborhood of Ishinomaki. God blessed us with some cloud cover, which kept the day from getting too hot. We spent the day finishing projects such as cleaning up debris and power washing the streets near our work site.

One task that we had worked on throughout the two weeks was cleaning debris out of a farm field. The tsunami had destroyed a neighboring factory that produced small parts for cell phones and cars. All of these small pieces had been washed into this field. The owner despaired that the field could never be used again but several Samaritan's Purse teams worked on the field, including ours. One row at a time, each team meticulously combed through the soil and removed rocks, plastic buttons, tiny plastic parts, broken glass, blobs of oil from the harbor, trash and debris. The owner was amazed at the progress and is now able to till the soil and will soon be able to use the field to plant crops again.

The highlight of Wednesday was the hula and kakigori (shaved ice) party. Rick and (Little) John built a simple stage out of plywood and carpet and turned the shed into a dressing room. Two hula dancers from another missions group arrived to dance and teach hula to the crowd (we later learned that one of the hula dancers had accepted Christ that very morning!). About 50 people from the neighborhood attended, including several children. Our team then served kakigori and held umbrellas to shade the line from the sun. The laughter of children filled the lot as they played with leftover ice and downed their delicious treats.

After the party, we cleaned up and prepared to say goodbye. It was a sad moment as we filled out cards with our thoughts and presented them individually to each of the families we had served. Even though we had been the ones working, we thanked them for the honor and opportunity to serve and get to know each of them. One gentleman, an expert Japanese calligraphy artist, presented us with beautiful paper cards on which he had written, "Arigatou" which means "Thank You." Some also stayed and joined our prayer circle as we prayed for the neighborhood and Japan.

Finally, we packed up the van and drove away, waving through misty eyes to those who remained. We drove through Ishinomaki one more time to reflect and pray for the work that still remains and headed back to the Samaritan's Purse Base where some team members shared their thoughts and participated in our final night of worship with the rest of the base.
---
Thursday morning we packed up all of our things and loaded them into the van. With the Millhous's gone, our second car was smaller so the van was packed to the brim with all of our belongings. We said goodbye to the Samaritan's Purse base staff that had cared for us the last two weeks and various other friends we had made at the base. Then crammed into our vehicles and hit the road.

On the way, we stopped at the Red Cross Hospital so Dexter could have his stitches removed. 8 hours later, we arrived in Tokorozawa where we picked up Elaine, John's wife, and somehow fit her into the van.

We arrived at the missionary house in Tokorozawa at sunset. We unpacked then said goodbye to Araki-san and Suzuki-San as they continued to their own home. They thanked us for a wonderful experience and Araki-san presented us with a drawing he had made of the entire team.

Afterwards, the remaining team members went out to do laundry and stopped for dinner at Denny's (note that the food at Denny's in Japan is totally different from America) and had some dessert for a job well done.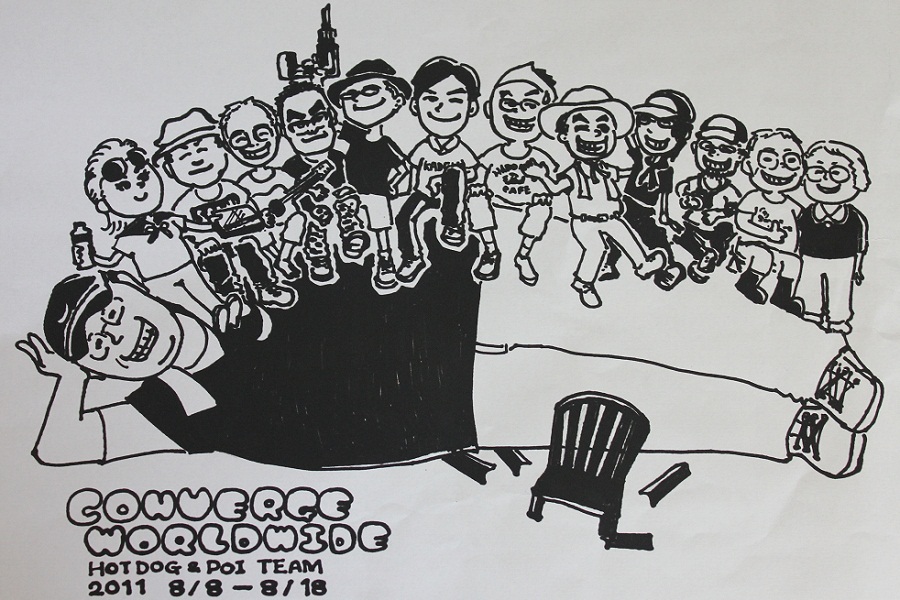 Agnes, Dexter, Rick, Little John, Matt, Yoji, Phil, Mas, Suzuki-san, Araki-san, Ken and Gerry perch atop our fearless leader, Big John.
---
Friday, God granted us with heavy rain to cool things down as we spent the morning relaxing. We had lunch at McDonald's to try the Terriyaki Burger where we met a councilman of Tokorozawa. The afternoon was spent shopping and after our final team dinner at the house, we took some final pictures and said goodbye to Yoji, the first team member to leave.

Saturday, we spent the morning reflecting and sharing our thoughts about the trip. Then Mas, Matt, Agnes and Phil packed their things and went to the train station. There, Agnes and Phil boarded a bus to the airport while Mas and Matt boarded a train to Tokyo where they would split and head to their next destinations.

Sunday, the Poi Boys attended the Kokobunji Baptist Church before heading to the airport as well.
---
God's Work in Japan
Our trip may be complete, but God's work is just beginning. God has used this time not only to impact the people we met in Japan but to impact us as well. In our sharing time on Saturday, we had the opportunity to share the ways God has been working.

(Big) John remarked that no human would have picked the people in our team, yet God chose each person to be a critical part of this team, a perfect set of skills and personalities to do His work. Stories were told of how God moved each person to be a part of this team through small miracles such as a passport being renewed in less than two weeks and an obscure connection that brought new members to the team. There were stories of doubt and fear that were given to God and steps of faith taken that brought us together. As a result of the trip, members shared how God healed past struggles, renewed passions for Japan and gave new callings to continue serving Him.

God has big things planned for Japan and the team can feel it. At no other time in history have there been so many Christians in Japan and so many churches active and working together. Even though this team's work in Japan is over, please continue to pray for God's will in Japan and for more workers to be called as there is still much work to do.

We leave you with this passage from Matthew that depicts how we felt driving through the destroyed towns and villages of Japan.
Jesus went through all the towns and villages, teaching in their synagogues, proclaiming the good news of the kingdom and healing every disease and sickness. When he saw the crowds, he had compassion on them, because they were harassed and helpless, like sheep without a shepherd. Then he said to his disciples, "The harvest is plentiful but the workers are few. Ask the Lord of the harvest, therefore, to send out workers into his harvest field." - Matthew 9:35-38
---
Prayer Requests
Pray for the families we met, the lives we've touched and the seeds we've planted, that they may bear fruit.
Pray for the future of Japan, that God's will would unfold and that a new age of faith would dawn on the Land of the Rising Sun
Pray that more workers would rise up and follow God's call to serve in Japan
Pray for physical, emotional and spiritual recovery of the team after 2 weeks of hard work, long travels and spiritual challenges.
Pray for the team members, that our hearts for Japan would grow and that we may faithfully return or send others, according to God's will.

Posted 08/22/2011 10:36 PM in Christianity, Japan | Total Comments: (20)
Link To This Blargh




Comments


Many thanks for all your hard work!
Yes, Math 9:35-38 tell us we need to find more workers, that include my/ourselves. The Tsunami disaster is a good example that God provides the opportunities for us, the Christians, to reach out and care for the people who have never heard about Him and His love. This is what Jesus said a time to glorify the name of God. I/We, who didn't go to Japan to serve, really admire you, the Hotdog and Poi team, to spend your working time, financial resources, and physical hard work and discipline to serve the Lord in a tough way; and share your spiritual inspiration to the people in Japan and us here. Hope you all have safe trip home, recover well, complete healing for those who were injured during the physical exertion in Japan. And I pray for God's bountiful blessings to all of you in your daily life, work, fellowship with people and families, ... Grace and Peace, Amen.
Submitted by Beverly Tsai on 08/23/2011 10:01 PM


Praise God!
It's been a blessing to see how God's been using you and your team over in Japan this year. Looking forward to your final presentation at church!
Submitted by Dan on 08/27/2011 03:28 PM


qeibghzPWGeDKcmJQBi
comment2,
Submitted by MNaqfxsasQjyOshJ on 10/04/2016 10:22 AM


mChtmcnHrEb
comment4,
Submitted by QAlbgrKexiXjAJjJwQ on 10/04/2016 01:57 PM


AaGruVAujIRFSlqX
comment3,
Submitted by QAlbgrKexiXjAJjJwQ on 10/04/2016 01:57 PM


RPTTOCcLqvHaK
comment4,
Submitted by hSdESxSWMO on 10/04/2016 04:48 PM


oGTRVAXxhAFmVgDU
comment1,
Submitted by HaptiNyI on 10/04/2016 07:44 PM


RolmkzMpxxAmRP
comment3,
Submitted by xBghwFtXLyzBrbDpJ on 10/04/2016 10:40 PM


gJsiBMmSOrnJbCw
comment3,
Submitted by wvvCnZIYOPnXXZ on 10/05/2016 01:11 AM


yDuQfEYaeEDy
comment6,
Submitted by EyghCgySGsOzklOY on 10/05/2016 03:12 AM


Test, just a test
Hello. And Bye.
Submitted by XRumerTest on 03/18/2017 06:49 PM


Test, just a test
Hello. And Bye.
Submitted by XRumerTest on 04/03/2017 01:49 AM


Test, just a test
Hello. And Bye.
Submitted by XRumerTest on 04/14/2017 05:28 PM


Test, just a test
Hello. And Bye.
Submitted by XRumerTest on 05/05/2017 09:53 AM


Test, just a test
Hello. And Bye.
Submitted by XRumerTest on 05/09/2017 01:18 AM


Test, just a test
Hello. And Bye.
Submitted by XRumerTest on 05/09/2017 10:22 PM


Test, just a test
Hello. And Bye.
Submitted by XRumerTest on 05/11/2017 04:48 AM


Test, just a test
Hello. And Bye.
Submitted by XRumerTest on 05/22/2017 08:59 AM


Test, just a test
Hello. And Bye.
Submitted by XRumerTest on 05/29/2017 11:22 AM


Test, just a test
Hello. And Bye.
Submitted by XRumerTest on 07/07/2017 02:44 AM





Add Comment