Blargh Archive for




To view past blarghs, simply select the month or year you would like to view on the left and click "go." If you are searching for a specific word, enter the word and the year you think it was mentioned on the right and click "go."


God told me to buy a motorcycle
It started a couple months ago. I attended Willow Creek and Pastor Bill Hybels gave the 3rd sermon in the Simplify series where he talked about financial reconciliation. After service, he invited anyone who might have the gift of giving to attend a special meeting in the under-construction Care Center. There he talked about the gift of giving and gave us all a set of books to read.

The following week, a guest speaker, Robert Morris, gave the 4th Simplify sermon. It was a great sermon about giving God our first-fruits and how God blesses giving.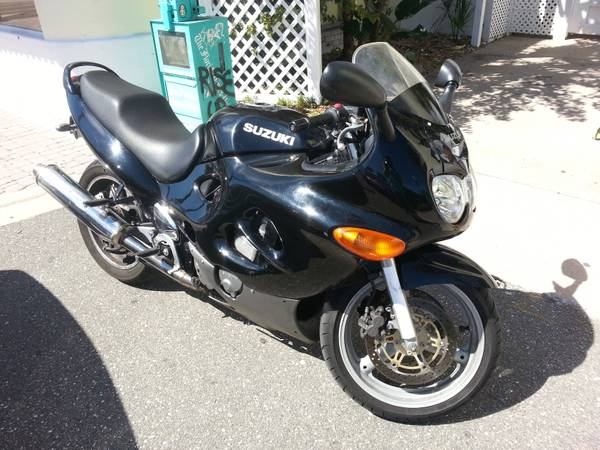 Then I went to Florida and conveniently forgot the last two weeks of sermons. I was itching to ride a motorcycle because the weather was so much nicer (i.e. not snowing). I started looking on Craig's List just to see what I could find.

Very quickly I found a 2009 Kawasaki Ninja 250 for a decent price. I texted the guy and arranged to see it in person that day. I was on the verge of making an offer, but then remembered the sermons and the importance of being a good steward with my money. Knowing my tendency to impulse buy things, I decided to sleep on it and get some counsel from friends.

I got a lot of advice: everything from "Go ahead, do it!" to "Maybe you should wait." It was then that I decided that I had to make sure I was financially reconciled. The first thing I did was start reading the books that Pastor Hybels had given me, starting with The Treasure Principle which I thought was very good. Next, I did my taxes, which was the first time I have ever done them in March (instead of the second week in April). Then, I did a review of my accounts and I realized that I had received some money that I had never tithed on.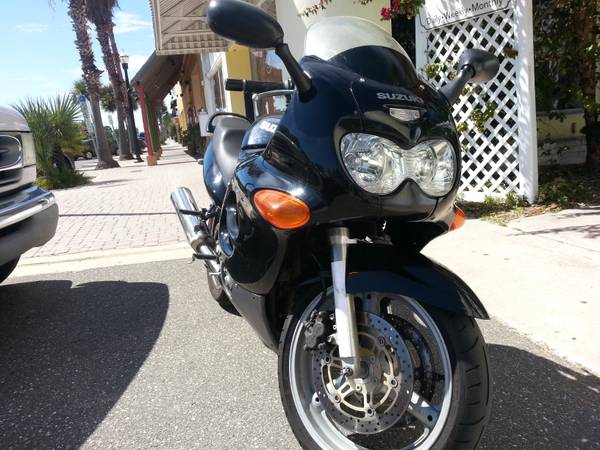 I decided to set that tithe aside for the purpose of investing in God's Kingdom and started looking for good opportunities. Two immediately presented themselves, but they wouldn't be enough to use it all so I kept looking.

Meanwhile, I was still perusing Craig's List for deals just for fun (there were many that I passed up). Then the night before Easter, one listing stuck out. I don't even remember clicking on it before, but when I opened the browser on my phone it was there from a previous session. But this time, the post stuck out to me: "Selling my 99 GSX Katana 600 Need gone to support my mission trip overseas."

I was intrigued, but it was late at night, so I decided to sleep on it again. On Easter morning, I somehow felt that there was something special about this bike. I texted the owner saying I was interested, but also interested in his missions trip. While I was waiting for a response, a very clear thought came into my head. If this guy was legit, I would buy the bike AND donate to his mission trip.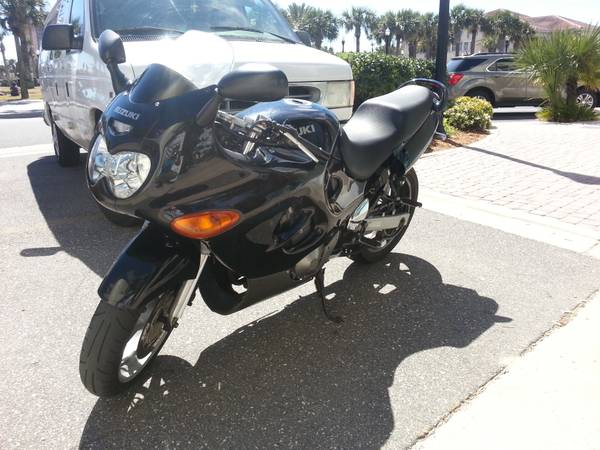 After half an hour, the guy responded telling me the bike was still available and that he would be travelling to Indonesia in a week with Youth With A Mission (YWAM) to minister to people in the sex trafficking trade. We texted a bit more before I left for church and he seemed to be a genuine guy, so I arranged to meet him Monday night at the YWAM base in Jacksonville Beach. By this time, I knew in my heart what I was going to offer him.

That night, I met 19 year old Hunter and we hit it off right away. We ended up talking about God's calling in our lives before finally looking at the bike. I made him an offer on the bike, but then also offered to make a direct contribution to his missions trip on top of it. I think the most appropriate word for his reaction is, "flabergasted." We shook on it and had a deal.

On Tuesday, Hunter rode the bike to my hotel and we went to dinner and talked about our journeys through life and finding God. We also met up on Wednesday to visit the young adult service at Celebration Church and I got to meet a few of his mission teammates.

That was last week and now Hunter is in Indonesia. I haven't known him long, but it brings me joy to know I'm supporting God's work and I'm looking forward to see what God has planned for this young man. I know there's a reason that God orchestrated the sale of this motorcycle so I could contribute to the mission while bringing us together. There's no way these things could have all worked out so perfectly without God, and that's why I say that God told me to buy a motorcycle.
Posted 04/10/2013 10:35 PM in Christianity, Motorcycles, Ramblings
Link To This Blargh | View/Add Comments (34)


---

My Second Motorcycle Story
I wrote this a year ago and forgot to post it!

I posted a lengthy story about my first motorcycle two years ago. Now it's time for a lengthy story about my new motorcycle, but first, what led me to getting a new one in the first place.


The Kawasaki Ninja 250 I had before was a great learner bike: moderate power, low weight, good maneuverability and low cost. However, my older 2001 model had a few issues that detracted from my enjoyment.

The first issue I had was an old battery (10 years). As a beginner I stalled the motorcycle several times which drained the battery and old batteries don't handle that well and start to lose the ability to hold a charge. Pretty soon it had trouble starting.

I purchased a battery charger to keep the battery fully charged but it ran rough and the carburetor required a lot of choke until it was fully warmed up. This was probably because the old battery couldn't provide consistent voltage. This made stalling a common occurrence, which is not good when you have trouble starting. The battery was on its last leg and couldn't hold a charge. It left me stranded me a couple times too, requiring me to call friends to jump start me or rely on random strangers with enough heart to help me.

I finally got a new battery which greatly improved the reliability of the motorcycle, but by that time the riding season was almost over and I had to winterize it and put it in storage (in my living room).



Then I went to Japan again in August and didn't ride it for another month. The gas left in the carb gummed up and when I finally got back to riding in September, it was running extremely poorly and it stalled a lot. I used Sta-Bil and carb cleaning gas treatment over a couple weeks before running it hard for several miles and finally the motorcycle was back to normal, but by this time it was almost the end of riding season again.

The final issue was such a moderately powered and light bike, while extremely nimble and maneuverable, did not feel very stable on the highway, especially at high speeds on a windy day. I knew it could handle it from the previous owner but I just didn't feel that comfortable, especially when it was windy. So I started looking for a newer motorcycle to upgrade to. After looking for a while, I decided on a Kawasaki Versys, which is similar to a Ninja 650R, but tailored as a half-touring, half-sport bike with more low end torque and softer suspension.


I visited the local dealer and found one that I liked and that even came with aftermarket accessories that I wanted. However, the price tag was high, at $5999. Since it was still fall, I was in no rush and left.

A few months later, I decided that the best way to part with the 250 was to donate it to Willow Creek Community Church which has a car repair ministry and could sell it for me as a tax write-off. It was still winter, but I decided to look around for deals in the off-peak season.

I returned to the same dealer and found that they still had the Versys that I liked, except this time it was $4999, which was a fair price, but still higher than I wanted. I talked to the sales woman and came right out and said, "I'll take it for $4500 if you can do layaway."

She went to do some math and said she couldn't do it, but then the manager walked by and she asked him. He said, "I can do it for $4500 but only if you pay in full." I said I could pay in full if they would store it for the rest of winter and let me use a credit card. And so, we had a deal.
Posted 04/02/2013 09:09 PM in Motorcycles, Ramblings
Link To This Blargh | View/Add Comments (3)


---

The Wife Test is back!
After 15 years, I have republished my wife test, now with upgraded technology and backed by a database.
Posted 03/16/2013 10:00 PM in Geek Stuff, Ramblings, Who knew?
Link To This Blargh | View/Add Comments (3)


---

End of an Era
9/20/2012 was my 8 year anniversary at Deloitte. Today, two weeks later, is my last day. There are many reasons for leaving, but I won't go into them here. You are free to ask in person if you are interested.

Provided below is an infographic that I created and sent to all my co-workers. Many have asked how I got the data. It was simple in theory, but required a lot of data cleansing (one of the many things I do at work, so somehow fitting). The hour estimate I provide in the graphic is probably low b/c my brain is kind of frazzled from working on it until 4am for the last few nights.

I keep all my travel invoice emails so I exported them from Outlook as CSV. I did some manual parsing and clean up, then imported it into Excel for analysis. These steps were repeated about a dozen times before arriving at good clean data. It was especially hard getting anything from before 2005 b/c we weren't required to book travel on-line at the time so my records were poor. However, I manage my bills electronically so I have a full record of all AmEx activity, which I then cross referenced to fill in the missing pieces.

And so I present my farewell message (click for larger image)




click for larger image
Posted 10/05/2012 05:05 PM in Ramblings, Work
Link To This Blargh | View/Add Comments (2)
---

Driving in the Chicago Blizzard of 2011
Since I talk about how people shouldn't be afraid of driving in the snow, I figured I should make some videos with some tips and general ramblings.




Posted 02/03/2011 02:07 AM in Cars, Ramblings, Videos
Link To This Blargh | View/Add Comments (11)


---

My Ratatouille Moment
At the end of Pixar's Ratatouille (this is a spoiler if you haven't seen it for some reason) Anton Ego, the notorious critic, has a moment. When Ego tastes Remy's (the rat chef's) ratatouille, it transports him to his childhood when his mother made ratatouille for him as a treat after a bad day.

I had one of those moments as well. Before I tell you what the food was, let me tell you the memory.

I believe it was first grade at Countryside Montessori School. I distinctly remember sitting in the basement (where we used to play Who Stole the Cookie from the Cookie Jar?) in a circle with the other children. For some reason, one of my teachers was sharing some special food with us, perhaps it was after a summer break trip or something. I remember her serving it out of an odd container that appeared to be woven, almost like rattan.

The food was passed around or handed out and while I don't remember the act of eating it or what it looked like, I distinctly remember the taste. Whatever it was, I really liked it, but being a little kid, I have no memory of what it was (I'm not sure I had been listening to the teacher explain it anyway).

I don't know when I first recalled the memory, but during high school and college, I distinctly remembered the taste and wondered what it was. Despite my growing cultural experiences, maturing palate and new interest in food, I still had no idea what the mysterious item had been. For the most part I just passed it off as an old curiosity and didn't think about it. But the memory always seemed to be there in the back of my mind.

After graduating from college, I drove 8 hours from Chicago to Nashville to visit my friend Hewson at Vanderbilt. He took me to a few interesting places to eat including my first visit to Krispy Kreme. Then one day, he took me to a restaurant to try a cuisine I didn't know much about. We sat down and I let him order since I knew nothing about it. When the food came, it looked interesting so I dove in and tried it.

That's when I had my Ratatouille Moment. Suddenly, vivid memories from that day in kindergarten flooded my mind. That's when I remembered the basement and the teacher and the container she was holding. But most of all, I remembered the taste.

My eyes bulged as realization set in. The rest of the world stopped and melted away. It was a moment of unfettered clarity and revelation. I stopped chewing and gawked at the food in my hand, with my mouth full but open. I was having an epiphany.

"This... is... it..." I said, "I've been looking for this for my entire life!" It's not often that someone can say that and mean it literally, though it was technically just my entire conscious/self-aware life, but either way it was a pretty profound moment.

So what was it, you ask? It was Ethiopian Doro Wot and Injera. I'm not certain if I like it so much because of the memory, or if the memory is so vivid because I liked it so much, but either way, I still love the stuff today. There's just something about the spiciness of the wot (stew) and tanginess of the injera (like a sourdough flat bread) that just seems perfect to me. And I'm sure I'll remember it for the rest of my (sane) life.
Posted 10/21/2010 10:05 PM in Food, Ramblings
Link To This Blargh | View/Add Comments (4)


---

Ignorance is Bliss
I'm usually a fan of educating people but this is a rare case where I think I would rather not know and would consider holding back to spare others. This is a tool that might help you when traveling, or might freak you out. You've been warned.

If you didn't heed my warning and would like some interesting history on the subject, read this PDF too.
Posted 10/08/2010 05:14 PM in Ramblings, Travel
Link To This Blargh | View/Add Comments (0)


---

My Motorcycle Story
The story begins in 1984 when the Go-Bots were on TV. I remember getting the toy for Cy-Kill, leader of the Go-Bot Renegades which I had a lot of fun with. I also watched Transformers back then but they didn't have any cool motorcycles (at least not until 1986 when Wreck-Gar appeared in the movie, voiced by Eric Idle).

In 1985, Robotech was on the air (I remember running home from the bus to catch the last 15 minutes) and that got me really interested in motorcycles because of the Veritech Cyclone Ride Armor from the "New Generation" I totally wanted that toy but never got it, though I did pretend I had such a suit and could transform and all of that.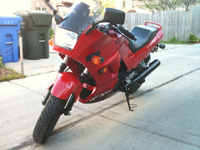 In 1986 the Kawasaki Ninja debuted in America and I remember seeing the commercials and thinking, "I want one of those!" This was well before I ever became seriously interested in cars (other than toys like Transformers), but of course, I was just a kid and dreams came and went pretty quickly.

Several years later, after I received my driver's license and was a Senior in high school, I got the itch again. I asked my mom for a motorcycle and of course she said no. IIRC, her reasoning wasn't so much around safety, but simply because I would be spoiled as I already had a car to use.

The next time I thought about motorcycles was around 2001 when Jordan Ho and some other folks around Chicago bought motorcycles. That piqued my interest so I used some of my expiring Delta airline miles to get a subscription to Sport Rider magazine. Then I was put in contact with an old MICDS friend, Allen McCoy, who was looking to sell his motorcycle (a Suzuki GS500 I think) in St. Louis. I didn't have the money and had no way to get it to Chicago so I passed on the deal. I even ended up transferring Sport Rider to Jordan as well.

Then in 2002, the Subaru WRX was released in America and suddenly there were two toys that I wanted. I started saving money as much as I could and even biked (on a bicycle) to work instead of taking the bus.

In 2003, I moved to Wheaton to save more money, but as it turns out my new landlord, Bryan Hsueh, also had a bike. Then, a couple months later, my housemate Adam bought a bike. I asked why he decided to get it and he responded, "A motorcycle isn't really something you think about, you just get it."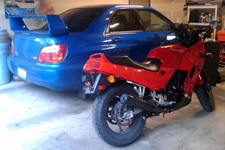 At this point, I had gone back and forth several times between the WRX and a motorcycle. What sealed the deal was when I was sitting at work one day, I hopped onto MSN and watched Subaru's presentation at the 2003 Detroit International Auto Show and nearly lost bladder control when it was announced that the Subaru Impreza WRX STi version would be coming to America.

That day, I made the decision that I would give up on my hopes for a motorcycle and stick with the car route. Within a year, I had the STi and started autocrossing it with Ben Huh in his TT and another guy we met named Bob in his Mitsubishi Lancer (not an Evo). Add in the purchase of a condo and motorcycles disappeared from my thoughts again.

Then, last year Bob told me he had bought a motorcycle. I was pretty surprised when he told me he got a Ninja 250 to learn on, a model I had considered as a starter bike myself. I told him to let me know if he ever planned to sell it.

Well, just two weekends ago, Bob e-mailed me to tell me it was for sale. It turns out Bob found a deal on a Suzuki SV650 and needed to sell his bike fast. So last Thursday I bought it. Now I just have to learn how to ride it...
Posted 05/14/2010 08:20 PM in Cars, Motorcycles, Ramblings
Link To This Blargh | View/Add Comments (55)


---

My DVR List
I've been having problems with my DVR. First, the second tuner stopped working so I couldn't watch in my room. Then it started taking longer to respond to commands. Now during playback it pauses every few seconds and the sound cuts out to the point that some recordings are unwatchable. Today, it started making clicking noises, which most likely means the hard drive is physically dying.

I guess I'm going to have to get a new one (and possibly upgrade to HD). Hopefully I can catch up on my recordings but I have about 80 hours of content. If my HD finally goes, I might lose a whole season of 24, Lost, Survivors, The Clone Wars, Caprica, No Reservations and various other items. Boo.

I also need to catalog my DVR recording queue so I can recreate it on the new HD DVR when the time comes, so here it is:
24
How I Met Your Mother
Gordon Ramsay's F Word
House
Top Gear
Lost
Heroes
The Office
Family Guy
Last Restaurant Standing
Fringe
Kitchen Nightmares
Robot Chicken
Parks and Recreation
Dirty Jobs
Mythbusters
Star Wars: The Clone Wars
Primeval
Ace of Cakes
Bleach
American Dad
Top Chef
Good Eats
Attack of the Show
Verminators
Wrecked
No Reservations
Ninja Warrior
The Next Food Network Star
Warehouse 13
Top Chef Masters
Community
Glee
30 Rock
Caprica
Survivors
Human Target
The Cleveland Show
Posted 05/08/2010 06:43 PM in Geek Stuff, Ramblings, TV
Link To This Blargh | View/Add Comments (3)
---

Another near accident. Learn to drive in the snow people!
Yesterday morning, after all the snow in the northeast (greatly exagerated in some areas, there were only 3-4" in the New Haven area) I was driving a couple co-workers to the client site in a Saturn Outlook (large, heavy, 7 passenger SUV with front wheel drive). I took my exit, a long sweeping cloverleaf ramp, behind three other cars going about 30.

Car 1, an old red compact, got a little wiggly and slammed on her brakes until she came to a complete stop in the middle of the road. Obviously, that exacerbated the situation instead of helping.

Car 2 had no choice but to brake and veer to the right to avoid a collision. They actually did an ok job, avoiding Car 1 and coming to a controlled stop on the shoulder.

Car 3 also slammed on their brakes, but swerved violently to the left causing the car's rear end to skid. The car slid to a stop, inches from the guard rail, perpendicular to the road, right in front of me.

So what was I to do? Obviously I hit the brakes, instantaneously setting off the ABS. With such a freaking large vehicle I knew there was no way I could stop. With Car 3 heading to the left and Car 2 heading to the right, I saw an opening.

I released the brake so I wouldn't skid and eased the steering wheel to the right and drove around Car 3, then turned back to the left, hugging the guard rail and quickly drove around Car 2 and Car 1.

While it wasn't as dramatic as my last near accident, my heart was beating pretty hard, though I didn't have any cool time-slowing-down effect. My co-workers complimented my quick thinking and we continued on our way.

A couple quick tips for anyone in a similar situation:
No sudden braking, you'll lock the tires and lose control (Car 1). Go easy on the brakes and don't expect ABS to save you since it is only marginally effective in low traction situations.
No sudden steering, you'll upset the car's balance and lose control (Car 3). Turn smoothly to help the car along the turn.
Your car is probably more capable of turning than braking, so evaluate options such as going around an obstacle instead of trying to stop (Car 2 and myself), keeping in mind the previous tip.
If you do lose a little traction, don't panic (Car 1). Instead, brake and steer lightly to maintain control and come to an easy and controlled stop in a safe place. The middle of the road is not a safe place.
Posted 02/12/2010 04:34 PM in Cars, Ramblings, Travel
Link To This Blargh | View/Add Comments (1)
---

Ice Racing!
I already posted these on YT/Twitter/FB but thought I'd compile them all in one place.

FVSCC Event 5-1


FVSCC Event 5-4


FVSCC Event 5-7


FVSCC Event 5-8


FVSCC Event 5 Extras


WAG 1


WAG 2


WAG 3

Posted 02/10/2010 09:04 PM in Cars, Ramblings, Videos
Link To This Blargh | View/Add Comments (10)


---

February Travel Plans
Here are my tentative travel plans for Feb 2010
2/1 - Fly to Indianapolis, IN for work
2/4 - Fly to Chicago, IL
2/5 - Drive to Hustisford, WI for Ice Driving Class
2/6 - Drive to Chicago, IL
2/8 - Fly to New York, NY, drive to New Haven, CT for work
2/11 - Drive to New York, NY for fun
2/12 - Drive to Princeton, NJ or Boston, MA to visit friends
2/13 - Drive to Hebron, NH for Ice Racing (maybe)
2/14 - Drive to New York, NY, fly to Chicago, IL
2/15 - Fly to Denver, CO for work
2/19 - Drive to Colorado Springs, CO to drive up Pike's Peak
2/20 - Drive to Denver, CO, fly to Chicago, IL
2/21 - Fly to Los Angeles, CA for work
2/25 - Drive to Anaheim, CA to visit family
2/28 - Fly to Chicago, IL
Posted 02/02/2010 10:58 PM in Ramblings, Travel
Link To This Blargh | View/Add Comments (8)
---

My best India story (TMI warning)
In Jaipur India, the group had recently finished lunch at LMB Restaurant. We were roaming the bazaars looking for deals when my stomach started grumbling a little. I ignored it for a while, but eventually, I knew I had to do something about it. I mentioned to the group that I REALLY had to go to the bathroom. The big question was what to do about it...

On a scale of 0-10 (with a standard McDonald's bathroom being a 5) a typical public bazaar bathroom in a developing nation probably rates a 1, not a pleasant choice in a small emergency. Another option was to walk 10 minutes back to the LMB Restaurant bathroom which rates about a 2. I chose that option.

Anna, a friend from KPMG, accompanied me into the restaurant. As I entered I told the manager that I had eaten there and needed the restroom. Then I remember that the restaurant has no TP, but fortunately Anna had an emergency travel roll with her that she gracefully offered. I quickly shuffled down the hallway to the men's room only to be cut off by a young boy who grabbed the only stall and proceeded to have the same issues that I was having. I had no choice but to wait. Or did I?

I shuffled back out and asked one of the waiters if there was another bathroom I could use, but there was not. So I returned to the hallway and waited for the boy to finish. A couple minutes passed after which the boy's father entered the bathroom to help him out. At that point, I decided it was time to take control of my own destiny.

After careful observation of other patrons, I discovered a slim window of opportunity: the women's bathroom was open. I knew from previous discussions with the group that there were two options, a Western style or a squattie potty. I decided on the squattie potty for the primary reason that you don't have to touch anything. I ran in and quickly locked the stall door.

I stood there for a moment contemplating whether there was a right way to use it as it's been a while since my last time. I was forced to make a snap judgement and decided to use it in the direction I happened to be in at the time. I squatted down, being careful not to touch anything (I will note that the women's bathroom rated a 3 compared to the men's).

I did my business, desperately clutching the small package of travel TP. When I was done, I opened the package and carefully unrolled the measly contents and discovered a scant three squares which kept rolling back up. After carefully folding each square one by one, I finally got them to a usable state and finished up.

I stood up and hit the flusher only to discover a half-hearted flow of water, unlike the squattie potties in Japan. It was at this moment that I realized that I had been facing the wrong way (I guess there really is a wrong way) and the water could not attain sufficient velocity. Just as I was becoming aware of this, the door to the bathroom opened and I heard the jingling of a (presumably) Indian lady walking in.

As the embarrassment crept over me, she attempted to open my stall. The stall was locked of course, but it still added to the overall shame of the situation. I attempted to flush again but the tank was extremely slow to refill so all I could do was cower quietly in my stall and wait. I don't know how long I was in there, but finally the lady finished and left.

I flushed again and only succeeded in removing 50% of my shame but I felt that I had to leave as quickly as possible. I stood on my tippy-toes and peered over the stall door to ensure I was alone, then made a mad dash for the door, fearing that another lady would catch me in the act.

I erupted into the hallway and was much relieved that no one was looking my way. I calmly strolled out of the restaurant, thanked the manager and proceeded outside to find Anna. She provided me with a small bottle of Purel, which I used most of, before returning to the group. I recounted my story to the group while turning beet red with embarrassment and spent the next few hours with an awkward gait...
Posted 12/16/2009 08:59 AM in Ramblings, Travel
Link To This Blargh | View/Add Comments (10)


---

How to get ready in 5 minutes
There are some darn good tips in this Japanese video on how to get ready in five minutes in the morning. It's not translated, but you should get the gist of it.


Posted 12/08/2009 07:23 PM in Japan, Ramblings, Videos, Who knew?
Link To This Blargh | View/Add Comments (18)


---

WRX ranks No. 1 on list of cars with highest insurance losses
Today the Wall Street Journal printed an article about auto insurance premiums, highlighting the Subaru Impreza WRX which received the highest (worst) score for highest losses for all types of coverage. That's not really a big surprise though.

The WRX is as powerful as many much more expensive performance cars but is still pretty affordable for young drivers. That's a recipe for high insurance premiums right there. Out of curiosity, I decided to look up my historical insurance payments and see if I could detect any patterns. I present them here with what I perceive to be the reasons for any premium changes.

Started with just a 98 Accord
3/01/2000, Geico, 666.5, living in Evanston (Cook County)
8/16/2000, Geico, 642.8, 
3/17/2001, Geico, 642.8, 
9/21/2001, Geico, 643.3, 
3/03/2002, Geico, 658.5, Moved to Chicago (Cook County)
9/12/2002, Geico, 490.8, Turned 25
3/12/2003, Geico, 490.8, 
9/03/2003, Geico, 436.3, Moved to Wheaton (not Cook County)
3/22/2004, Geico, 799.2, Bought Sti
9/10/2004, Geico, 799.2, 
3/25/2005, Geico, 1168.69, Moved to Streamwood and raised coverage (Cook County)
9/27/2005, Geico, 1178.1, 
1/19/2006, AAA, 997, Switched to AAA
7/28/2006, AAA, 983, 
1/15/2007, AAA, 531.1, Turned 30
8/09/2007, AAA, 642.3, Traded Accord for 07 FXT
1/29/2008, AAA, 802.3, 
7/10/2008, AAA, 643.4, 
1/21/2009, AAA, 666, 
8/05/2009, AAA, 666,

Posted 09/23/2009 08:56 PM in Cars, Finances, Ramblings
Link To This Blargh | View/Add Comments (1)
---
Car DIY Weekend: TurboXS Short Ram Intake and Turbo Back Exhaust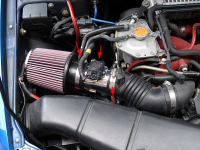 TurboXS Short Ram Intake

It's been quite a while since I've done a DIY car project. If you remember, I purchased a TurboXS User Tunable Engine Computer (UTEC) for my STi which I installed over 4 years ago (wow, has it really been that long?). The next step in my plan for my STi was to get it to Stage 2 but the condo and new car delayed that. However, paying off my Forester last month helped out my budget so I can restart my plans.

My project over Labor Day weekend was the installation of a TurboXS Short Ram Air Induction System and also a TurboXS Titanium Tip Turbo Back Exhaust with high flow catalytic converter. The project took twice as long as expected because everything was horribly corroded from 5 years of Chicago winters.

I spent Friday night under the car until 11pm trying to remove the old parts. I had several stripped bolts and one was so bad that Saturday morning I had to cut it out with a Dremel (flash backs to my Accord exhaust). The rest of Saturday went fine but I was extremely tired and sore from sliding around on concrete for two days.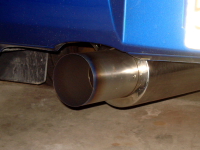 TurboXS Turbo Back Exhaust

After finishing the installation, I still wasn't done. After four years my UTEC was badly out of date and needed updates. I bought a USB-to-Serial adapter to connect and update the firmware but it failed. There was no help on-line and the tuner was closed but after playing with settings it eventually worked. I started the car only to get a flashing SRS (airbag) light and Check Engine Light (CEL a.k.a. malfunction indicator light or MIL). I was pretty freaked out only to realize that I hadn't uploaded any updated engine maps. After that everything finally ran peachy keen, just in time to meet up with my friend Annie and her parents for dinner.

After dinner I finally gave the car a test run. I definitely felt an increase in power, but the most surprising thing was just how loud the car is, way louder than the Accord which was borderline obnoxious. Oh well! The other thing I noticed was a tremendous rush of air and I thought I had forgotten to connect something. Then I realized I was hearing the sound of the turbo spooling. When I lift up on the throttle, I also hear the sound of releasing air pressure from the bypass valve, which is so loud it almost sounds like a blow-off valve. Sweet.

Now I just have to be careful that I don't blow up my engine as a result of boost creep from the new downpipe...
Posted 09/13/2009 09:01 PM in Cars, DIY, Ramblings
Link To This Blargh | View/Add Comments (2)


---

SWAG from Subaru
So I went to three Subaru sponsored events (Guinness World Record attempt, Factory Tour, Subaru Challenge AutoX) this summer and came away with a good amount of SWAG. Here's a breakdown of what I received:
3 Subaru Rally Team USA Posters
3 Subaru Temporary Tattoos
3 STi Temporary Tattoos
2 Subaru Carabiners
2 Subaru Chip Clips
2 Guinness Work Record Koozies
2 Subaru Baseball Caps
2 Subaru Tote Bags
1 STi Koozie
1 Subaru Koozie
1 STi Draw-String Bag
1 Subaru Wooden Ruler
1 Subaru Mini Fan with LEDs
1 SIA Lip Balm
1 Subaru Eco-Button (USB instant sleep button for PC)
1 Subaru Card Holder with lanyard
1 SIA 512MB USB Drive w/ soft copies of current product brochures
1 STi T-Shirt
1 Subaru Mechanical Pencil
Oh, I also received my certificate from Subaru for participating in the Guinness World Record for Largest Parade of Subaru Cars (339)
Posted 09/06/2009 10:38 PM in Cars, Ramblings, Sales & Deals
Link To This Blargh | View/Add Comments (3)


---

NYC Trip 1 (6/26-6/28)
At the end of June I had to fly to Chattanooga for work and stay through Friday. With a short weekend, I decided to fly back to Hartford and drive to NYC to visit Hewson and Celeste.

Thursday I got a text from Hewson asking if it was ok to have a dinner party on Saturday. Of course that was fine, but his next message was, "Tell us what you want and we'll make sure we get the ingredients for you." Apparently this dinner party would feature food from my own hands...

On Friday, after flying to Hartford I drove down to Brooklyn and arrived around 1AM after which we stayed up until 3 before I collapsed on their futon.

Saturday I woke up around noon and Hewson and I went to the city for some Ethiopian food. After that we went to Fairway Market to shop for the dinner party which was attended by Hewson's sister Maria, Celeste's childhood friend Antoinette and two of their other friends, Mike and Christine. For dinner I made fettuccini putanesca and farfalle with smoked salmon cream sauce while Celeste made strawberry shortcake for dessert.

Sunday we mostly chilled and played Wii before heading out for a pizza lunch and driving around Coney Island. After that we drove through Green Wood cemetery looking at the amazing mausoleums and tombs (apparently this was a nice way to spend your afternoons in the 70's or something). Also in the cemetery was Battle Hill, the site of the original battle for American independence from Britain.



After our afternoon, we went to Manhattan for dinner at WD-50. In terms of atmosphere, the restaurant has no dress code and allows walk-ins, giving it a nice comfortable feel. The tables actually have cutouts so the servers can stand by your table without blocking foot traffic. As a bonus, they had half price wines that night so (much to my surprise) we finished a bottle of a malbec and a rose.

Overall, I think the dinner was excellent (pics below). There were a couple dishes that were not that special, though there was some debate between us as to which ones they were. However, the final lamb entree was perfect and made the dinner worth it across the board. The two desserts after it were amazing as well. In the end, we were all quite happy, though the final bill did come out to $205 per person.

Pics are here
Posted 08/04/2009 09:04 PM in Dessert, Food, Pictures, Ramblings, Restaurants, Reviews, Travel
Link To This Blargh | View/Add Comments (11)


---

Blogging Fail
Ugh, I can't believe that I've been so bad at blogging for the last several months. And don't get me started on my pictures... i've got hundreds of pictures I still have to organize, some dating as far back as last November! When I'm a year behind, I know there's something wrong. Maybe I need to take a vacation just to catch up on those things.

Part of it is work which keeps me busy and makes me want to do nothing but veg out at night. Part of it is that random inconsequential rambling is much easier on Twitter, which also makes me less verbose with it's 140 character limit. I mean, look at this post! I was planning to write two sentences and now I've got two paragraphs and it's still pouring out! Must... stop... typing...
Posted 08/04/2009 06:28 PM in Geek Stuff, Ramblings, Work
Link To This Blargh | View/Add Comments (1)


---

My crazy travel schedule
The rest of this month is going to be a busy travel month and I'll be away from home for three weeks straight at some point, with tons of other events too. The main cause is a last minute work schedule change along with a wedding. So here is what my travel schedule will look like starting next week, which involves traveling somewhere every 2-3 days:
7/20 Fly from Chicago to Hartford for work, staying at the Sheraton East Hartford
7/22 Fly from Hartford to Philadelphia for work, staying at the Residence Inn in Plymouth Meeting
7/24 Fly from Philadelphia to Washington DC for a layover
7/24 Fly from Washington DC to arrive back in Hartford
7/24 Rent a car and drive from Hartford to Manhattan, staying at the W at Union Square
7/27 Drive from Manhattan back to Hartford, staying at Sheraton East Hartford
7/30 Drive from Hartford to Brooklyn, staying at Hewson's
7/31 Drive from Brooklyn to Jersey City, staying at the Westin Jersey City (attending a wedding and dining at Le Bernardin)
8/02 Switch to W New York Tuscany to be closer to CT for the morning drive
8/03 Drive from Manhattan to Hartford, staying at Sheraton East Hartford
8/06 Fly from Hartford back home to Chicago
8/10 Fly from Chicago back to Hartford for work (typical week)
8/13 Fly from Hartford back to Chicago (typical week)
8/17 Fly from Chicago back to Hartford for work (typical week)
8/20 Fly from Hartford back to Chicago (typical week)
8/21 Drive from Chicago to Lafayette, Indiana for the Subaru of Indiana Automotive (SIA) plant tour and test rides on the Subaru test track, staying at Courtyard Lafayette
8/22 AutoX event at SIA plant, then drive back to Chicago
8/24 Back to my typical travel schedule again
Posted 07/14/2009 10:37 PM in Ramblings, Travel, Work
Link To This Blargh | View/Add Comments (1)
---

Subaru sets Guinness World Record!
The Guinness World Record event was fun today. The record we set was Largest Parade of Subaru Cars (or any single manufacturer) with 339 vehicles.

Some people have pointed out that there have been larger car meets, but I think the "parade" part from Guinness is a significant requirement. It's not just a bunch of people showing up at a meet, but it's a coordinated parade that requires each VIN to be registered as proof. My guess is there are other requirements that Guinness has, such as a minimum length of the parade.

Even if there has been a larger meet or parade, it wasn't officially verified by Guinness. It's quite possible that a group in Cali, PNW or NE could easily break it in the near future, but isn't that half the fun of a world record?

I was also interviewed by a guy from the Daily Herald. Will I make it on-line or in print? We'll see. In the meantime, here is a compilation of vids I took from my phone. I couldn't take anything from the actual parade since I had to drive, but I did get some pics here.


Posted 07/11/2009 02:26 PM in Cars, News, Ramblings, Videos
Link To This Blargh | View/Add Comments (3)


---

Air Traffic Control
A couple months ago my flight to Chicago had a medical emergency and we had to land in Cleveland to drop off a passenger. I decided to listen to Air Traffic Control (ATC) which is a feature offered by United. I found it pretty interesting and not at all like what you see in the movies.

One thing to note is that ATC is made up of several independent divisions. Here is a brief summary of all the divisions that my flight passes through on its way from Hartford to Chicago:
Taking off from Hartford we start with the Tower, which provides runway conditions and clearance for take-off.
Once the plane leaves the ground, we contact Departures which coordinates which way the plane turns and what bearing and altitudes it should take.
Once clear of the airport, we contact Boston Center to coordinate regional traffic, altitudes and flight conditions
Leaving the Northeast and passing through North Central, we contact Cleveland Center
Leaving North Central and crossing over the Canadian border, we contact Toronto Center
Crossing back into the US, we contact Cleveland Center again
Approaching the Chicagoland area, we contact Chicago Center
Approaching O'hare, we contact Chicago Approach for headings and runway assignment
After receiving runway assignments and headings, we contact O'hare Tower for clearance to land
Once we've landed, we contact O'Hare Ground for taxi and gate routing.

Below is a transcript of radio chatter from my flight, United 719. This starts soon after we contacted Cleveland Center. It's interesting to hear all the different people talking. For instance some people are friendlier than others and some have thick accents, like Korean 360 which obviously had a Korean pilot. It's also interesting to hear them announce "traffic" when routes intersect or run parallel within 2000 feet of elevation.

Numbers are constantly tossed back and forth and may refer to flights, speeds, headings, altitudes or radio frequencies. Sometimes they say the whole number and sometimes they read out the digits. Jargon is also pretty common, for instance saying puddle to refer to a puddle-jumper, a small propeller driven plane for short regional flights or heavy when referring to jumbo jets or cargo planes. They also use words to call out letters for instance Quebec for Q, Foxtrox for F, etc, particularly on the ground where every taxi-way and runway has a specific letter and number designation (more on that some other day). So it requires a basic understanding of what's going on and a good ear to figure things out sometimes.

One thing you can't see in this transcript is how crazy things get near Chicago where the traffic and congestion mean constant radio chatter. The radio is always on with updates from dozens of flights and you never know what you're going to hear when your crew switches channels. I really feel for the ATC controllers that have to work at O'hare. I actually heard pilots saying "Unbelievable!" to the ground control after having to back-track a route to get to their gate. The controllers have to be on top of things and there's very little breathing room with so much traffic and thousands of lives in their hands. My hat goes off to them.


...
(UA719) Cleveland Center we're experiencing moderate chop at 3-6.
(CleC) United 6, conditions?
(UA6) light chop last four minutes
(UA719) How is 4-0-0?
(CleC) light chop reported but that was 20 minutes ago
(UA719) Trying 4-0-0
...
(CleC) United 7-19, Status heading up there?
(UA719) It's been continuous chop all the way, United 7-19
...
(UA719) 7-19 now picking up light turbulence at 3-8-0
(CleC) Puddle 6-60, how is it where you are?
(660) at 3-6-0 had some chop while we leveled out but it's better now
(CleC) United 7-19, Puddle 6-60 says 3-6-0 is better now
(UA719) Going to 3-6-0 United 7-19
(CleC) United 7-19, Toronto Center says 3-60 should be a pretty nice ride soon
(UA719) Appreciate you checking for us, United 7-19
(CleC) 7-19, contact Toronto center 3492
(UA719) Toronto 3492, United 7-19
...
(UA719)Toronto Center, this is United 7-19 at 3-6-0 experiencing light chop
(TorC) United 7-19, hello, that should clear up for you in a little bit, it gets better as you head west
(UA719) Thanks
...
(TorC) United 7-19, traffic at 12 o'clock 1000 feet below
(UA719) Traffic ahead, United 7-19
...
(TorC) United 7-19 contact Cleveland Center 1-2-6-5-2
(UA719) 1-2-6-5-2 Cleveland, United 7-19
...
(UA719) Cleveland, United 7-19, 3-6-0 finally smooth
(CleC) 7-19, what was your condition?
(UA719) Well, it was 100 miles back, continuous light chop
...
(CleC) United 719, maintain 3-4-0
(UA719) 3-4-0, United 7-19
...
(CleC) United 719, contact Cleveland Center 1-3-3 dot 8-7
(UA719) 1-3-3-8-7, 7-19
...
(UA719) Cleveland Center, United 7-19 at 3-4-0
(CleC) United 7-19, maintain 3-2-0
(UA719) 3-2-0, 7-19
...
(UA719) United 719, at 3-2-0
(CleC) 7-19, Roger, no complaints
...
(CleC) United 7-19, descend at discretion, maintain 2-0-0
(UA719) with discretion, maintain 2-0-0
...
(CleC) United 7-19, contact Chicago Center at ????
(UA719) ????, United 7-19
...
(UA719) Chicago Center, United 7-19 descending to 2-0-0
(ChiC) United 7-19, 2-0-0
...
(ChiC) United 7-1-9, cross fire ??? at 0-0-niner thousand
(UA719) Cross fire at 9000 feet, united 7-19
...
(ChiC) United 7-1-9, contact Chicago Approach, 1-1-niner-0
(UA719) 1-niner-0 7-19 g'day
...
(UA719) Approach, United 7-19 at niner thousand
*lots of stuff*
(ChiA) bonzo?, United 7-19
...
(ChiA) United 7-1-9, descend and maintain 7000
(UA719) 7000, 7-19
...

Of course we had to turn off all electronics after this so that's all I could get.
Posted 06/25/2009 10:14 PM in Chicago, Geek Stuff, Hartford, Ramblings, Travel, Who knew?
Link To This Blargh | View/Add Comments (3)


---

Cop Convo

Cop: Sir, I pulled you over for going 55 in a 40 on the parkway. Can I see your driver's license?
Me: Sure. You said on Forest Park Parkway?
[I pull my wallet out]
Cop: Yes.
[Cop looks at license but doesn't take it]
Cop: Okay, thanks. I actually pulled you over because there was a STi involved in a crime last night. It looked exactly like your car.
Me: Oh really?
Cop: Yeah. I was just checking and you're obviously not the person we're looking for. So how do you like the car?
[I put my wallet away, a bit stunned by the question]
Me: Uh, I've had it for a while but yeah, I like it. Though as you can see, it tempts me to drive a little fast.
Cop: What? 55? That's not fast. Well have a nice day.
Me: Uh, thanks.
Cop: Oh yeah, and, um, don't drive so fast.

Posted 06/04/2009 07:22 PM in Cars, Ramblings, St. Louis
Link To This Blargh | View/Add Comments (4)


---

Taxing taxes
I've got to applaud my tax accountant for putting up with me. I use my parents' accountant because he's located in southern Illinois so he's familiar with Illinois taxes but he charges St. Louis rates instead of Chicago rates. Since I've used him ever since I graduated from college, he knows all my tax history too.

Now, every year I vow to get my taxes to him before April and every year I fail. This year was probably my worst. I had all my document prepared by 4/4 and planned to FedEx them to my accountant on 4/6, but I kept forgetting with all the fires at work and didn't send it until 4/10, with Saturday delivery.

That means my accountant got my documents on Sat 4/11 and had to do my taxes (Federal plus three states) by Monday 4/13 so I could get them today, sign the forms and have them ready to send tomorrow. Luckily my taxes are relatively simple (aside from the multiple states).

With federal, three states and FedEx Priority Overnight (8AM) shipping my accountant fees were $190 (my highest ever). I know people who have gone to H&R Block with two states and been charged $200 for some random accountant and I know that Deloitte charges $250 for two states. So $190 is not a bad deal for the assurance of using a familiar accountant who puts up with my procrastination...

The next challenge is actually getting my tax return filed on time. I had everything shipped to my hotel in Connecticut so I could take it to the post office, but I have a balance due for Connecticut but I don't have my checks with me. So I'm going to have to withdraw some cash and get a cashier's check during lunch tomorrow. Luckily I things have managed to settle down a little bit at work this week.
Posted 04/14/2009 10:43 PM in Finances, Ramblings
Link To This Blargh | View/Add Comments (3)


---

Recession Rentals
With the economy dragging along and the auto industry teetering on the edge, rental car companies have been hit hard as well, which is starting to show in my travels. With cars sales next to nil, rental companies cannot sell their used cars, let along buy new ones, resulting in older cars becoming quite common.

In previous years, rentals were usually sold when they had about 25k miles. I used to get about half of my cars with less than 10K miles and it was pretty rare to see cars with more than 25k, let alone 30k but this year the mileage on rental cars has definitely been creeping up. The vast majority of cars now have 20k or more miles and that number continues to go up.

The reason that rental car companies sell cars around 25k is because that's when things start wearing out. One interesting thing to see is how well rental cars with more mileage have been holding up. Imports such as Toyotas or Hyundais seem to hold up well, but it's quite apparent that domestics still can't keep up in quality.

Case in point, the Dodge Caliber I received last week. It had 31k miles on it and it had a host of problems. First, the car just sounded bad when I started it. It had funny wheezing and whining noises. Something seemed to be wrong with the power steering which whined loudly anytime you turned it. If you turned it while moving, it was accompanied by a rough grating noise, which I guessed to be a bad CV joint or wheel bearing (which the attendant also guessed when I turned in the car and described it). When driving on the highway, there was a faint flapping noise as well, which I would guess was a torn CV boot (it's a rubber seal that can lead to a damaged CV joint if it's torn)

On top of that, the transmission was slipping like crazy. Usually when you press the gas, RPMs rise while the speed rises, but in this car, the RPMs would go straight to 4000 or so and the speed would slowly creep up until the car reached the appropriate speed for that RPM. Basically, the transmission was slipping about 90% of the time. Then, during braking the car would occasionally squeal as if one of the brake pads was nearing its wear indicator. In one instance, I think a brake failed as well as I felt a sudden loss in braking at a stop light.

That's a lot of problems for a car with 31k miles, even for a rental. It must be because it's a Dodge, which I've felt has been lagging in quality even more than Ford or GM.
Posted 03/30/2009 07:19 AM in Cars, Ramblings, Reviews, Work
Link To This Blargh | View/Add Comments (8)


---

Karoshi
Karoshi is a Japanese word that basically translates as, "death from overwork." It's not a specific disease but rather a phenomenon of heart attacks and strokes that are generally attributed to excessive stress, especially shocking when it occurs among younger workers with no previous history of health problems.

The phenomenon of Karoshi is most apparent and recognized in Japan due to their strong work ethic post WWII. Statistics have suggested that the average Japanese worker works two hours of overtime per day, often not paid. I don't know the exactly numbers but since a typical Japanese day is probably 9 hours a day and often times a half day on Saturday as well, that could easily mean 60 hours of work in a normal week.

Hey, wait a minute... why does that work schedule sound so familiar?
Posted 03/26/2009 07:21 PM in Japan, Ramblings, Work
Link To This Blargh | View/Add Comments (0)


---

Americana Not-So-Express
I've complained a bit about my car service before, specifically about some poor drivers and making me wait a lot. They were better after I complained about it, but recently they've been making me wait again and all my co-workers seem to get picked up before I do. Unfortunately, this last month has gotten even worse.

In February, I requested a car for 6:00am and waited in my garage on a freezing February morning for 20 minutes. I called them and they said they wouldn't arrive until 6:45 which would cause me to miss my flight. I had to book a new flight for later that night and not being in person at the client site was not only inconvenient but a little embarrassing when the client asked my manager where I was.

Last week it happened again. They stood me up, but this time I set a 15 minute waiting limit. At 6:15 I called them and they didn't answer so I jumped in the car and drove myself to the airport. I ended up paying $120 for parking since I didn't have time to park in the farther long term lot.

They didn't even call me back until 6:45 which is simply unacceptable in my book. I didn't answer since I was boarding the plane but they apologized to my v-mail. I know that car services are suffering a little in this economy, but I can't support a business that is unable to to successfully execute on its only service. Looks like I'll be on the search for another company.
Posted 03/15/2009 10:54 PM in Ramblings, Travel
Link To This Blargh | View/Add Comments (0)


---

Taste the Rainbow
Fascinating. As part of a marketing campaign, on 3/3 skittles.com was redirected to a Twitter search page for Skittles that aggregates any tweet containing the word, "Skittles." Note that it's not an actual Skittles account on Twitter, it's simply the results of a search for the word "skittles" on Twitter.

On 3/4, most likely due to spam and inappropriate language, they changed their site to point to the Skittles fan page on Facebook. Today (3/6) their site has been updated again to point to the Skittles article on Wikipedia. I think I'll have to tweet about Skittles too.
Posted 03/06/2009 05:29 PM in Geek Stuff, Ramblings, Snacks
Link To This Blargh | View/Add Comments (0)


---

Formosa Betrayed
About a month ago, my mom invited me to go to LA to see the world premier of the film, "Formosa Betrayed." It's an interesting movie focused on a murder that has ties to US-Taiwan politics. The premier will take place on 2/28, a nod to Taiwan's 228 Incident in 1947.

When I first heard about it, I wasn't sure I wanted to go but about two weeks ago my Mom said that she was going to LA alone and wanted me to mail my GPS to her as she would be driving between LA, Hollywood and Anaheim. As I've gotten older, I guess I've started worrying about my parents more so I decided to tag along. Little did I know the difficulties that would ensue.

First, I wanted to see if the ticket prices were reasonable from Hartford so I could do alternative travel through my company. They weren't. So I decided to buy a ticket myself using points. For 50,000 miles I could get a direct, first class, round trip ticket. I wasn't quite sure whether to go or not, so I didn't book it.

The next day after talking to my mom I decided to book the ticket for Thursday, 2/26, only to find that the first class seats were no longer available so I had to get a coach ticket, but still for 50,000 miles because all the 25,000 mile tickets were gone as well.

Things were pretty settled there as well, until last Thursday when I got a call from Countrywide. I was refinancing my home through them and I hadn't heard from them in almost three weeks. I finally got in contact with them on Friday and the reason they were calling was to set a closing date. My rate expires March 3rd, but since I travel every week, that means the only day I had left to close was today, 2/27, when I was supposed to be in LA.

I called AA and changed my flight to today so I could close on my mortgage in the morning. You can read my two previous posts to learn about the fiasco I went through with that. I hope this movie is worth the two day trip across the continental divide!
Posted 03/01/2009 02:05 AM in Finances, Movies, News, Ramblings, Taiwan, Travel
Link To This Blargh | View/Add Comments (1)


---

The fiasco continues.
After yesterday's post about my emergency cash fiasco, I thought things would be fine. I had a giant wad of cash that I had to change into a cashier's check for closing costs on my condo. Now my closing was at 9:00 at home so I figured I could just zip over to the bank at 8:30 and come back just in time. WRONG.

I know about banker's hours, but I thought 8:30 was a reasonable time for a bank to be open. Apparently it is not, at least for Chase. All banks in my area didn't open until 9:00 so I searched around and finally found one by Stratford Mall in in Bloomingdale that opened at 8:30 so I booked it down there after my 7AM conference call for work and got the cashier's check. I rushed back home and arrived just in time to watch my closing agent turn into my subdivision in front of me.

Finally that's all over, but you'll have to wait for my next post for the final installment of everything that's been going on this week.
Posted 02/27/2009 06:36 PM in Finances, Ramblings
Link To This Blargh | View/Add Comments (1)


---

Emergency Cash
I was surprised to find it quite difficult to get emergency cash today, though I'll admit it was almost directly related to my own laziness. My primary checking account didn't have enough, so a regular trip to the ATM wouldn't work. I should have transferred money earlier this week but I forgot with work occupying my mental faculties.

So how else do you get large amounts of emergency cash? My first thought was to access my backup account, but I don't carry that ATM card around, and even if I had it, I didn't have the PIN.

My next thought was to get a cash advance on a credit card. However, cash advances usually come with horrendous interest rates, so I never bothered to memorize or set PINs for those either. I tried calling one credit card to get a PIN, but they would only mail it, which isn't so useful when you're in a pinch.

Then I tried calling another bank to get a PIN for another card. After validating my phone number with the automated system, it requested the number for the account I use to pay. Since I was on the airplane about to take off, I didn't have that so I had to wait until I landed so I could go on-line to look it up.

After locating the account number, I called the automated system again and after providing my account number, they requested my phone password. I didn't know that either so I had to connect to their fraud department and explain the situation. Once they determined that I was who I claimed to be, I asked to change my PIN and they said they can only mail PINs. I asked for the automated PIN system and they said they didn't have one (obviously they did as that's how I got into the system in the first place).

After I hung up, I remembered my password so then I called the automated line again and went through the whole process again and finally changed my PIN. Happy that I'd finally gotten a PIN, I went to the ATM to withdraw cash, only to have the ATM tell me my card had been deactivated.

I called the bank again and they said that when I called before, they had entered my cell phone as my primary contact (which it should have been already) and that got registered as a change to the account. With a large cash withdrawal attempted soon after an account change, the fraud detection system had locked my account.

In order to clear it up, they had to verify my phone number again, then verify the account I used to pay again. The problem was that I was at the ATM, not at home, so I had to drive home with the service rep on speakerphone to get the account number yet again. Finally they cleared everything up. I made another trip to the ATM and thankfully got my cash.

Phew, what an ordeal!
Posted 02/27/2009 00:18 AM in Finances, Ramblings
Link To This Blargh | View/Add Comments (1)


---

That's my fate, for a missing front plate.
A few weeks ago I got a ticket for missing a front license plate. I got it when I was parked on the street in Chicago as I was eating lunch on Devon. Jina and Paula were pretty shocked, as was I since the ticket says I can see photo evidence on-line. Does that mean some meter maid took the time to take a picture and give me a ticket? Boo.

I guess I could just put my front plate on, but that would require me to drill holes in my front bumper (Subarus that are made in Japan only come with Japanese spec bumper holes). Since that's a pain and front plates don't look very good, I just paid the fine.

But that's a good segue to introduce Mr. Chi-City. If you don't know who he is, he's been making quite a splash on YouTube thanks to his humorous videos about life in Chicago and his refusal to show his face. Here's a video about a parking ticket that he received. Be warned that there is bad language.


Posted 02/25/2009 09:36 PM in Cars, Ramblings
Link To This Blargh | View/Add Comments (2)


---

Anatomy of a Points Whore
For the last year, I have stayed at the same Sheraton hotel in Hartford along with two or three of my co-workers. Now, Sheraton is one of the lower brands under Starwood Hotels and Resorts. Their other brands include Le Meridien, Four Points, Westin, W, St. Regis, The Luxury Collection, aloft and element. All of those are clearly better than your average Sheraton.

Unfortunately, the Sheraton in Hartford is below average. Starwood started a billion dollar rehab campaign in 2007 but with the downturn of the economy, I think rehab plans at this Sheraton were scrapped. As a result, the sink handles are falling off, the shower heads spray water every direction from the joints, the curtain rods are sagging, the rooms smell like smoke and the heaters either don't work or turn the rooms into saunas.

90% of my co-workers make fun of us for staying there because the hotel is so bad. So why do we stay there? The unanimous answer is POINTS. For the last 10 years, Starwood has repeatedly won several coveted Freddie Awards for their hotel loyalty program, Starwood Preferred Guest (SPG).

The main reason is because Starwood points are worth the most when it comes time to redeeming them. If you are a loyal customer, your points can add up fast, and you can get a good hotel for a reasonable number of points. On top of that, they offer options such as "Cash and Points" where you can book a room for 1/3 of the cash and 1/3 of the points you would normally use, which equates to just 2/3 of the actual value of the room, a pretty good deal.

SPG also has good bonus programs, such as Q4 last year when they had $25 Amazon gift certificates for every 5 nights or 2 stays. I actually know one guy who checked in and out every day to maximize his stays and therefore his rewards. But the best bonus program I've seen is for Q1 this year: 500 bonus points per night plus 5000 bonus points per 10 nights, with no limit.

Add on a SPG American Express card, where you get one point per dollar spent on your statement, plus one point per dollar spent on Starwood hotels. So, let me break down the points and bonuses that I get as a platinum SPG member.
Base Rate: 2 points per dollar = 618/week
Platinum Bonus: 1 point per dollar = 309/week
Platinum Amenity: 500 points per stay = 500/week
SPG Amex Points 1: 1 point per dollar = 309/week
SPG Amex Points 2: 2600 points per month = 650/week
Q1 Bonus 1: 500 points per night = 1500/week
Q1 Bonus 2: 5000 points per 10 nights = 1500/week
Local Bonus: 12000 points for 30 nights = 1200/week
So this adds up to 6,586 points per week, or at least 26,244 points per month. That's enough points for 8 Category 2 nights, 3 Cat 3 nights, 2 Cat 4 nights, 2 Cat 5 nights or 1 Cat 6 night. Not too shabby...
Posted 02/22/2009 09:01 PM in Ramblings, Travel
Link To This Blargh | View/Add Comments (6)


---

Common Courtesy
Generally, I don't get mad at people, but sometimes I do get a bit annoyed. For instance, I have a friend who cancelled dinner plans at the last minute. I was a bit annoyed since I had beeen cooking dinner, but that's ok because I still had to eat. This person apologized but then asked if I was mad at them. I didn't really have a problem with the cancellation because I understand that things happen. But strangely enough it was the tone of asking if I was mad that really annoyed me. The person actually feared that I might be mad and the funny thing is that this person had those same fears 10 years ago. It seems strange that after all those years this person doesn't seem to have grown in any way and is still afraid of people being mad. I dunno, am I being too critical?

Then there's another person who seems to have made a habit of making me wait. When giving rides, I've never waited less than five minutes for this person (it's gone all the way up to 20). Most people I give rides to are ready and waiting, especially since I usually call before I arrive. Of course things happen sometimes that delay us but it's pretty much guaranteed to wait for this person despite past requests for improvements and promises to be better. The funny thing is that this person hates waiting around and wasting time, but apparently it's ok to waste other people's time.

Even worse, we'll set up a time to do something and the person will bail on our plans. But unlike the first person I mentioned, I won't even get a cancellation. Well, ok, I do get a cancellation but it won't be until several hours later b/c they were too tired to tell me or something like that. But this is a pattern, not an occasional occurance. I mean, am I just totally crazy to expect someone to inform me that they're bailing on me?
Posted 02/17/2009 10:52 PM in Ramblings
Link To This Blargh | View/Add Comments (4)


---

Run in with a State Trooper
It was 9:00PM on a crisp winter night illuminated by a near full moon. I was heading east on I-70 to Eric and Caroline's in Effingham. The speed limit was 65 and I was driving 82. No, 83. No, 82. I had no need for cruise control.

I passed a white Chevy Impala who fell in line behind me. He was a cunning driver who followed me but gave me plenty of space, an excellent strategy since it allows the leading speeder to spring any speed traps. He stalked me from a distance for at least 20 minutes. I know this because watching the mirror is one of the more mentally stimulating activities available on a dark and inauspicious midwestern highway.

All of a sudden, something wasn't right with the picture stretched out in front of my headlights. Entering a lazy left turn, I noticed an 18-wheeler quickly but smoothly switching into the left lane. There was no one in front of him so I knew he was switching out of courtesy to some poor bloke on the shoulder. It could have been anyone but instinctively, I lifted up on the gas.

As the towering truck continued around the curve, I saw the bright red brake lights of a car on the shoulder, glowing like an evil beacon. I too switched to the left out of courtesy, then carefully watched the car as I passed. My suspicions were confirmed as I passed a State Trooper in a white Dodge Charger, sporting Illinois' yellow and brown state trooper stripe along it's shoulder line.

The adrenaline began to pump and my senses heightened as time slowed. Thanks to engine braking and my symmetrical AWD, I heard the whir of the gears winding down as the car coasted to 75, then 70 without touching the brakes. My eyes were riveted to my mirror as I switched back to the right lane.

The Impala passed the trooper and caught up to me. My avoidance of the brakes had caught the Impala off guard and he hadn't slowed much. I saw the trooper pull onto the highway and begin to follow us. What would he do?

My eyes remained focused on the trooper as the drama unfolded, like lasers painting the target of a guided missile in my mirror. Seconds passed, though they seemed like minutes or even hours in my adrenaline rushed mind. In that moment, my mind felt synchronized with the Impala driver. "Who would it be?"

Suddenly, an explosion of red and blue lights erupted from the trooper as he picked his target. In utter disbelief, neither car slowed down. The trooper was not pleased by this reaction and responded to the silent, "Who me? Couldn't be!" with flashing high beams.

The target was not me. As reality set in, the Impala began to slow and our mind meld was broken by the increasing distance. Even so, I knew what the Impala driver was thinking: "Why isn't HE getting pulled over?"

In the remaining 30 minutes of my trip to Effingham, I replayed the event in my mind. I can only surmise that the cop had clocked me with his radar gun after I had slowed down and then clocked the Impala before he had slowed down. If that truck had been in a slightly different position, if my instinct had kicked in a second later, if the Impala had been following a little closer or a little farther, if I had been using cruise control...

There were many tiny factors that created a perfect storm for that Impala. Perhaps one day we will meet again and the tables will be turned.
Posted 01/21/2009 09:34 PM in Cars, Ramblings, Travel
Link To This Blargh | View/Add Comments (2)


---

Passion for Politics
Or lack thereof, as the case may be.

With the inauguration today, I figured I'd ramble about my lack of passion, not just for politics, but for just about everything. Seeing all the hoopla around the election and inauguration just got me thinking.

There are people all over the world who are very passionate about Obama and politics in general. I think that's great and, for the most part, I applaud those people. But politics just doesn't do it for me. In fact, the number one reason that I didn't like Obama was because I had a couple friends who were annoyingly overzealous about him (IMHO). They actually turned me off to the point that I didn't want to hear about him or read about him, and consequently I didn't even know that universal health care was his major platform until AFTER the election.

For the record, though, I do like Obama. It took me a while to warm up to him and get an understanding of what he was saying. Am I a full blown Obama supporter? I don't know, but if I weren't so lazy, I would vote for him.

Do you know who else I like? Al Gore. I didn't realize this until he did a cameo on Futurama, but after seeing his willingness to laugh at himself and seeing his passion in An Inconvenient Truth, I can say that I would vote for him too.

Now the point of all this was to say that I lack passion. Some people are passionate about politics, sports, family, style, music, work, TV, pets, technology or a host of other things. Oh yeah, and God of course. But recently I've found that I don't seem to have passion for anything.

What about cars? Food? Cooking? Japan? God? While I have interests in those areas, sadly I have to say that I'm not passionate about any of it. I seem to have lost it all in the last few years, which is kind of why I stopped exercising and watching my diet. I have this feeling of, "been there, done that." I know I can do it, but the real question is why should I bother?

I dunno, I'm just apathetic about everything right now... so apathetic that I don't even know what else to say at the moment...
Posted 01/20/2009 09:06 PM in Politics, Ramblings
Link To This Blargh | View/Add Comments (2)


---

Borrowing phones
Twice this week I've been approached by a complete stranger at the airport asking if I had a phone they could borrow. Am I being too paranoid because I've said no both times? I just don't feel comfortable giving my $300 phone to a stranger...
Posted 01/15/2009 10:35 PM in Geek Stuff, Ramblings, Travel
Link To This Blargh | View/Add Comments (2)


---

Bridge to Terabithia
About 21 years ago, when I was in fourth grade at Forsyth School, I read Bridge to Terabithia by Katherine Paterson. Let me rephrase that. I was supposed to read Bridge to Terabithia. The description of the book is, "The story of a special friendship between a boy and girl." Do you think that really sounds interesting to a fourth grade boy? So I only read the first few chapters and, when I found out the ending, a couple of the more applicable chapters near the end (I won't spoil it).

Fast forward 20 years when I first saw the previews for the Bridge to Terabithia movie. I thought it looked awefully fantastical and figured they had embellished quite a bit on the book and had jumped on the LOTR/Narnia computer generated fantasy book bandwagon. Being a Disney movie, I assumed they had changed the ending too and so I wrote it off.

However, my sister brought the movie home for the holidays so I decided to go ahead and watch it. Despite not reading the entire book, I found the movie pretty good and from what I could remember, pretty darn faithful. This reviewer seems to agree. Oh, and I love Zooey Deschanel's eyes too...

Since I was at home, I decided that after 21 years, I should probably dig out my copy and read the book in it's entirety (after all, it did win a Newbery award). A quick reference of the publish date shows 1977, the year I was born! It appears to be the first printing and a quick search of Google images doesn't return the original cover art.

The 128 page book (it seemed so long back then but seems so small now) is an easy read and despite being written for kids, I found it surprisingly deep, touching, profound and insightful. I could almost call it gripping because for the first time in a long time, I read the book for my entire 8AM flight instead of sleeping like I usually do. Later that night, it almost made me want to cry when I got to the (surprisingly long) ending act.

The movie did make some creative changes, one of which resulted in a debate between my mom and sister over the meaning of it. Despite this, the movie is still pretty good, but it just doesn't do justice to the book which I think was excellent and definitely worth a read if you haven't read it and regardless of whether you've seen the movie.

One other funny thing is that after all these years, the other thing I distinctly remember about the book is that I had two copies. I think I found one lying around on the last day of school that year and the owner, Krissi, had already left so I kept it (her name is written on the inside cover).

I figured it would be amusing to track down Krissi and give it back to her but I couldn't find her on FaceBook or even on a Google. I saw her only a couple times after grade school because I think she went to Burroughs for high school (my rival school).

I wonder if I can find an old Forsyth or Burroughs yearbook to see if she has an official spelling that's different. Of course Caroline pointed out that she could have been married or something by now...

I should dig out some of my other grade school books too...
Posted 01/14/2009 08:34 PM in Books, Movies, Ramblings
Link To This Blargh | View/Add Comments (9)


---
Show some respect for
The 6th Annual Joel Nebrida Classic Champions!
Together with Ashley, we are this year's Foosball champions. After a perfect record we advanced to the finals for a double elimination showdown with Courtney and Natasha. The first game resulted in our shameful defeat but spurred us on to a more focused and serious second match. The result was a dramatic come-back and crowning of a new set of champions.

History was also made in the White Elephant Grab Bag. With seven participants, not a single gift was stolen. Every person ended up pretty content with their chosen present and nothing changed hands. I wonder if that's ever happened in the history of White Elephant...
Posted 12/15/2008 02:22 AM in News, Ramblings
Link To This Blargh | View/Add Comments (0)


---

A Salute to Peet
This is a bit of old news, but I just thought that people might like to read up a bit on Alfred Peet who passed away just over a year ago. You may not recognize his name immediately, but he was the founder of Peet's Coffee and Tea. However, his real legacy is not opening that one company. Most people don't know it but Alfred Peet is one of the most influential coffee pioneers in America, if not the world.
Posted 11/14/2008 09:13 PM in Drinks, News, Ramblings
Link To This Blargh | View/Add Comments (0)


---

Alternative Christian View on Voting?
I don't normally talk about politics, but I was quite surprised to see an ad on Facebook with a picture of Derek Webb (an ex-member of Caedmon's Call) on it. The ad suggested that the right decision may be to NOT vote.

I read the linked article and he's not saying that you shouldn't vote, but that if you have serious misgivings about both candidates, choosing the "lesser of two evils" is not the Christian thing to do.

One of the points that Derek makes is, "By voting, especially when based on just one or two issues, you're giving your 'yes' and 'amen' to that party's entire platform, which likely goes far beyond the statement you're trying to make on these few issues."

I would agree with that. Far too many people vote based on a couple issues that they're interested in with little regard to other (often larger) issues. One of the key assumptions of a democracy (which we don't actually live in) is that the people are intelligent and informed. Unfortunately, reality is far from this ideal and the number of people who vote with that sort of logic bothers me.

I remember watching some exit poll interviews in 2004 asking a young lady why she chose to vote the way she did. Her answer was, "The economy hasn't been very good so I thought it was time for a change." That's absurd. Most people grossly overestimate the influence that the president has on the economy, not to mention that it can take years, if not decades, to see the effects of a President's economic policies.

Thinking that simply voting for the other party is going to cure our economic woes or that every economic problem is caused by the current president is sheer stupidity. I'll tell you that I'm much more infuriated by people voting for stupid reasons than not voting at all.
Posted 11/03/2008 10:42 PM in Christianity, Politics, Ramblings
Link To This Blargh | View/Add Comments (9)


---

Trick or Treating Illegal?
At Northwestern, I was once told that Evanston had banned trick-or-treating due to safety reasons. So all these years since 1999, I've thought T-O-T was illegal in Evanston. It turns out that T-O-T is perfectly legal and the reason that many NU students think otherwise is mostly unknown. Perhaps it was a way to rile up students against Evanston, which seems to have a history of being not so Northwestern-friendly?

Also check out these unofficial T-O-T rules

In my search to find last minute pumpkins to decorate my porch I quickly looked at Target. Pie Pumpkins, which are about 8" in diameter cost $3.99. A 10" jack-o-lantern pumpkin cost $7.99. That just didn't seem right.

I debated going to Goebbert's farm, but thought they might not be the cheapest since that's where lots of people go, so I decided to try Caputo's, my de facto produce purveyor.

Turns out I made the right decision because all pumpkins, which varied in size from 10" to 16" were a mere $0.99 each. Startled by the price, I bought four. Looks like I will be making a ton of pumpkin products in the next week.

The other funny thing I noticed for the holiday is that Caputo's now requires an ID to buy eggs and you must be 21. I wonder how long that rule lasts, was it for this whole week or only today?
Posted 10/31/2008 06:43 PM in News, Ramblings
Link To This Blargh | View/Add Comments (2)


---

An exciting evening
It was nice getting back home tonight and I was happy to play with my new G1 Google phone. I've been playing with that for a bit now. It was a pain transferring a couple custom ring tones over and I actually had to go back to my old Motorola phone and MMS my ringtones to my Gmail account. Then I had to use my PC to detach the embedded MMS ringtones as actual files, then e-mail them as attachments so that I could use my Gphone to check my mail and download them.



More pictures at the bottom of this link.

The other exciting thing was exploring the Arboretum, the new outdoor mall at Higgins and 59. It's an interesting mall set up to feel like a small town with lots of small streets and parking in front of each store instead of in a single large surface lot. Also, some roads are one way and there are tons of stop signs. It looks nice, but I think that traffic could get quite congested as people would be tempted to drive from store to store, especially in the holidays.

In the mall is the new Pinstripes location. Also there is the newest LL Bean location, which means I now have easy access to Subaru gear like hats, which I keep losing. There's an interesting looking chocolate bar there and coming soon is a Ruth's Chris. There's also a new Italian casual dining restaurant called Asta la Pasta (a play on "Hasta la Vista?") I'll check that out some time.

However, what pumped me up the most was the discovery of a new Pot Belly's location. Jimmy John's has been opening up a lot of locations in the burbs near me, but I've been waiting for a while to have a convenient Pot Belly's.

This is all good news to me. In the last 2 years, the number of new commercial developments in my area has been very encouraging. They're all close, but not too close, which should be good for my property value which has actually managed to increase in value by almost 2% (as of September) in the last 3.5 years. Hopefully that'll help me to ride out the bottom of the housing market over the next couple years.
Posted 10/24/2008 00:00 AM in Chicago, Food, Geek Stuff, Ramblings, Restaurants, Shopping
Link To This Blargh | View/Add Comments (2)


---

10/06 - Alexandria
Jump to the pictures.

In Alexandria, my sister and I signed up for a half day tour so that we would have free time to search for some local eats. After breakfast, we hopped on the tour bus and went the Alexandria catacombs.

The catacombs were pretty interesting, but they do not allow pictures inside. The catacombs are a family grave site that was accidentally discovered when a drunk man lost his donkey down a hole. When he sobered up the following morning and went to find his donkey, he discovered the tomb.

The tomb was of a Roman citizen who had moved to Egypt and begun to adopt Egyptian traditions. This is apparent in the primary tombs for the Roman and his wife which were decorated in a combination of Roman and Egyptian designs and artwork. Additionally, both bodies were embalmed in Egyptian fashion. After this time, the tombs were expanded for the rest of the family and possibly for public use as well.

With the temperature in the 90's and the sun beating down on us, I was eager to descend the spiral staircase surrounding the well to the bottom, unfortunately, the small passages full of tourists turned out to be hot, humid and stuffy. Several tour buses arrived at the same time so there were hundreds of people in the catacombs which had multiple passages and levels to accommodate hundreds of tombs. My sister and I explored several passageways before returning to the surface.

The next stop was the Alexandria National Museum. The building once belonged to the US Embassy but after they moved to a larger, newer building, this location remained uninhabited until Alexandria purchased it from the US at half the asking price. This building is fairly modern and, unlike the big museum in Cairo, is air conditioned. The three levels are dedicated to different eras in Egyptian history with the Pharaonic era in the basement, the Greco-Roman period on the ground floor and the Coptic (Christian) and Islamic periods on the first floor. I was pretty tired so after we perused the basement and first floor, I took a 15 minute nap on a bench while my sister explored the ground floor.

The next stop was the Montaza Gardens, which belonged to the Royal Family until Egypt became a Republic. Since then the grounds have been a national park and the Montaza Palace has been used for foreign dignities because the Egyptian President is not royal or divine and therefore should not be given such a luxurious residence.

The gardens are full of huge date palm trees and lie on the coast line where a boardwalk is decorated with lion sculptures leading to a hotel and lighthouse. On the other side of the gardens lies the Palace and another hotel and casino.

Next we piled back on the bus and drove on the Alexandrian coastal road along miles and miles of beaches. We saw all sorts of things from a statue of Muhammad Ali (founder of modern Egypt), the tram system, the football stadium, the Alexandria Library and more.

The next stop was Fort Qaitbay but we only had time to explore the boardwalk and vendors in the area outside of the fort. I saw some interesting ice cream carts and potato chips and some local sweets that some vendors were carrying around in clear plastic boxes. I didn't have a chance to buy any of them, besides the tour guide warned us about the lack of hygiene in Egypt, especially from random street vendors.

Our last stop on the tour was Abu el Abbas mosque. Our tour was almost 1 hour behind schedule (which is a good thing since it means our 4 hour tour was 5 hours) and my sister and I were concerned we wouldn't have enough time to explore Alexandria on our own so we requested that the tour guide leave us behind at the mosque. We then walked to a nearby bank to get some Egyptian pounds and then headed west in search of food.

We had only walked a couple blocks when we started smelling something tasty. It was a trio of small restaurants so we walked up to the single host desk and asked for a table. They stared at us blankly as they apparently knew no English. After some useless gesturing, they somehow figured out what we wanted and gave us a table.

A few moments later, the waiter came by and I asked what they had. His answer was, "Pizza, Koshari." At the mention of Koshari, a word I learned from Anthony Bourdain's "No Reservations," I quickly repeated it and asked for one order. After the waiter left, my sister took a look at the restaurants sign and discovered that their logo was Fido Dido holding up a pizza.

When the waiter brought our koshari (see pictures) I read a list of Egyptian foods off my list to see if they had any of them. He acknowledged two desserts: belial and sahleb, both of which turned out to be excellent and tasty. In terms of local food, I think these three Egyptian foods top my list as my favorite items during the whole trip (and I'm starting to drool over them as I type this).

I finished the meal with a Turkish coffee and then we flagged down a taxi. The driver did not speak English but the tour guide had been nice enough to write down directions in Arabic so we could get back to the port. The driver took us there and waved us out of the taxi. We weren't sure how much the ride was so I just waived a 10 pound note ($2) which he grabbed and drove off with.

Back on the ship, we cleaned up and took a nap before heading to dinner at Paniolo's, the TexMex and tapas restaurant with the rents a few family friends. They were all interested in tapas so I went ahead and ordered two of everything for our appetizers. Unfortunately, they weren't that good. Most of us ate light for dinner since we'd all been eating a lot recently.

10/06 pictures are here.
Posted 10/21/2008 08:12 PM in Dessert, Egypt, Food, Pictures, Ramblings, Restaurants, Reviews, Travel
Link To This Blargh | View/Add Comments (1)


---

Vacation Prayers
I'm back home, jet lagged of course, so I'm awake in the middle of the night thinking about the whirlwind of my vacation. I haven't spent much time contemplating all the wonders that I have seen. As I've rushed from location to location the events that have transpired just days ago already seem like distant dreams: vague memories of the staterooms on the ship, the historical sites, the beautiful skylines and the glorious foods fill my mind.

I'm already forgetting details that passed between my ears only to be let go without a thought as I pushed on to the next great thing. But the things I linger on most are the meals spent with family and friends, the miles walked through foreign streets together, the glorious sights we beheld in wonder together. I often fail to appreciate my family and friends until I find myself at home, in bed, alone in the darkness of a quiet night.

That's when I remember to thank God for the things He's given me: the opportunities, the memories, the grace, the love. I have no choice but to praise God for the wonders he has created throughout this world. Though I take them for granted or I let them pass by the narrow blinders of my small world without a thought, I thank God for them.

And I think about the other people I've seen too. The people of Greece, Egypt and Turkey live in countries steeped in history, culture and religion, yet they are equally lost without the knowledge of the one true God. I can't help but wonder what God's plan for them is.

I fear that as the night pulls me into slumber and the blur of errands, tasks, action items and to-dos greets me again in the morning, I will lose sight of all these things, but I guess the only thing I can do about it right now is pray.
Posted 10/17/2008 05:30 AM in Prayers, Ramblings, Travel
Link To This Blargh | View/Add Comments (1)


---

Disembarking in Istanbul
Well, the cruise is over and I'm using my last 30 minutes of internet time. I'm hideously behind on my pictures since I have over 200 of Egypt alone from last week. I'm about to fill up another 4GB SD card too.

Things are a bit hectic trying to pack and organize things between the 17 people in our group so it hasn't quite hit me that there are only a few days left in my vacation. The thought of going back to work next Monday isn't too pleasant either.

Oh well. And in case you're noticing that I haven't had that much local food, don't worry, I've got lots more stuff coming.
Posted 10/13/2008 01:34 AM in Ramblings, Travel, Turkey
Link To This Blargh | View/Add Comments (1)


---

10/04 - At Sea
Jump to the pictures.

On our way to Egypt, we were at Sea for over 36 hours which means an entire day on the ship, so here's a chance for me to ramble on about some other topics. Honestly, I don't really remember what we did with our time primarily because we slept in until 10.

Getting out of our room by 10:30, there weren't many optiosn so breakfast was pretty typical: hit the buffet, make a bacon and egg sandwich, grab some pastries and off we go to... um... sit around on the ship.

Actually no, we didn't sit around the ship. After breakfast around 11:30 we went back to our room and napped for a few hours, finally catching up on the sleep we'd lost the last few nights from traveling and jet lag. In the afternoon my sister and I played Wii. The Medusa Lounge on the ship has "Whatever Rooms" that you can reserve and simply hang out in, but if you want, they also offer Karaoke and Wii. My sister hadn't played a Wii yet so we played some Wii Sports for an hour or so then watched a movie before heading to dinner.

So while I've got time, here is how meals work on Norwegian Free-Style cruises.
There is always at least one restaurant open 24/7 so yes, you can eat at any time of the day. On the Jade, this is the Blue Lagoon which serves simple food like paninis, fish and chips, etc.
There are only two buffet restaurants, all others are sit down. Garden Cafe and The Great Outdoors are actually the same restaurant, except one of them has tables and the food bars outside. Any dress code is allowed.
There are five restaurants that are completely included in the cost of the cruise: Grand Pacific, Alizar, Blue Lagoon, Garden Cafe and The Great Outdoors
Grand Pacific is the designated formal restaurant and does not allow jeans or shorts after 5.
All non-buffet restaurants do not allow shorts after 5.
Specialty Restaurants have cover charges that range from $10-$25 per person. Specialty restaurants include, Paniolo Tex Mex, Paniolo Tapas, Jade Garden Asian fusion, Shabu-Shabu, Teppanyaki, The Sushi Bar, Cagney's Chicago Steakhouse, Papa's Italian Ristorante and Le Bistro French.
All specialty restaurants (except Sushi and Cagney's) have 2-for-1 early bird specials from 5:30pm-6:30pm when all cover charges are discounted 50%
Soft drinks, alcoholic drinks and certain special items cost extra.
10/04 pictures are here.
Posted 10/12/2008 02:19 AM in Food, Greece, Ramblings, Restaurants, Reviews, Travel
Link To This Blargh | View/Add Comments (2)


---

10/03 - Corfu
Jump to the pictures.

In Corfu we started breakfast at the Grand Pacific restaurant, one of the free restaurants on the ship. See the pictures for details.

After breakfast we met up with the other families around 10:00 and went out to see Corfu. We decided to rent a car and drive around. There was a rental agency at the port with cars waiting, but they informed us they had only one car left for 60 euros, which was a discount off their normal 75 euro price. We tried bargaining down to 50 but they refused.

I then noticed another rental car agency, Sunrise Rent-A-Car, located outside of the port. It was only 100-200 feet away but on the other side of the fence. We decided to walk to Sunrise but the exit for the port was a good 1/8 mile away so we had to walk about 1/4 mile to get to Sunrise where we got a manual transmission car for 50 euros including insurance and taxes (auto transmission costs extra). We tried to bargain down since we only had a few hours of time and the woman said we could return the car without filling up the gas. We paid cash with no credit card authorization and were quickly on our way (credit card payments cost extra).

Our car was a red Hyundai Getz and turned out to be pretty comfortable for a compact. It wasn't a very fast car but for the most part did everything it needed to. I estimate it had 70-80 HP. The trickiest part was figuring out the roads which are written primarily in Greek and don't seem to follow a numbering system on these small islands. My sister worked hard as navigator though we still had to make several u-turns.

First we drove to Paleokastritsa to check out the Monastary of the Blessed Virgin, some mountain views and beaches. We had a beautiful drive there and stopped multiple times for pictures. Unfortunately, we misread a sign and didn't realize that we had made it to the Monastary at the top of a hill so we took several other pictures and descended only to discover our mistake. We decided not to back track and continued on our way.

Next we took the scenic route through Pelekas to Perama. We stopped several more times for views but since we were short on time we couldn't stop for lunch. When we arrived in Perama, we stopped at Achillion Palace and Mouse Island before driving back to Corfu Town.

In Corfu we attempted to drive to Old Town, only to get stuck in traffic. We followed it until the traffic ended, only to discover that the road also ended. It turns out that most of Old Town is pedestrian only roads so we had to make our way back out and formulate a new plan. We decided to take the coastal road to Old Town and park and walk the rest. Unfortunately, we lost a lot of time.

After driving around the New Venetian Fortress and taking pictures, we parked in an attempt to find the Temple of the Virgin Mary but only got far enough to find the Temple of St. Anthony before heading back to the ship.

One fortunate thing about our rental agency is that even though the shop is outside the port, we could drop the car off in the port, leave the keys under the floormat, leave the door unlocked and an attendant would find the car later. Since they did not have our credit card, this was not a worry for us and was actually quite convenient.

In retrospect, our biggest mistake was leaving the ship too late in the morning. With a big group of people, we didn't actually make a decision until 10:30 and probably didn't get into our rental car until almost 11:00. This resulted in a trip where we were constantly watching the clock. If we had left the ship at 8 or 9, we would have had more time at our destinations and time for lunch.

Also, my mom and sister think we should have went to Mount Repo instead of Perama. We wanted to do both but due to our schedule we could only do one and we were alreay en route to Perama before we realized the time constraint along with the slight more circuitous route required for Mount Repo.

For dinner we went to Papa's Italian Ristorante, again for an early bird special. This was my personal favorite restaurant because the food was all excellent and it really hit the spot, yet it did not feel excessively heavy. Much of the group was concerned about eating too much and I was the only one to order a pasta course in addition to an entree and just about everyone else regretted it. Despite having an extra course, I was still hungry at the end, not because I didn't eat a lot, but because it was all so good and tasty that I just wanted more. See the pictures for more specific details.

10/03 pictures are here.
Posted 10/11/2008 10:59 PM in Food, Greece, Ramblings, Restaurants, Reviews, Travel
Link To This Blargh | View/Add Comments (1)


---

Tuesday 9/30 - Athens
Jump to the pictures.

Shortly after falling asleep, my sister finally arrived around 3:30am. We talked for a bit and then she got settled in while I spent at least an hour attempting to fall asleep again. At 7:30 my alarm went off and I got up for a free continental breakfast on the Executive Level of the Marriott (yay for Gold status). The breakfast included a large cereal/muesli bar, a selection of cold cuts, cheeses and fruit as well as your standard continental bakery items. Pretty darn good for free.

I then ventured out to meet up with my parents and their friends at their hotel while my sister slept in. It's funny how much faster it is to get to the train station when you're not lost and lugging around crappy luggage. On the Metro I made my way to the Omonia (pronounced like Ammonia) and walked a couple blocks to the Best Western Zinon. It's an older hotel and it shows. The elevators have swing open doors and only hold four people and that's only if they're feeling very friendly. The inner doors are hinged like closet doors and open inward forcing the fourth passenger to squeeze against the other passengers to allow them to open and close. Also, the elevators don't differentiate between up and down when stopping at floors, you just have to ride it until it stops at the floor you actually want. The rooms are also tiny and the showers barely have enough space to turn around. I'm glad I stayed at the Marriott.

At 9:00 our private tour guide and bus showed up and we headed to Corinth. The tour guide provided some historical background as we visited the Corinth canal which is 4km long and 250 meters almost straight down to water level. We then continued on to Corinth to see the temple of Apollo as well as the Corinth Agora. Agora was the name of the public market which was so busy and crowded that the word agora became synonymous with crowds, hence the term agoraphobia, the fear of people and crowds. The Agora was also where the apostle Paul would have sold the tents he made to support himself while in Corinth. Next to the Agora were the ruins of an ancient church, believed to be the one that Paul started in Corinth and addressed in his two letters to the Corinthians, as well as the spot in the market that Paul is believed to have publicly preached.

We also learned that Corinth was destroyed by barbarians that killed all the men and enslaved all the women and children, leaving no one behind to rebuild the city. Today, the region is as famous for it's oil production as it's sun-dried raisins, pistachios and olives. Also at the peak of a mountain stands a strategic fortress that overlooked both the Aegean Sea and the Sardonic Gulf.

After our tour, we went to the Plaka market area surrounding the Acropolis. We found a restaurant to have lunch for decent prices, about 10 euros per person after the 10% discount the restauranteurs offered us as we walked by. I ordered a pork gyro since lamb wasn't offered. My pork was a bit under seasoned though the thick and flavorful authentic tzatziki sauce was delicious. Overall the food was good, but not great but at least prices were reasonable, though not cheap. I wasn't particularly surprised by this since the menu was available in 6 different languages which is a tourist trap warning sign.

Apparently pork is a traditional gyro meat in Greece, though chicken is quite common as well. I have yet to see the same lamb meat loaf cylinders that are common in America. I suppose that lamb loaf may be the American version that is purported to have originated in Chicago but I'll see what other regions in the Mediterranean have before I make my conclusions. Note that the pork and chicken cylinders are made by stacking slices of meat together on a spit and roasting them, unlike the American lamb loaf that is finely ground and formed into a cylinder around the spit.

After lunch the group walked up to the Acropolis to see the Parthenon and Athena's temple. It was a bit of a trek up the hill but there were some very nice views along the way. On our way down we split up and unfortunately our group took a wrong turn and ended up on the wrong side of the Acropolis. It took about 40 minutes to find our way back to the entrance we started at and about 20 more minutes to find the rest of our group. By that time I was completely pooped from walking up and down hills searching. I also missed my opportunity to go to the Athens central market, which might be closed on Wednesday, and some of the specialty shops I had hoped to visit.

My parents and I separated from the group to meet up with my sister and then we wandered around the Plaka looking at shops. As we were all tired and it was starting to get late, we chose a quick restaurant to eat at which had essentially the same menu as the lunch restaurant. Once again I had the pork gyros. This time the pork was well seasoned which was a dramatic improvement on the previous restaurant, except that the pitas, which came off a big stack in a plastic bag, were dry and tough. I also ordered a Cappuccino Fredo (iced, but unfortunately not frozen).

After dinner my sister and I sent my parents to their hotel in a taxi while we did some last minute exploring. We got some gelato for dessert (Hazelnut or her, Pistachio for me) and checked out a few other stores. I was interesting in buying some Ouzo, an anise flavored liquor and I also discovered that Absinthe liquors are easily obtainable (they are still outlawed in America even though the warning on the bottles indicate that the dangerous side affects of Absinthe no longer exist). If I can find a liquor store that ships to America, I'll buy a bit of both.

After that my sister and I hopped on the Metro and went back to our hotel to clean up and get a good night's rest. One last thing observation was the large numbers of stray animals. I knew about this from my research on Athens but seeing the actual problem up close was another thing entirely. Some of the dogs have survived pretty well and managed to stay pretty clean, but others are a little rough around the edges or even injured. In the highly trafficed tour areas (e.g. Corinth and the Plaka) the large numbers of humans mean that the dogs are quite tame and socialized and are not aggressive. In fact, if you feed them or offer to pet them, they seem pretty happy to sit down and soak it all in while they can. In the evening, they seemed to appear all over the place in the plaka and they'd simply lie in the middle of heavily trafficed walkways. There are also many stray cats and I even fed some leftover lamb from one of the other parent's dish to a skinny little cat, though they tend to stay in doorways and on the side of the road instead of lying in the middle. It's really kind of sad and every other dog I see I wish I could take home. I decided to take pictures of several of the animals and will share those tomorrow.

9/30 pictures are here.
Posted 10/02/2008 06:48 AM in Drinks, Food, Greece, Ramblings, Restaurants, Reviews, Travel
Link To This Blargh | View/Add Comments (14)


---

Monday 9/29 - Travelling to Athens
Jump to the pictures.

After 90 minutes of sleep, I headed to Heathrow with my crippled bag to catch my 8:20 flight to Athens. Of all the things to forget, I failed to check which terminal my British Airways flight was in. I knew they were in Terminal 4 or 5 but I wasn't sure which it would be. I chose 4 because it was the closer stop on the Tube but I turned out to be wrong. Unfortunately, to get to Terminal 5, I would have to back track to another station and then transfer to another train. I finally arrived at Terminal 5 at 7:15, perfect timing to check in. But the kiosk gave me an error and told me to go to "Zone A." I went to Zone A and the Queue Host (line manager) told me to go to customer service in Zone B where a single representative was trying to help a dozen people. I stood anxiously in line and watched as the minutes counted down.

It wasn't my turn until 7:50 and of course the flight had already been closed. The rep told me I should have gone to Zone A and now I had been dropped off the flight. Unlike AA which allows you to just jump on standby for another flight, British is very strict about this sort of thing. They basically assume it was your fault and cancel your ticket. Since it wasn't my fault that I had been mis-directed, they had to enact some absurd exception process.

First the rep flagged down a manager who told her to call some guy who handles this stuff. The guy didn't answer the phone so the manager escorted me to Zone A and handed me off to another guy who proceeded to call the same guy who handles this stuff who once again didn't answer. Then he called one of his friends in another department and called in a favor to get my ticket reinstated. Then, he called the first guy again, who finally answered after the phone rang for a good two minutes and had me put onto the standby list for the next flight. Then he called the second guy again to have my standby status upgraded to cleared. Then he could finally confirm a seat and check me in. It took at least 30 minutes to complete this process. I thought British Airways was supposed to have good service!

Since I had three more hours to kill, I decided to sit down for breakfast at Carluccio's, as recommended by the London Review of Breakfast. I had the colleccione which was toast with sauteed mushrooms, scrambled eggs, pancetta and roasted tomato. It was decently priced for the airport at 7£. They don't get any awards for presentation but the mushrooms and eggs were tasty. The toast was a bit tough, the pancetta was salty but not that flavorful (would have preferred American bacon) and the tomato was good but not roasted enough. But those were all minor gripes and I was pretty pleased with my breakfast.

I also ordered a coffee drink called Bicerin. It is a traditional Torino drink of espresso, Florentine drinking chocolate and cream that you mix together as you please. The drinking chocolate was pretty thick like a soft ganache and if I had let it cool more it would have been pretty solid. It was also a pretty cocoa intensive and not very sweet. That was mixed with the espresso and about half of the cream. I considered adding more sugar but thought I should probably enjoy it as it was served. I thought it was extremely tasty, though not very healthy.

I then proceeded through security where they have a nice automated tray return system so that trays are automatically moved back to the front of the line instead of having to wait for some non-observant TSA rep to realize there's a backup caused by a lack of trays. Then in my search for a power outlet for my laptop, I ended up at Starbucks and bought a yogurt so I could sit and mooch their electricity.

Starbucks has much nicer food products in Europe. Their yogurts and granola all looked excellent and had extra seeds mixed in for added fiber and nutrition. I chose a Greek yogurt with granola and honey and was wowed by how thick, rich and tangy the yogurt was. Mixed with the granola, sunflower seeds and honey, this was a delicious yogurt mix.

After losing track of time and almost missing my new flight to Athens, I finally settled in my flight. The British Air 757 I was on seemed nicer and roomier than any American 757s. I think I had one or maybe even two inches of extra seat width and I suspect that American planes have eight seats crammed in a row instead of the seven on this plane. I'll have to check SeatGuru to see.

To my surprise, breakfast was served on this flight and it wasn't a crummy continental breakfast (pun intended here too); it was a hot fish pie. I don't particularly like the sounds of fish pie on an airline because it makes me think of the movie Airplane. But this fish pie (cod and salmon) was very good. The sauce was tasty and there were big chunks of fish coated with panko crumbs (the one negative being that the panko wasn't crispy). The caesar salad, while simple, was good thanks to the tasty croutons and substantial parmaggiano shavings. The bread rolls, which were a wheat and white baked together, were pretty good. And the rice pudding was decent though it was basically standard strawberry sauce mixed into plain rice pudding. I guess that's the one place that British Air has good service.

I finally landed in Athens and found customs and immigration to be very easy. There was no form to fill out and it looked like any valid passport gained instant access to the country. There wasn't anyone in customs either, you just walked out from the baggage claim to the oustide world. I lugged my crippled bag to the Metro which was thankfully still open (it was supposed to be closed for construction but contractor issues have already postponed the start date which was originally April).

I arrived at my station and using my compass quickly determined which direction to head to find my hotel. I walked for 10 minutes but couldn't find it. The address, 115 didn't seem to exist. I walked back and forth for another 10 minutes until finally walking into a Peugeot dealer to ask for directions. Turns out that the numbers on one side of a street don't necessarily line up with the other side so even though I was at 110-120 on the north side, 115 on the south side was another 10 minutes farther down the road.

Then I had to find a pedestrian underpass to get to the other side and I found the sign but not the underpass. I spent another 5 minutes looking for that until I walked into a Citroen dealer and asked for help. Turns out the underpass was about 100 more meters past the sign. 10 minutes later I was across the street at the Marriott and I was soaked with sweat from dragging my stupid cheap-ass bag back and forth and up and down curbs because Greek drivers don't care if their parked cars block the cross walks (if there happens to be one at a particular street intersection) or fire hydrants for that matter. I finally got into my hotel room at 7:30 and decided to scrap my plans to go to the happening night spot for dinner and try to get some sleep.

9/29 pictures are here.
Posted 10/01/2008 06:41 AM in Food, Greece, Ramblings, Restaurants, Reviews, Travel, United Kingdom
Link To This Blargh | View/Add Comments (1)


---

Sunday 9/28 - London
Jump to the pictures.

My trip did not start off as well as I had hoped it would. First, they wouldn't let me check my big bag all the way to Athens because the layover was too long so I would have to pick it up in London. The 7 hour flight itself was fine for the most part. I seat 31B which is an exit row that has lots of leg room. Note that 31A has the emergency slide blocking it so if you want to stretch out you have to sit at a funny angle and then you feel lopsided for the rest of the day.

The AA 777s now have pseudo on-demand movies. Basically each title restarts every 15-20 minutes so you can start a movie almost whenever you want. You can choose to wait for the next one or start the one that is in progress. The one problem is that the controller is docked in the side of the arm rest. If you remove it, there's no problem but if you leave it you can accidentally hit a button and exit out of the movie. I did this and had to restart Hancock, then I did it again, and had to restart it again so I ended up losing about 45 minutes of movie watching time. Hancock was good overall, nothing all that special, but pretty entertaining. I also watched Swing Vote which was decent but lacked a lot of depth that I think it could have gone into. I wanted to watch Get Smart as well but b/c of my Hancock blunder, I didn't have time.

Food on the flight was decent. The choices were barbecue chicken and beef lasagna. I chose the latter which was fairly tasty, (almost as good as a Stouffer's frozen dinner, which are some of the tastiest ones out there since they're not geared as dieting dinners). The salad, dressing and bread were the exact same kinds that AA always uses that are fairly blah. Dessert was a little different though, it was an Oatmeal Chewie. It had a consistency like a brownie crossed with an oatmeal cookie and was pretty tasty in it's manufactured and shrink wrapped goodness.

Breakfast was a pretty simple continental breakfast: a single croissant. The croissant was actually pretty good: it was toasted and had a nice tender center with a flakey outside and was served with butter and strawberry jam. Airline water always tastes funky even though it's in a sealed container, maybe it's the container that tastes funky but it's been that way on AA for as long as I can remember. The strawberry yogurt was run of the mill pre-mixed which is slightly ironic since Britons and Europeans are more picky about their yogurt. For instance, I prefer Danon fruit on the bottom yogurt and one reason they make yogurt that way is to keep the sugars from the fruit separate from the active cultures so as not to interfere. Well in Europe, even fruit on the bottom yogurt causes too much interference so they actually sell yogurt that has the fruit flavors in a separate compartment so you can mix them just when you're ready to eat it.

After we finally landed in London, I picked up my bag and went to British Airways to see if I could check in the bag for the next morning and they said they only allow check-ins three hours before the flight. So I accepted the fact that I would need to lug around my big bag as well as my small bag and backpack. This is the first time I used my cheap new 25" bag and I didn't pack it all that full. In fact it weighed about the same as my small bag (which was extra heavy b/c of my laptop). So in preparation for the walk to the London Underground (Tube) I latched my small bag onto my big bag started walking. All of you who said I should invest in a good set of luggage instead of a cheap set, you were right. After walking through the terminal and through the hallways for about 10 minutes, I lost a wheel.

So now I have to carry the big bag on top of the little bag (a Samsonite) which seems to be holding the weight of both bags without a problem. Darn that ghetto generic Embark brand from target! Having to lug around a big bag was bad enough but to not have wheels for it has really made my plans to travel easily by subway and foot a big pain in the butt. Even my hands are feeling a bit raw from wrassling with the bag. I considered buying a new one but being in London, that's not a good idea as a decent bag could easily cost $200. I may try to buy a new one in Athens (or maybe Egypt where it would be cheap, but probably not any higher in quality).

So anyway, I finally checked in at my hotel and set out for Arbutus, a fairly fancy restaurant that has a cheap prix fixe lunch set. Of course, I wanted to be daring so I went a la carte. For my starter, I had Braised Pig's Head, Potato Puree and Caramelized Onions (see pics). There was a block of meat on the left of the plate (reminiscent of head cheese) which was tasty and reminded me of the ham hocks my mom used to make. The potatoes were very smooth and creamy. However, on the right side of the plate there was something on top of the caramelized onions. My guess is brains which I kind of had to choke down as the taste was as little too offal (pun intended).

For my main course I had the Plat du Jour (dish of the day): Elway Valley Lamb, Hot Pot "Breast and Sweetbreads." This was very tasty and had some fatty pieces of lamb and a whole sweetbread (referred to as a neck gland, haven't had a chance to look up which one it is) topped with gratin potatoes. The dish was a bit lamby plus some offal flavor, but pretty good overall. Unfortunately, I suddenly got really full halfway through and decided to stop. It was odd because 30 minutes prior my stomach had been growling like crazy. I think it was because my body considered it breakfast time and simply didn't want that much food.

After the main I had treacle tart for dessert which was simply the best I've ever had (ok, I've only had it once before, but it was absolutely delicious). I also had the house Apertif to drink which was Prosecco and pear puree.

Now, being extremely full and jet-lagged don't go together so well because I become extremely tired. I wandered around, checked out Chinatown a bit and then sat to rest in Hyde Park where I saw joggers, skateboarders, in-line skaters, horse riders and even a roller-skater (see below). Then things went downhill.

I was so full and exhausted that even though it was only 3:30, I went to my hotel room and plopped on the bed. I set my alarm for 4:30 so I could venture out to find La Fromagerie, a well known cheese shop. Well I woke up and was still very tired and very full, so I thought I'd sleep for another hour. The same thing happened an hour later, and every hour until 9:30pm. I finally made myself get up and despite the rest, I stumbled out of the hotel with bleary eyes. My mission was to find The Golden Hind, one of the best places in London for Fish and Chips. I wandered the area for an hour and never found it and by that time, all the restaurants I had passed started to close.

I headed back to the hotel and saw that Hard Rock Cafe was open but decided that wasn't worth going to. So I went to the concierge and asked who was open late and they told me what area to look in. However, by the time I found them, they too were closed. I headed back again and even Hard Rock was closed. So even worse, I ended up eating at Trader Vic's, one of the hotel's restaurants and I believe an American chain. I decided not to get too much and ended up with Singapore Noodles which were decent but a little light on the curry. I ordered my first European diet coke notied that it was much less fizzy than in the US. I also ordered Phoenix Beer which was smooth and crisp and doesn't seem very strong since I didn't have much problem finishing it.

I considered asking the cute Asian hostess to join me at Restaurant Gordon Ramsay in three weeks, but decided against it. Then I returned to my room and of course I couldn't sleep. Luckily Gordon Ramsay kept me entertained with Kitchen Nightmares and The last episode of The F Word season 3 (he raised and slaughtered sheep this time). I finally went to bed at 4AM, just in time to get some shut eye before I had to get up at 5:30.

9/28 pictures are here.
Posted 10/01/2008 06:35 AM in Food, Ramblings, Restaurants, Reviews, Travel, United Kingdom
Link To This Blargh | View/Add Comments (12)


---

Fermi verses the Jolly Green Giant
Since the Large Hadron Collider (the world's largest particle accelerator) opened just a few weeks ago and I mentioned it in a recent post I figured this would be a good time to recount an amusing story from Hewson's AP Physics (high school) trip to Fermi Lab, the home of what is now the second largest particle accelerator, located an hour away from Chicago in Batavia, IL.

This story is especially pertinent since the LHC had an electrical failure between magnets that caused it to be temporarily shut down. According to Hewson, this is a conversation that took place when they toured the particle accelerator:
Student: What would happen if one of those magnets failed?
Scientist: That would never happen because we have multiple fail safes and redundancies.
Student: I'm just wondering, what would happen if one of them DID fail?
Scientist: Don't worry, that will never happen.
Student: Well, let's just say, hypothetically speaking, what would happen if the Jolly Green Giant came and ripped out one of the magnets?
Scientist: Sir, there's no such thing as Jolly Green Giants.

Posted 09/28/2008 03:55 PM in Chicago, Food, Geek Stuff, Ramblings, Who knew?
Link To This Blargh | View/Add Comments (2)
---

Ted Drewes


I once met a guy who claimed to be a frozen custard connoisseur. One of his top picks for best custard? Culver's. That's like claiming that McDonald's makes the best ice cream. Yes, there's no doubt that it's great and tasty, but it just doesn't come close to the genuine homemade stuff.

On top of that, the guy had never heard of Ted Drewes. I can understand that your average person may not have heard of Ted Drewes, but to consider yourself a connoisseur of frozen custard and have no clue about it is just plain freakin' absurd.

If you like frozen custard, you HAVE to try Ted Drewes for both the wonderfully rich creaminess and for the historical Route 66 significance. On Alton Brown's Feasting on Asphalt, Ted Drewes was the number one most requested absolutely must see stop from his fans.

So when I went down to St. Louis for Labor Day, I made sure to swing by for a nice, rich, cold treat for a hot summer's day. Here are some pictures. Apologies that the close-up is a bit over exposed, I forgot to clear a setting that I changed on my new camera.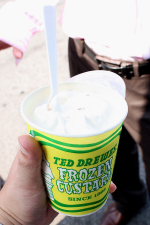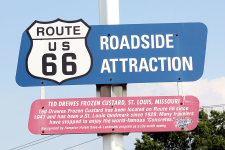 Posted 09/27/2008 07:12 PM in Dessert, Food, Ramblings, Restaurants, Reviews, St. Louis, Travel
Link To This Blargh | View/Add Comments (1)
---

HP Sucks 3
A couple weeks ago, my laptop started acting up. The keyboard would randomly stop registering key strokes and then suddenly register dozens of key presses at once. After some trial and error I found that the problem occurred most often when my palms were resting on the laptop while typing instead of hovering in the air (as recommended by most ergonomics guides, though I personally disagree).

On top of that the battery was starting to die. At 100%, the battery would only last 40 minutes, and that's with wireless turned off and the brightness turned all the way down. If I use the internet, that time drops to 30 minutes and if I used the DVD player that time drops to about 20 minutes. I got the battery in April when I last had computer problems but it may have been used so it could be 2 years old (when they rolled this HP Compaq nc6400 model out) but I suspect it to be younger than that. Even if it was 2 years old, it shouldn't die that quickly.

So I went to IT to see if I could get it fixed and the guy decided to give me yet another laptop shell (all shells have an identical setup so they swap hard drives and usually they're done in less than 10 minutes). That makes this my fifth laptop since February. Pretty pitiful.

I got a new battery too so hopefully that will last a decent amount of time. I heard two other people requesting new batteries as well so I asked the support guy if it was a common problem. His response was, "I think 100% of these batteries are going to die early." Good job, HP. Good job.
Posted 09/26/2008 03:00 PM in Geek Stuff, Ramblings, Work
Link To This Blargh | View/Add Comments (2)


---

Cabela's
After getting home from the airport I decided to pick up a compass so I could get my bearing when wandering through the streets of various non-English-speaking cities in the next couple weeks. I decided to finally visit the brand new Cabela's Store and Museum that opened earlier this year just a couple miles away.

I've heard many things about Cabela's. In short, it is a Mecca for sportsmen. And I don't mean athletes, I mean hard core outdoorsmen like hunters, campers, hikers and fishers. As I was looking around, I heard the perfect example of the type of place it is when a middle aged woman standing near me excitedly told her husband, "Look, honey, bows are on sale!"

The place is huge and quite impressive and I could totally get lost for hours in there. As a kid, my friends and I would get these cool catalogs of hunting gear and we would flip through them looking at all the cool knives and weapons, wishing we were 18 and could buy them. Well, Cabela's is that catalog, but in real life.

In the center of store is a large display, approximately 50 feet long and 25 feet wide, adorned with stuffed animals and signage describing the different species and characteristics. The middle of the display has a passage carved out and surrounded by aquariums as well so you can check out fish. They even have equipment I never knew existed, such as UnderArmor camouflage that actually blocks your body's scent so as not to scare wild animals away.

This store has everything a man could want. A gigantic fishing pole section? Check. Racks of composite bows? Check. A lot full of boats? Check. All sorts of crazy knives? Check. Multiple calibers of paintball guns? Check. BB guns? Check. Racks and racks of used and new rifles and shot guns? Check. A 100 foot long counter full of hand guns? Check.

It's a pretty sweet store (and I found a compass). When I get back from vacation, I'll take my camera in there and get some pics.
Posted 09/25/2008 10:39 PM in Chicago, Ramblings, Shopping
Link To This Blargh | View/Add Comments (11)


---

Full English
While reading through the Chowhound forums for food recommendations I stumbled upon the term Full English. Simply put, a Full English is a proper English breakfast usually centered around bacon and eggs with other fixings such as sausge, black pudding, beans, tomatoes and others.

It is apparently getting harder and harder to find a proper breakfast in London which is where The London Review of Breakfasts, a site dedicated solely to the Full English, comes in. Breakfast reviews are organized by neighborhood and are written well with an entertaining touch of drama and comedy. I could only dream of writing so eloquently.

Following even more links, I stumbled upon this nice little article about how to find A Good Egg which includes some interesting and entertaining simple recipes on how to prepare an egg properly.
Posted 09/19/2008 10:59 AM in Cooking, Food, Ramblings, Recipes, United Kingdom
Link To This Blargh | View/Add Comments (2)


---

My eyes are about to fall out
Normally, I spend the whole day at work staring at a computer screen. For that last two weeks when I go home or to the hotel, I also stare at a computer screen reading food reviews for all the places I'm visiting. There's so much info out there and so far I've found at least 150 different places that come highly recommended.

I have no idea how I'm going to choose between all of them and I'm starting to wish I could spend more time in Istanbul and London. I called AA and they said it would cost $900 to change the last leg of my return ticket, even though my entire 4 leg round trip only cost $1000. However, I can skip my morning flight in London and get on the standby list for a later flight without penalty. On top of that, most flights from LHR to ORD aren't full so that looks like a good option so I'll have time to check out Borough Market in London.
Posted 09/17/2008 11:32 PM in Geek Stuff, Ramblings, Travel, United Kingdom, Work
Link To This Blargh | View/Add Comments (2)


---

T minus 11 days
My vacation is coming up in just 11 days. I'm totally looking forward to it and I've been doing a lot of research on what to do in our free time, particularly where to eat at the different docks. It looks like Istanbul is a big culinary destination and I wish I could change my ticket and stay another day, but then I'd miss my reservation at Restaurant Gordon Ramsay in London. Speaking of London, I still need to reserve a hotel for my first night...

Vacation begins on:



Posted 09/16/2008 10:21 PM in Food, Ramblings, Travel, Turkey, United Kingdom
Link To This Blargh | View/Add Comments (0)


---

Extro-Introvert
Recently I've noticed myself running my mouth off a lot more frequently. I was having dinner with a new team member in Hartford and I found myself constantly talking about this and that and no doubt boring her in an attempt to reduce any awkward silences. Even after I realized I was doing it, it just kept coming out, like word vomit.

Even since then I've noticed it a few more times with other new team members. Why am I doing that? Am I starting to like the sound of my own voice? I don't think so. And I realize that I may be saying things that people don't want to hear. Am I trying to draw attention or trying to make myself known instead of being a wall-flower? Maybe...
Posted 08/30/2008 02:57 AM in Ramblings, Work
Link To This Blargh | View/Add Comments (2)


---

Working Out
I went to the gym and worked out seriously for the first time in over a year. Sure, I've been a couple times this year for a run or something, but this time I spent a good hour hitting the weights. I was surprised to find that my overall strength hasn't declined much: I could still hit weights near my limits from a year ago.

Of course, something must have happened in all this time and I found that my endurance has taken quite a dive. Running for more than 15 minutes at a time is hard and the number of reps I could complete has also decreased. Unfortunately, the work schedule and facilities in Hartford aren't very conducive toward working out but perhaps I can make up for it on the weekends and at least keep things in balance.
Posted 08/24/2008 00:44 AM in Excercise, Ramblings
Link To This Blargh | View/Add Comments (1)


---

Is gas cheap again?
In the last month, as gas prices have eased a little bit, interesting auto sales numbers have come in. Manufacturers have found that sales for small cars have actually slowed down. Now that gas prices have come down a little, it seems people are getting a little more optimistic. It will take a little more time to see if this is a trend, but it seems that it may be harder than expected for Americans to change their buying habits.

This bugs me though. Do people think that gas prices are going to continue to drop? If that is indeed the trend, I hope people aren't expecting to see $2 gas any time soon. This is the same typical behavior that got us into the housing market situation. People are not looking long term: they see deals and make impulsive decisions. Then, a year or two later, they complain about rising prices and have trouble making ends meet.

I'm pretty impulsive too, but if increasing gas prices means someone cannot afford to drive their gas guzzling vehicle, then that is some pretty poor financial planning. And if someone sees gas prices easing up a little and thinks that puts them in the clear to purchase an inefficient car, they'll get no sympathy from me if gas prices go back up.
Posted 08/18/2008 00:14 AM in Cars, Ramblings
Link To This Blargh | View/Add Comments (1)


---

Go Karting
We went Go Karting after work today. We had three heats. My best time on the first heat was 42.107. After that I set a goal to get to the 41's. In the second heat I managed to make it to 41.447. For the third and final heat I hoped to break 40. Alas, my last and final run resulted in a 40.003, a scant 4 thousandths of a second short of my goal. That's as quick as it takes a zebrafinch or European starling to contract and relax their vocal muscles, 100 times faster than it takes for humans to blink an eye.
Posted 07/30/2008 10:42 PM in Ramblings, Who knew?, Work
Link To This Blargh | View/Add Comments (0)


---

Social Network Collisions
Man, there are way too many social networking sites. There are the big ones like FaceBook, MySpace and Xanga and there are the older ones like SixDegrees (defunct), Friendster, ICQ. There have been more and more specialty ones as well, such as LinkedIn which is more business network focused. I've also gotten requests from Plaxo, hi5 and one other one that I never heard of and can no longer remember.

That's part of the reason it took me so long to join FaceBook. Many of these sites are just fads. Social networking only works when you have a large network. Joining these little one-off sites seems a bit of a waste to me so I generally avoid signing up for yet another site unless there is a significant reason to do so.
Posted 07/26/2008 07:55 PM in Geek Stuff, Ramblings
Link To This Blargh | View/Add Comments (0)


---

Grilling Grills
Grill (verb): to examine thoroughly

Currently I'm in the middle of a grilling quandry and have been carefully examining my options.

When Ben moved away three years ago, I purchased his Aussie Bonza 4 propane grill for $250. Last year one of the cast iron burners was not operating very well. In an outdoor grill, exposed to alkaline ashes and moisture, cast iron has a tendency to corrode very quickly. Replacement burners (I need four) cost about $35 for cast iron and $100 for stainless. I considered just getting a couple but decided to hold off.

This year I noticed that the gas pressure was extremely poor, resulting in only two burners working properly. A new search revealed some not-so-favorable reviews of Aussie grills. Supposedly their warranty service is actually ok, but I have no original documentation and am probably beyond the coverage. I also discovered that Aussie Grills finally put up a consumer website with replacement parts with the burners costing just $20 each. However, given the poor pressure, I believe the gas manifold needs to be replaced as well for another $30.

If I replace all these parts, that totals $110 just to bring my grill to basic functioning level. The ignition electrodes and thermometer are also broken, the ceramic coated grates are starting to rust and crack, plus the metal housing is severely rusted as well and could soon turn into a bottomless grill. And I'm not so sure about any other parts that aren't so easily replaced.

On top of all that, the plastic grill cover has disappeared. This might be because someone took it off to steal the grill or to steal my propane. If it was the former, the wannabe thief was thwarted because the grill is cable locked to the house. If it was the latter, they were probably successful. I suspected someone was stealing propane last year and I'm convinced now because I found the propane canister on the ground instead of installed on the grill base.

So I'm considering getting a new grill instead. I might stick with a simple and reliable kettle style Weber charcoal grill, which can be had for about $90. I might wait until next year though.

In the mean time, the Bonza 4 is listed as charcoal compatible so I may just give up on the burners and use charcoal in it until the thing finally dies.
Posted 07/23/2008 09:04 PM in Cooking, Ramblings
Link To This Blargh | View/Add Comments (0)


---

Working at home = high electric bill
I received my electric bill for June and was quite shocked by it (that pun was totally not intended, really). The total bill came to a whopping $143. The big kicker is that I haven't even turned on my A/C yet this year.

The usage is probably from working at home because I leave my internet, computers and electronics plugged in all the time. Usually when I travel, even for just a few days, I turn off most of my power strips to conserve electricity. Running all my power tools and lights while working on my counter probably contributed too.

With high temperatures expected to remain above 80 now, I may need to finally turn my A/C on. Having a west-facing unit doesn't help in the hot afternoons. It's times like this that I prefer traveling so I can save money at home and enjoy A/C on someone else's dollar.

A lot of people don't realize how much electricity they use. For example, if you have a 300 watt halogen lamp and you run it for 6 hours a day, that comes to 1.8 kWh. For 30 days that is 54 kWh. At $0.125 per kWh (my current ComEd rate) that is $6.75 a month to run that one lamp. See Saving Electricity for details on calculating electricity costs

Another contributor is electronics that "leak". These are items that go into standby mode instead of shutting off, such as DVD players, TVs, computers, microwaves, pretty much anything with a clock or a remote (to detect when you want to turn it on). Some power blocks like phone chargers or laptop power cables even consume electricity when they're not attached to anything.

I was surprised to find very little information about leaking electricity in a quick search. Some people estimate the average electronics leak to be about 4W each, with an average home totaling 50W ($4.5/mon) but this Canadian found his home was leaking 1.5MWh per year which is a 177 watt leak (costing almost $16/mon).

Here are some conservation tips. Using lots of watts from lights and electronics generates heat, increasing the need to use even more electricity to run a fan or A/C. This can be reduced by using less light (which is why my place is usually dim) and/or more efficient bulbs (e.g. fluorescent). Also, opening the windows and using fans to cool your place at night consumes significantly less electricity than A/C.
Posted 07/19/2008 10:12 PM in Ramblings, Who knew?
Link To This Blargh | View/Add Comments (0)


---

Puzzling Muscle Pain
Sunday after church I hung out with Jina and Ashley and got to play with Chance. The other thing we did was work on a puzzle for several hours. All that stretching and leaning over the table to look at puzzle pieces and reaching across the table actually made my hamstrings slightly sore (a result of my recent couch potato lifestyle).

That got me thinking about jigsaw puzzles and how large they can be. A quick search resulted in this story of a Nevada man working on a 18,240 piece puzzle (for some reason I ignored the first result). This giant puzzle, along with a few others of the same size, can be found at Puzzle Warehouse.

Returning to the search results and picking the first link revealed the current Guiness World Record holder for largest puzzle (just over 14' x 5'). The homepage for the puzzle is suitably available at WorldsLargestPuzzle.com. The site provides links to stores that carry it, pictures and stories from various people who have completed it and even a guide on how to mount such a large item.

I'd like to work on such a puzzle but the price and size are major hurdles. Perhaps I'll try out the slightly smaller 3000 piece version. In the mean time, I decided to walk 20 blocks (round trip) from work in the 90 degree heat to the Chicago Architecture Foundation store to pick up a 750 piece Chicago Skyline panoramic puzzle. That was on Tuesday and I finished it already. :shrug:
Posted 07/18/2008 07:19 PM in Excercise, News, Ramblings, Who knew?
Link To This Blargh | View/Add Comments (2)


---

Yes, I'm on FaceBook
I let the cat out of the bag yesterday by mentioning that I can update Twitter from FaceBook. Indeed I have an account on FaceBook and it's been almost two months now. After lots of nagging from various folks, I finally joined, but I decided to experiment to see how long it would take my network to grow without intervention from my introverted self.

Here's a log of my network growth so far with name, how we're connected and the last time we talked before FaceBook:
5/26 - Joined on Memorial Day
6/01 - David Y, Deloitte, 2007
6/02 - Jeff P, MICDS, 1995
6/03 - Gina Y, Northwestern, 1999
6/04 - Uche O, Deloitte, 2007
6/19 - Poyao W, St. Louis, 2008
6/19 - Steven W, St. Louis, 2008
6/20 - Caroline C, St. Louis, 2008
6/20 - Katie O, Japan, 2002
6/20 - Catherine R, St. Louis, 2000
6/20 - Natatia L, St. Louis, 2008
6/20 - Annie H, St. Louis, 2007
6/20 - Max S, Deloitte, 2007
6/20 - Jimmy L, Chicago, 2006
6/21 - Leonard L, Northwestern, 2008
6/22 - Stefanie W, Poyao, 2008
6/23 - David B, Deloitte, 2007
6/23 - Selma F, Deloitte, 2007
6/24 - Celeste A, Chicago, 2007
6/24 - Kelly F, Japan, 2002
6/25 - Nicole W, MICDS, 1995
6/26 - Jason H, no clue, no clue
6/27 - Jeremy C, St. Louis, 2008
6/28 - Chris H, St. Louis, 2006
6/28 - Ben H, Northwestern, 2008
6/30 - Kristina P, Northwestern, 2008
7/03 - Amy F, Northwestern, 1999
7/08 - Jeff J, Japan, 2004
7/08 - Tony & Tina S, St. Louis, 2008
7/08 - Stan Y, St. Louis, 2005
7/14 - Elena D, MICDS, 1995
7/16 - Queena C, St. Louis, 2007
7/16 - Melissa H, St. Louis, 1996
Posted 07/17/2008 10:33 PM in Geek Stuff, Ramblings
Link To This Blargh | View/Add Comments (1)
---

Rents and Ribs
My parents came in early last night so I took them to San for dinner.

Today we went to the Garfield Park Conservatory which was a very nice garden that is primarily indoors (in a huge greenhouse). We found all the areas pretty interesting, whether it be the palm room, fern room, sensory garden or the "Sugar from the sun," exhibit. Since it was a holiday and we went fairly early (11AM) parking was extremely easy and free. Since it is run by the Chicago Park District admission was free as well, though we did leave a small donation since we enjoyed it quite a bit.

For lunch we went to Joy Yee's in Chinatown, only to turn around and head straight to the Naperville Ribfest which is a huge food fair focusing on barbecue. Since we arrived earlier at 4:00 it was not too crowded which was nice, and much better than the Taste, IMHO. With the dinner rush starting at 5:00 and the Naperville fireworks planned for 9:30, we elected to leave before it got too packed. Naperville's Ribfest is much better than the Lincoln Park ribfest that I went to a few years ago with Ben.

Since we weren't that hungry due to our late lunch, we only tried three of seventeen rib vendors. The first was Armadillo's Rib and Que Company which we weren't too impressed with. I found the ribs, which appeared to be St. Louis short ribs, to be over charred and a bit on the lean side.

The second was Sweet Baby Ray's which is the same company that makes the bottled bbq sauce you can find in grocery stores (at least around here). Sweet Baby Ray's originated in Chicago and has two restaurants locally. Again we got St. Louis ribs and we found them to be tastier, meatier and tenderer (yes, I know that's not a real word).

The third was Pigfoot b/c we overheard some other folks talking about them. Their ribs are extremely meaty and they have their special Applelicious sauce, in addition to their sweet, mild, hot and killer sauces. I tried each of their sauces and liked them overall. Killer didn't taste that special, but it did have a good lingering kick. Mild didn't leave much of an impression either. I liked the sweet but thought I didn't want too sweet a sauce, so the two I went with were the hot and Applelicious. Unfortunately, we were full so I've still got the half rack of Pigfoot ribs in the fridge and will probably have them for lunch tomorrow.
Posted 07/04/2008 11:34 PM in Food, Ramblings, Restaurants, Reviews
Link To This Blargh | View/Add Comments (0)


---

Free envelopes for life
In the last year I have noticed a change in the envelopes that I get from my banks, credit cards, etc. The envelopes used to be highly customized with designs, ads and special offers.

Recently, the envelopes have been getting more and more simple. In fact most envelopes I receive now are only customized with the mailing address. But I've also started getting plain blank envelopes. I attribute this to cost-cutting measures.

So I essentially get free envelopes every week. If an address is there, I can always put a blank label over it. I also get free return address labels from various promotions so the only thing I ever need is stamps. Of course, most things I pay on-line so I tend to build up very large piles of envelopes...
Posted 07/03/2008 04:10 PM in Ramblings
Link To This Blargh | View/Add Comments (1)


---

L2O, here I come!
My parents are planning to visit Chicago over Independence Day Weekend so I'm going to treat them to L2O, which has been getting some good reviews including this review from Hungry Magazine that thinks L2O deserves three Michelin stars.

If you don't know, the Michelin Guide is a French fine dining guide that is renowned world wide for it's high caliber restaurants and scrutinizing reviewers. In 2005, only 54 restaurants achieved the maximum 3 stars in the entire world. In case you're wondering if there's any relation to Michelin tires, they are owned by the same company, officially named Compagnie Générale des Établissements Michelin

The question for me right now is whether to request a tatami room. Tatami rooms are private rooms where patrons receive a dedicated staff and special 14-20 course meal for $225 per person (standard meals are a la carte, 4 course for $110 and 12 course for $165). After tax and gratuity, the tatami rooms come to about $300 per person. Pretty steep. Maybe I should stick with 12 course meals that will come to about $215 per person.

The main reason I can afford this is because of my AmEx points and a gift I got from work which I again redeemed for Lettuce Entertain You gift certificates.
Posted 06/29/2008 08:31 PM in Food, Ramblings, Restaurants
Link To This Blargh | View/Add Comments (10)


---

CLEARing Airport Security
Since I've been talking about airport security, I suppose it's about time to talk about the CLEAR Card. It's a TSA approved traveler registration program that requires personal information, biometric information (fingerprint and retina scan) and a $128 annual fee. Currently it allows customers to speed through security primarily by skipping the security line, which isn't that different from elite airline membership levels. However, they are working to introduce lanes with special equipment to expedite the scanning process as well. There are also promotions such as a free introductory membership for Hyatt Gold Passport members at the Platinum or Diamond level or 1,000 bonus miles for Delta SkyMiles members.

The CLEAR program was been piloted and rolled out primarily on the east coast but they have been expanding ever since. There are currently 20 participating airports across the US, though some will not be active until later this year. Some airports only support itin specific terminals or at specific times but from those willing to give up personal information, CLEAR has received good reviews.

The one bummer is that no Chicago airport has decided to implement the program yet otherwise I would consider signing up. Here are a couple articles about it: OhMyGov.com | Road & Travel
Posted 06/28/2008 10:36 PM in Ramblings, Travel
Link To This Blargh | View/Add Comments (0)


---

Boo-berries (not the cereal) and a box of soap.
I was hoping to go blueberry picking this weekend but apparently the season hasn't been warm enough. The cooler weather means bees haven't been active enough to fully pollenate all the blueberry bushes. The end result is that blueberry season will have a late start this year. Typically it starts at the beginning of July but some farms are holding off a couple weeks. BOO.

This situation made me start thinking about bees. In the last couple years there has been news about honey bees dying off. When I first heard about it, I thought to myself, "is that really a big deal?" But thinking about blueberries and all sorts of fruits and other plant based products, I'm realizing that it IS a big deal.

[soapbox]
This trend, along with all the other increasing gas and food prices and other issues, really does not bode well for the US. While I'm sympathetic to the issues that people are facing, it's kind of an "I told you so" scenario. Americans have been living beyond what the world can sustain for decades and we've been turning a blind eye to it.

Realistically speaking, I don't think things are going to get much better. We've lived our lives of gluttony and luxury and now we have to live with the consequences. What we're living through now is reality and the glory days of the last few decades have set expectations that we may be incapable of reaching again. I'm not saying that there aren't some great innovations that could turn things around, I'm just saying that it's time we all strap on a pair, take some responsibility for what we've done and leave our wanton ways behind. Or at least stop complaining about it.
[/soapbox]
Posted 06/27/2008 05:22 PM in Food, Ramblings
Link To This Blargh | View/Add Comments (0)


---

A little change means lots of change
Well, my flight has been delayed 2 hours due to weather in Chicago so I'm stuck at the Hartford Bradley airport for a while.

In my airport security system entry a couple days ago I forgot to mention that I always put my change into my bag so I don't have to worry about losing money either.

What's the big deal about losing a little change? In October 2004 a law was changed allowing the TSA to use collected change and to offset some of their costs. Since then, TSA has collected over $1 million in lost change.
Posted 06/26/2008 04:49 PM in News, Ramblings
Link To This Blargh | View/Add Comments (1)


---

Security System?
A couple weeks ago I was standing in the security line in Hartford. The guy in front of me had a small pouch on a coiled cable dangling out of his shoulder bag. I mentioned it to him and he assured me that it was "part of [his] system." I watched him as he went through the security screening and came to the conclusion that his system sucks.

I know different people have different systems for getting through security but as the saying goes, the proof is in the pudding. If your system does not speed you through security, then it doesn't work.

The number one thing I notice is that everyone stands in line at security and shuffles along. When they finally get to the screening area, that's when they start preparing for security. Then they complain about wasting time in line. To me, it is obvious that the time spent waiting in line can easily be used to streamline the process. After 687,000 miles of traveling, here is the system I use to zip through security:
Check-in on-line whenever possible, otherwise check-in and check any bags as needed.
As I walk into the terminal or while checking in, I remove all metallic items (keys, phone, watch) and place them in my backpack or luggage. This way I can retrieve them at my leisure instead of using an additional bowl that I have to watch and scramble to collect.
As I wait to have my ID checked, I get out my ID and my boarding pass.
After having my ID checked, I return it to my wallet or bag and keep my boarding pass out.
While waiting for screening I untie and loosen my shoes and remove my laptop from my backpack. If I have liquids (in a clear zip top bag of course), I remove those as well.
When I arrive at the screening area, I take a single tray and put my laptop and liquids in it. I remove my shoes and place them directly on the conveyor belt first. Then I send through my backpack, the laptop tray, and any luggage in that order.
Keeping my boarding pass, I walk through the metal detector.
When my shoes come out, I place them on the ground and step into them.
When my bag comes out I unzip it.
When my laptop comes out, I drop it into my bag, zip it up and sling it over my shoulder.
When my luggage comes out, I grab it and walk out of the security area, passing 2-3 people who are still trying to gather their items
When I get to a clearing, I stop to tie my shoes.
When I get to my gate, I remove my keys, watch and phone from my bag and am back to normal.
Posted 06/23/2008 07:04 PM in Ramblings, Travel
Link To This Blargh | View/Add Comments (3)
---

Weekend Update
Friday night I was totally lazy. I didn't even work on my counter because new work keeps popping up and I was just feeling lazy. I was hoping to finish the counter on Thursday but I found out that one of my drawers didn't fit correctly so I knew I would have to spend time trimming it to fit. Then I had an issue with some of the trim not fitting properly because of a design flaw. I also failed to account for time prepping the pieces (sanding, paint and polyurethane).

Saturday I finally got back to work. I trimmed the drawer with my router, sanded it and applied the first coat of polyurethane. I bought new trim and poly'd that and put a first coat of paint on the baseboards before installing it.

Tomorrow I'll be sanding all the poly pieces and putting the second coat on. I also have to re-paint the baseboards. After that, I think I'll be able to install the last drawer and the trim and I'll finally be done!
Posted 06/22/2008 01:28 AM in Ramblings, Woodworking
Link To This Blargh | View/Add Comments (0)


---

I had an abysmal failure in the kitchen yesterday. I was trying to make Cashew Butter so I put the cashews in my Black & Decker food processor, followed by the oil and honey. It looked like it was headed in the right direction but it stayed super thick for some reason. I tried adding some more vegetable oil to thin it out, but after doubling the amount, it didn't get any better.

Just to see what would happen, I decided to add a tablespoon of butter. I was not surprised to find that was a bad idea. The nut butter seized and separated. I was left with a gummy blob in a pool of oil. I tried draining the oil and re-processing it. I also tried toasting the blob to drive out some water, but I think the proteins, or whatever is in the nuts, had permanently coagulated.

On top of that, I think the vegetable oil that I was using went bad. It smelled a bit like plastic and the end product tasted a bit like it as well. I tried to make a crust out of the cashew gunk with some extra ginger snaps I had, but the rancid oil was all I could taste so eventually, it all found it's way into the bin. All in all, a very disappointing result.
Posted 06/19/2008 11:39 PM in Cooking, Food, Ramblings
Link To This Blargh | View/Add Comments (0)


---
Cooking Pictures and a Turtle?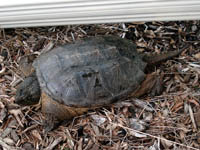 Turtle by my garage.



On the right is a random turtle I saw sitting next to my garage. It was a good foot long!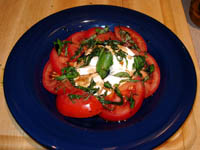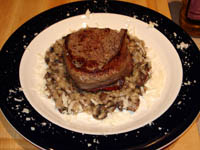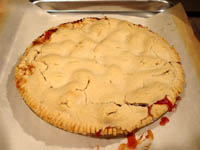 Posted 06/10/2008 05:12 PM in Cooking, Food, Pictures, Ramblings
Link To This Blargh | View/Add Comments (1)
---

Rhubarb and Risotto
Next week I get to work from home (unless I get called to Hartford last minute). I decided to go shopping and buy some supplies to cook this weekend and next week. I'm very glad that I did because with summer coming soon, the produce is starting to look good and I was a bit inspired by what I saw.

Specifically, I was inspired by some rhubarb and peaches that I saw so I made a peach rhubarb pie. I finally tried out my new Black & Decker Power Pro II food processor by making a pie crust with it. Unfortunately, I'm quite disappointed with it's performance. Despite the 10 cup capacity advertised on the box, it barely fit the 4.5 cups of flour and 1.5 cups of butter that a double batch of pie dough requires and it took a long time to make it mix, which resulting in an overly mixed dough. I don't have the receipt for it, but I will try to get store credit at Target and upgrade to a better one. That's one problem with shopping at the store: you can't read on-line reviews which may have tipped me off to some issues earlier...

I also made mushroom risotto which turned out awesome. Instead of using regular broth, I used the leftover boiling liquid from both my traditional and Guiness-Brown Sugar corned beef as a base for a mushroom stock. I was worried that the risotto might taste like corned beef but after absorbing into the arborio rice and mixing with sauteed white and crimini mushrooms, butter and some imported Grana Padana Parmagiano, it tasted downright wonderful.

I also got a bag of cherries which I used to make a great big bowl of cherries, cause they're just good on their own.
Posted 06/07/2008 07:26 PM in Cooking, Ramblings, Reviews
Link To This Blargh | View/Add Comments (5)


---

LEYE & L2O
So I've earned some more gift certificates at Lettuce Entertain You so I was looking at their website to see if there were any other fancy restaurants I wanted to try out after Tru and Everest. I thought about Wildfire, but even though it's nice, it's still primarily a steakhouse. First I noticed a recent addition called Pizzeria via Stato. But then I noticed a small entry with just three letters: L2O.

L20 is a brand new fine dining restaurant with a focus on seafood. It opened just three weeks ago on May 14th in Lincoln Park. The most interesting thing for me is the L2O blog where the chef and some of the staff have been sharing information ever since they started renovating the space in December. They have shared pictures of the construction and new dish concepts. They have even shared recipes, techniques and suppliers. It's really nice to see a chef that has embraced technology (e.g. blogging, flickr, youtube) and is willing to open himself up for public scrutiny.

Here's an interesting picture that I like of one of their sashimi dishes. In case you're wondering, yes, there are two types of fish in that picture.


Posted 06/06/2008 05:59 PM in Food, Ramblings, Restaurants
Link To This Blargh | View/Add Comments (0)
---

HP Sucks 2
Less than two months ago my work laptop crapped out. Well, it happened again with a similar problem: the battery would not charge. So I took it to IT services again and they gave me a new battery. That didn't help so they swapped out my shell again.

Unfortunately, that didn't solve the problem because my power adapter started behaving strangely. Sometimes you can hear power adapters buzzing from the electricity but this one would occasionally do it loudly in a pulse. It actually sounded like it was beeping and during these times, it would not supply power. So I had to go to ITS for a third time to replace that as well. So I got a new battery, a new shell and a new power adapter and it finally worked. unfortunately, my new privacy filter is missing a tab, but I guess I can live with that. HP/Compaq. Blech.
Posted 04/08/2008 08:02 PM in Geek Stuff, Ramblings, Work
Link To This Blargh | View/Add Comments (2)


---

HP Sucks
Last November I talked about the AT&T/Cingular aircard that I got through work. I liked it because it was small and stuck out of my laptop a mere 1/2" so I could leave it in my laptop when I put it in my bag. Or so I thought. Just after Thanksgiving, the aircard was smashed in my bag and stopped working. Luckily it was free through my company so no money was wasted. Besides, the AT&T card was removed from my company's authorized list.

So I ordered a new aircard, this time from Sprint. I installed it but my computer kept trying to recognize it as a "Real Time Clock," and couldn't find the drivers. I took it to IT support and they had to give me a new (used) shell (the laptop hardware without the hard drive which they just switch over).

The Sprint card successfully worked in the new (used) shell but I discovered several dead pixels. Then when I took it home I realized that the battery wasn't working. So today I was in Philly and went to ITS again where they discovered that the shell was not charging the battery. They had to swap my hard drive to yet another shell and it started working again.

I had a few more small hiccups with the new shell. My computer thought it was 1980 and for some reason it couldn't connect to any wireless networks (maybe b/c wireless wasn't around in 1980?). But I finally got it working so my laptop is back to normal. And I'm back in Hartford again.
Posted 02/11/2008 10:56 PM in Geek Stuff, Ramblings, Work
Link To This Blargh | View/Add Comments (0)


---

Americana Express
Recently, I've been taking a taxi to the airport instead of driving and parking. It's nicer because I can sleep on the trip and not have to ride the annoying O'Hare tram and sit in the cold while my car warms up. It's a bit more expensive, but since I pre-arrange the taxi, it's still a lot cheaper than grabbing a taxi at the airport where they get to charge meter-and-a-half for the burbs.

The tricky part has been finding a reliable taxi company. One around here is Taxi Mex but their cars are pretty run down and prefer me to use cash instead of credit card. But then I found one called Americana Express that has several Lincoln Towncars instead of your standard run down taxis. I gave them a call and was surprised to find the dispatcher had some sort of an Asian accent.

When the cab finally showed up, I found out that my cab driver was Korean. After a few more trips, I found that the entire driving staff is Korean, some who don't even speak English very well. But whatever, they seem to be pretty reliable so I've been sticking with them.

My one complaint is some of the drivers. The guy I get most often is pretty good, but every once in a while I'll get one of two that is really bad. First is the older guy who drives in the left lane going 60 and brakes hard when he sees brake lights, even if they're a quarter mile away. He also gets on the gas hard, resulting in a jerky ride that you just know is pissing everyone else off.

Then there's the younger guy who also brakes really early and hard and hits the gas hard too. But he's not as bad about it. What he is bad at, however, is staying in his lane. Even if another car is next to him he may still drift onto the line. He constantly goes from the left side of the lane to the right side and back. It had me wondering if maybe the steering on his minivan was a bit loose so the car would drift without his input. I dunno...
Posted 02/03/2008 02:58 AM in Ramblings, Travel
Link To This Blargh | View/Add Comments (2)


---

Near Accident
Wow, I almost had a major accident on my way home from Mike's place. I was in the Subaru driving south on 53. I was in the left lane and there were cars in the middle lane and right lane as well.

The person in the right lane decided to switch to the middle lane but didn't check his blind spot. As a result, the SUV in the middle lane had to take evasive maneuvers and switch to the left lane. Of course, he didn't have time to check his blind spot so the big black SUV swerves towards me. I had no choice but to drive onto the shoulder, which is covered by 6 inches of snow and ice.

I'm not entirely sure what happened, but I think the initial hit into the snow and ice caused my car to pull to the left. I corrected by steering right, but with no traction on the left at highway speed my rear started to slip. As soon as my left tires got back onto pavement they regained grip and pulled the car hard to the right. I steered back to the left but at highway speeds this was an over correction and I started to fishtail. At that moment I thought to myself, "I hope nothing happens to my car."

This time I steered to the right but once again I over-corrected and as soon as my tires re-gripped the road I knew what was going to happen: a clockwise spin. As I hit the 90 degree mark, I remembered that I needed to stay calm, disengage the clutch and ride it out or I would just make it worse. At the 180 degree mark I stared at a dozen headlights shining on me and thought, "Oh good, no one is close to me."

At the 270 mark I noticed the smell of burning rubber from my tires. When I hit the 360 degree mark I could tell I had slowed to about 20 mph so I revved up the the engine, shifted into first gear and took off as if nothing had happened, except that I was inexplicably in the right lane.

That certainly got my adrenaline pumping and I can count a dozen different ways it could have ended so I thank God that everything worked out ok. But I think I got a little high on the adrenaline b/c the experience as a whole was actually kind of fun... Is that messed up?
Posted 12/03/2006 05:19 AM in Cars, Ramblings
Link To This Blargh | View/Add Comments (9)


---

Bible Study, Condo, Car Updates
A new bible study has started at church. Previously we had been meeting at Paul and Jina's but this year they are changing the format a little. Primarily, most of the groups will be moved to church instead of someone's house. This makes it difficult on the weekdays b/c it's a long commute to church. So I've joined the Sunday bible study and there's a lot of people I don't know so well, which is good. It should be a fun a group.

My only concern is... I can't remember the last time we actually studied the BIBLE in Bible Study. We seem to be doing a lot of book studies, which are good sometimes, but in the end, if we're not studying THE Book then reading as many other books as we want can misguide us or take our focus away from God. We'll see how it goes though.

I am one step closer to getting a house. I may have to pull some financial tricks to get it done but I've learned about more options. The big one is the 80/20 (or piggy back) loan. You take a 80% mortgage on your house to avoid PMI (mortgage insurance) and a home equity loan on the other 20%. No down payment necessary. Interest is higher, but the monthly payment is usually lower. There are risks and disadvantages but they are balanced against building equity in your own home instead of paying rent as well as tax benefits.

This way, I wont be dependent on my parents so much and I will be able to keep my savings and potentially pay off my car sooner, since that comprises a sizeable monthly bill. The other interesting development is that the unit (10A) directly under Ben (10B) went on the market yesterday. That is quite an interesting option...

The other thing that has been occupying my mind is the tuner equipment I ordered. It was created by a reputable Subaru tuner, TurboXS. It's called the User Tunable Engine Computer (UTEC) and is a piggyback Engine Control Unit (ECU) system. This means literally that it piggybacks to the top of the stock ECU and figuratively piggybacks (intercepts and modifies) the electric signals coming from and going to the engine from the ECU.

So far I've read about 150 pages of information on how to install and tune the UTEC. A stock STi, it should be good for about 20 extra HP using a conservative tune. Alas, I cannot do any serious tuning until I get the gauges and sensors to safely do so. Amazingly enough, all these gauges and sensors will cost at least twice as much as the UTEC so that's going to be a long time from now.

My favorite part is note on the cover page, "THE UTEC PROVIDES MORE THAN ENOUGH CONTROL FOR YOU TO DESTROY YOUR ENGINE!" Yee ha!
Posted 01/10/2005 02:06 PM in Cars, Christianity, DIY, Ramblings
Link To This Blargh | View/Add Comments (10)


---

I want a motorcycle!
I've always been fascinated by Japanese sport bikes. I remember when Kawasaki Ninjas first came out and I thought they were so cool (just the name Kawasaki is cool!) The interest comes and goes, but recently I've been talking to my Indian co-workers who learned to ride in India where engine size is 100-500ccs and now ride in the US where engine size is 500-1000ccs and up. As a result, my interest has re-awakened!

I'd like to learn how to ride and get my own bike some day but there are issues like where I would store it and how I would pay for it and such. But in terms of total cost of ownership, it's a LOT cheaper than a car. Cheaper insurance, cheaper maintenance, 30-50 mpg and amazing performance. I mean 0-60 in 4 is not that big a deal for a motorcycle. Just think about putting 100 horsepower behind a machine that weighs 1/10 as much as a car! And I like to work with my hands so I think learning to maintain it myself would be cool as well. And I should do it while I'm young and while I don't have a girlfriend who might not like the idea. Of course, who know, maybe i'll find a biker chic...
Posted 04/26/2002 05:12 PM in Motorcycles, Ramblings
Link To This Blargh | View/Add Comments (8)


---