Blargh Archive for




To view past blarghs, simply select the month or year you would like to view on the left and click "go." If you are searching for a specific word, enter the word and the year you think it was mentioned on the right and click "go."


God told me to buy a motorcycle
It started a couple months ago. I attended Willow Creek and Pastor Bill Hybels gave the 3rd sermon in the Simplify series where he talked about financial reconciliation. After service, he invited anyone who might have the gift of giving to attend a special meeting in the under-construction Care Center. There he talked about the gift of giving and gave us all a set of books to read.

The following week, a guest speaker, Robert Morris, gave the 4th Simplify sermon. It was a great sermon about giving God our first-fruits and how God blesses giving.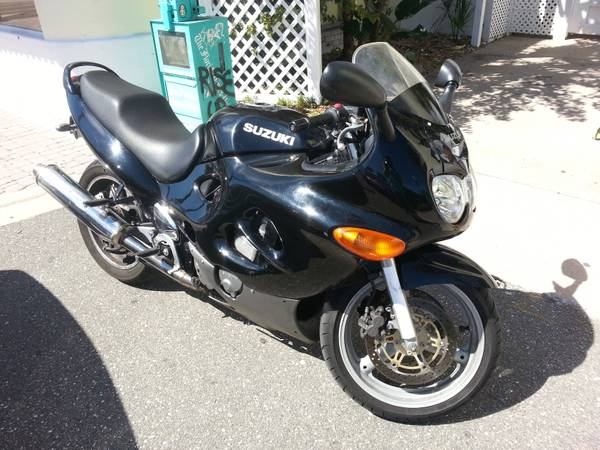 Then I went to Florida and conveniently forgot the last two weeks of sermons. I was itching to ride a motorcycle because the weather was so much nicer (i.e. not snowing). I started looking on Craig's List just to see what I could find.

Very quickly I found a 2009 Kawasaki Ninja 250 for a decent price. I texted the guy and arranged to see it in person that day. I was on the verge of making an offer, but then remembered the sermons and the importance of being a good steward with my money. Knowing my tendency to impulse buy things, I decided to sleep on it and get some counsel from friends.

I got a lot of advice: everything from "Go ahead, do it!" to "Maybe you should wait." It was then that I decided that I had to make sure I was financially reconciled. The first thing I did was start reading the books that Pastor Hybels had given me, starting with The Treasure Principle which I thought was very good. Next, I did my taxes, which was the first time I have ever done them in March (instead of the second week in April). Then, I did a review of my accounts and I realized that I had received some money that I had never tithed on.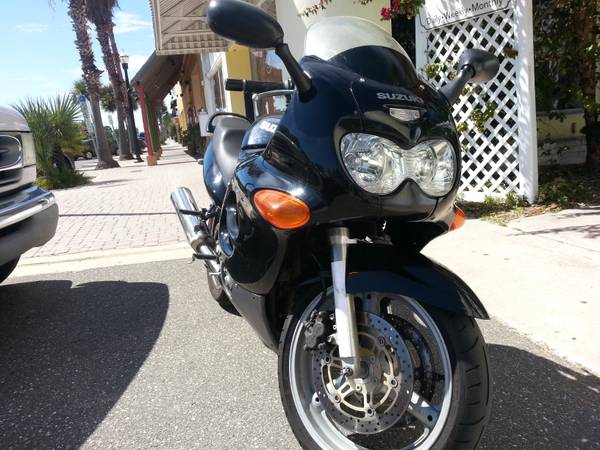 I decided to set that tithe aside for the purpose of investing in God's Kingdom and started looking for good opportunities. Two immediately presented themselves, but they wouldn't be enough to use it all so I kept looking.

Meanwhile, I was still perusing Craig's List for deals just for fun (there were many that I passed up). Then the night before Easter, one listing stuck out. I don't even remember clicking on it before, but when I opened the browser on my phone it was there from a previous session. But this time, the post stuck out to me: "Selling my 99 GSX Katana 600 Need gone to support my mission trip overseas."

I was intrigued, but it was late at night, so I decided to sleep on it again. On Easter morning, I somehow felt that there was something special about this bike. I texted the owner saying I was interested, but also interested in his missions trip. While I was waiting for a response, a very clear thought came into my head. If this guy was legit, I would buy the bike AND donate to his mission trip.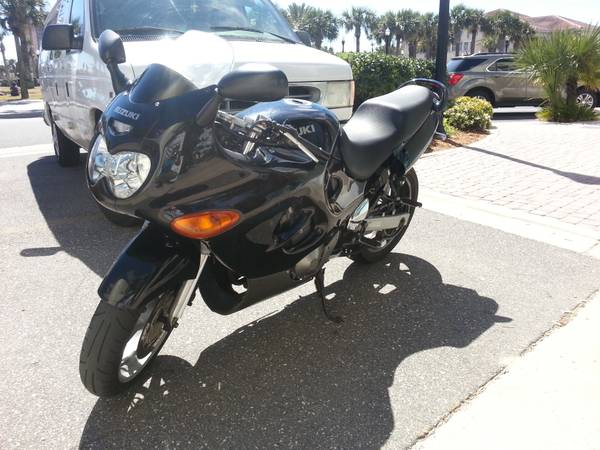 After half an hour, the guy responded telling me the bike was still available and that he would be travelling to Indonesia in a week with Youth With A Mission (YWAM) to minister to people in the sex trafficking trade. We texted a bit more before I left for church and he seemed to be a genuine guy, so I arranged to meet him Monday night at the YWAM base in Jacksonville Beach. By this time, I knew in my heart what I was going to offer him.

That night, I met 19 year old Hunter and we hit it off right away. We ended up talking about God's calling in our lives before finally looking at the bike. I made him an offer on the bike, but then also offered to make a direct contribution to his missions trip on top of it. I think the most appropriate word for his reaction is, "flabergasted." We shook on it and had a deal.

On Tuesday, Hunter rode the bike to my hotel and we went to dinner and talked about our journeys through life and finding God. We also met up on Wednesday to visit the young adult service at Celebration Church and I got to meet a few of his mission teammates.

That was last week and now Hunter is in Indonesia. I haven't known him long, but it brings me joy to know I'm supporting God's work and I'm looking forward to see what God has planned for this young man. I know there's a reason that God orchestrated the sale of this motorcycle so I could contribute to the mission while bringing us together. There's no way these things could have all worked out so perfectly without God, and that's why I say that God told me to buy a motorcycle.
Posted 04/10/2013 10:35 PM in Christianity, Motorcycles, Ramblings
Link To This Blargh | View/Add Comments (34)


---

My Second Motorcycle Story
I wrote this a year ago and forgot to post it!

I posted a lengthy story about my first motorcycle two years ago. Now it's time for a lengthy story about my new motorcycle, but first, what led me to getting a new one in the first place.


The Kawasaki Ninja 250 I had before was a great learner bike: moderate power, low weight, good maneuverability and low cost. However, my older 2001 model had a few issues that detracted from my enjoyment.

The first issue I had was an old battery (10 years). As a beginner I stalled the motorcycle several times which drained the battery and old batteries don't handle that well and start to lose the ability to hold a charge. Pretty soon it had trouble starting.

I purchased a battery charger to keep the battery fully charged but it ran rough and the carburetor required a lot of choke until it was fully warmed up. This was probably because the old battery couldn't provide consistent voltage. This made stalling a common occurrence, which is not good when you have trouble starting. The battery was on its last leg and couldn't hold a charge. It left me stranded me a couple times too, requiring me to call friends to jump start me or rely on random strangers with enough heart to help me.

I finally got a new battery which greatly improved the reliability of the motorcycle, but by that time the riding season was almost over and I had to winterize it and put it in storage (in my living room).



Then I went to Japan again in August and didn't ride it for another month. The gas left in the carb gummed up and when I finally got back to riding in September, it was running extremely poorly and it stalled a lot. I used Sta-Bil and carb cleaning gas treatment over a couple weeks before running it hard for several miles and finally the motorcycle was back to normal, but by this time it was almost the end of riding season again.

The final issue was such a moderately powered and light bike, while extremely nimble and maneuverable, did not feel very stable on the highway, especially at high speeds on a windy day. I knew it could handle it from the previous owner but I just didn't feel that comfortable, especially when it was windy. So I started looking for a newer motorcycle to upgrade to. After looking for a while, I decided on a Kawasaki Versys, which is similar to a Ninja 650R, but tailored as a half-touring, half-sport bike with more low end torque and softer suspension.


I visited the local dealer and found one that I liked and that even came with aftermarket accessories that I wanted. However, the price tag was high, at $5999. Since it was still fall, I was in no rush and left.

A few months later, I decided that the best way to part with the 250 was to donate it to Willow Creek Community Church which has a car repair ministry and could sell it for me as a tax write-off. It was still winter, but I decided to look around for deals in the off-peak season.

I returned to the same dealer and found that they still had the Versys that I liked, except this time it was $4999, which was a fair price, but still higher than I wanted. I talked to the sales woman and came right out and said, "I'll take it for $4500 if you can do layaway."

She went to do some math and said she couldn't do it, but then the manager walked by and she asked him. He said, "I can do it for $4500 but only if you pay in full." I said I could pay in full if they would store it for the rest of winter and let me use a credit card. And so, we had a deal.
Posted 04/02/2013 09:09 PM in Motorcycles, Ramblings
Link To This Blargh | View/Add Comments (3)


---
LED Brake/Signal Lights on Motorcycle DIY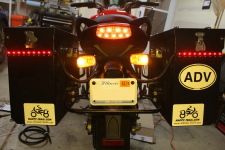 It's been years since I posted up a DIY, but here's one for putting LED brake/signal lights on my Kawasaki Versys.

I have Happy Trail Teton panniers but felt the signals were too hidden, even with the relocation kit they provide. So I decided to buy some red LED strips and wrap them around the rear corners of the panniers and connect them to my brake and signal lights to provide better visibility to other drivers. I used red for brakes and signals since I couldn't find yellow ones I liked.

One of my requirements was the ability to disconnect the lights when removing the panniers so I used Molex hard drive power extension cables that I got from Amazon and cut as needed and also sealed with RTV silicone to make more weather resistant. I wrapped the LED strips around the corners of the panniers and they work fine (some LED strips reviews say they can break on 90 degree turns)

I also kept things simple, no two stage brakes or relays or resistors. Just on/off brake and signal lights spliced directly into stock wiring. It's a pretty rough installation and a pretty atrocious solder job (the wires that came with the LED strips were probably 24 gauge... tiny...) because I didn't plan well enough and was doing this at 3am, but they work.

I also found that the 3M double sided tape that came with the strips isn't strong enough and I wouldn't trust it on the highway. In fact, some spots had come loose when I came back in the morning, so I used super glue which seems to be working well, even on the pannier powder coating.

Here's a quick vid of them working:

Posted 05/13/2012 09:02 PM in DIY, Motorcycles
Link To This Blargh | View/Add Comments (0)


---

My Motorcycle Story
The story begins in 1984 when the Go-Bots were on TV. I remember getting the toy for Cy-Kill, leader of the Go-Bot Renegades which I had a lot of fun with. I also watched Transformers back then but they didn't have any cool motorcycles (at least not until 1986 when Wreck-Gar appeared in the movie, voiced by Eric Idle).

In 1985, Robotech was on the air (I remember running home from the bus to catch the last 15 minutes) and that got me really interested in motorcycles because of the Veritech Cyclone Ride Armor from the "New Generation" I totally wanted that toy but never got it, though I did pretend I had such a suit and could transform and all of that.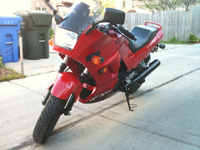 In 1986 the Kawasaki Ninja debuted in America and I remember seeing the commercials and thinking, "I want one of those!" This was well before I ever became seriously interested in cars (other than toys like Transformers), but of course, I was just a kid and dreams came and went pretty quickly.

Several years later, after I received my driver's license and was a Senior in high school, I got the itch again. I asked my mom for a motorcycle and of course she said no. IIRC, her reasoning wasn't so much around safety, but simply because I would be spoiled as I already had a car to use.

The next time I thought about motorcycles was around 2001 when Jordan Ho and some other folks around Chicago bought motorcycles. That piqued my interest so I used some of my expiring Delta airline miles to get a subscription to Sport Rider magazine. Then I was put in contact with an old MICDS friend, Allen McCoy, who was looking to sell his motorcycle (a Suzuki GS500 I think) in St. Louis. I didn't have the money and had no way to get it to Chicago so I passed on the deal. I even ended up transferring Sport Rider to Jordan as well.

Then in 2002, the Subaru WRX was released in America and suddenly there were two toys that I wanted. I started saving money as much as I could and even biked (on a bicycle) to work instead of taking the bus.

In 2003, I moved to Wheaton to save more money, but as it turns out my new landlord, Bryan Hsueh, also had a bike. Then, a couple months later, my housemate Adam bought a bike. I asked why he decided to get it and he responded, "A motorcycle isn't really something you think about, you just get it."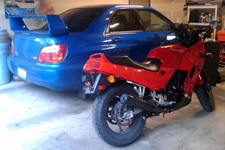 At this point, I had gone back and forth several times between the WRX and a motorcycle. What sealed the deal was when I was sitting at work one day, I hopped onto MSN and watched Subaru's presentation at the 2003 Detroit International Auto Show and nearly lost bladder control when it was announced that the Subaru Impreza WRX STi version would be coming to America.

That day, I made the decision that I would give up on my hopes for a motorcycle and stick with the car route. Within a year, I had the STi and started autocrossing it with Ben Huh in his TT and another guy we met named Bob in his Mitsubishi Lancer (not an Evo). Add in the purchase of a condo and motorcycles disappeared from my thoughts again.

Then, last year Bob told me he had bought a motorcycle. I was pretty surprised when he told me he got a Ninja 250 to learn on, a model I had considered as a starter bike myself. I told him to let me know if he ever planned to sell it.

Well, just two weekends ago, Bob e-mailed me to tell me it was for sale. It turns out Bob found a deal on a Suzuki SV650 and needed to sell his bike fast. So last Thursday I bought it. Now I just have to learn how to ride it...
Posted 05/14/2010 08:20 PM in Cars, Motorcycles, Ramblings
Link To This Blargh | View/Add Comments (55)


---

I want a motorcycle!
I've always been fascinated by Japanese sport bikes. I remember when Kawasaki Ninjas first came out and I thought they were so cool (just the name Kawasaki is cool!) The interest comes and goes, but recently I've been talking to my Indian co-workers who learned to ride in India where engine size is 100-500ccs and now ride in the US where engine size is 500-1000ccs and up. As a result, my interest has re-awakened!

I'd like to learn how to ride and get my own bike some day but there are issues like where I would store it and how I would pay for it and such. But in terms of total cost of ownership, it's a LOT cheaper than a car. Cheaper insurance, cheaper maintenance, 30-50 mpg and amazing performance. I mean 0-60 in 4 is not that big a deal for a motorcycle. Just think about putting 100 horsepower behind a machine that weighs 1/10 as much as a car! And I like to work with my hands so I think learning to maintain it myself would be cool as well. And I should do it while I'm young and while I don't have a girlfriend who might not like the idea. Of course, who know, maybe i'll find a biker chic...
Posted 04/26/2002 05:12 PM in Motorcycles, Ramblings
Link To This Blargh | View/Add Comments (8)


---