Blargh Archive for




To view past blarghs, simply select the month or year you would like to view on the left and click "go." If you are searching for a specific word, enter the word and the year you think it was mentioned on the right and click "go."


Japan Church Planting Institute 2013 National Conference!
It's time for my biennial trip to Japan to serve the Japan Church Planting Institute National Conference! For more information on the trip, please see japancpi.com/

This year, God has provided a team for me to serve with. My team from Chicago is made up of:
Phil (myself) from Streamwood, IL
Dan from Chicago, IL
Hilary from Rockford, IL
Hunter from Stevens Point, WI
Amazingly enough, two of the team members I just met this year! I met Hunter in April (I talked about him in my last post about the motorcycle in Florida). I met Hilary this spring at Willow Creek Community Church. And I have known Dan, who goes to my home church, since 1996 when I met him in college. Needless to say, God is wonderful, or as they would say in Japan, subarashi!

Our trip to Japan is from November 8 through November 18. We will be serving alongside 50 other volunteers from states across the US, including Missouri, Florida, Virginia and others. Together we will help my friend John Mehn, Director of the JCPI Conference (and also from Rockford, IL) put on this biennial conference which serves Japanese missionaries and pastors. Our main ministries will be conference setup, administration, and teardown; providing a Vacation Bible School for children; and running the main sessions and workshops of the conference.

I am extremely thankful to God for making this all happen, but with a team comes more responsibilities and unfortunately, more costs. Typically, I try to finance myself so as not to be a burden on others, but with four people we need help. I have already decided to cover all of our airfare using the frequent flier miles I earned from work, and I have even sold the above motorcycle in Florida to raise money. But we still have a ways to go!

The total cost of our trip so far is $7,426.40. Of this we have raised $4,001.40, which is 53.9%. We are well on our way, but could use additional help.


Interested in supporting our team?
Donations are tax deductible through our 501(c)(3) tax-exempt sending organization:
Impact Japan



Click to donate:
Posted 09/17/2013 09:38 PM in Christianity, Japan
Link To This Blargh | View/Add Comments (1)
---

God told me to buy a motorcycle
It started a couple months ago. I attended Willow Creek and Pastor Bill Hybels gave the 3rd sermon in the Simplify series where he talked about financial reconciliation. After service, he invited anyone who might have the gift of giving to attend a special meeting in the under-construction Care Center. There he talked about the gift of giving and gave us all a set of books to read.

The following week, a guest speaker, Robert Morris, gave the 4th Simplify sermon. It was a great sermon about giving God our first-fruits and how God blesses giving.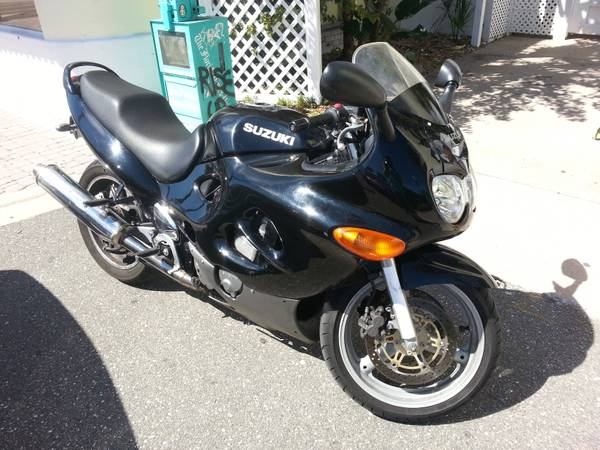 Then I went to Florida and conveniently forgot the last two weeks of sermons. I was itching to ride a motorcycle because the weather was so much nicer (i.e. not snowing). I started looking on Craig's List just to see what I could find.

Very quickly I found a 2009 Kawasaki Ninja 250 for a decent price. I texted the guy and arranged to see it in person that day. I was on the verge of making an offer, but then remembered the sermons and the importance of being a good steward with my money. Knowing my tendency to impulse buy things, I decided to sleep on it and get some counsel from friends.

I got a lot of advice: everything from "Go ahead, do it!" to "Maybe you should wait." It was then that I decided that I had to make sure I was financially reconciled. The first thing I did was start reading the books that Pastor Hybels had given me, starting with The Treasure Principle which I thought was very good. Next, I did my taxes, which was the first time I have ever done them in March (instead of the second week in April). Then, I did a review of my accounts and I realized that I had received some money that I had never tithed on.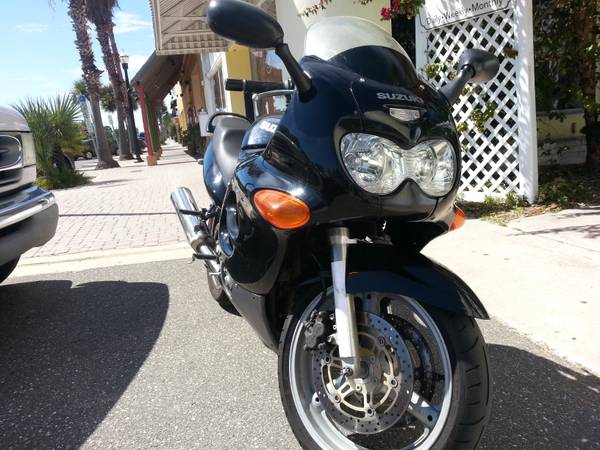 I decided to set that tithe aside for the purpose of investing in God's Kingdom and started looking for good opportunities. Two immediately presented themselves, but they wouldn't be enough to use it all so I kept looking.

Meanwhile, I was still perusing Craig's List for deals just for fun (there were many that I passed up). Then the night before Easter, one listing stuck out. I don't even remember clicking on it before, but when I opened the browser on my phone it was there from a previous session. But this time, the post stuck out to me: "Selling my 99 GSX Katana 600 Need gone to support my mission trip overseas."

I was intrigued, but it was late at night, so I decided to sleep on it again. On Easter morning, I somehow felt that there was something special about this bike. I texted the owner saying I was interested, but also interested in his missions trip. While I was waiting for a response, a very clear thought came into my head. If this guy was legit, I would buy the bike AND donate to his mission trip.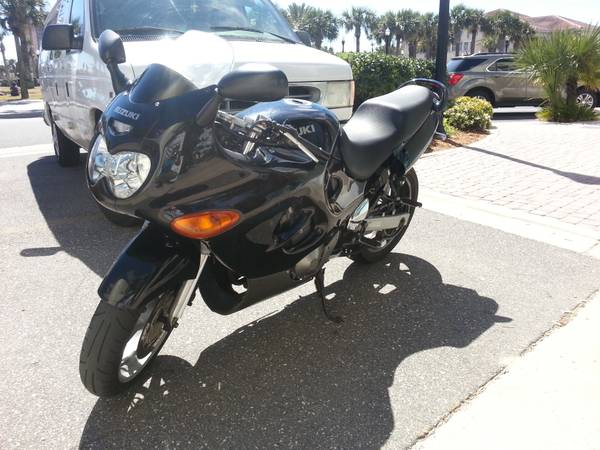 After half an hour, the guy responded telling me the bike was still available and that he would be travelling to Indonesia in a week with Youth With A Mission (YWAM) to minister to people in the sex trafficking trade. We texted a bit more before I left for church and he seemed to be a genuine guy, so I arranged to meet him Monday night at the YWAM base in Jacksonville Beach. By this time, I knew in my heart what I was going to offer him.

That night, I met 19 year old Hunter and we hit it off right away. We ended up talking about God's calling in our lives before finally looking at the bike. I made him an offer on the bike, but then also offered to make a direct contribution to his missions trip on top of it. I think the most appropriate word for his reaction is, "flabergasted." We shook on it and had a deal.

On Tuesday, Hunter rode the bike to my hotel and we went to dinner and talked about our journeys through life and finding God. We also met up on Wednesday to visit the young adult service at Celebration Church and I got to meet a few of his mission teammates.

That was last week and now Hunter is in Indonesia. I haven't known him long, but it brings me joy to know I'm supporting God's work and I'm looking forward to see what God has planned for this young man. I know there's a reason that God orchestrated the sale of this motorcycle so I could contribute to the mission while bringing us together. There's no way these things could have all worked out so perfectly without God, and that's why I say that God told me to buy a motorcycle.
Posted 04/10/2013 10:35 PM in Christianity, Motorcycles, Ramblings
Link To This Blargh | View/Add Comments (34)


---
Bethel Japan Missions Trip 2011 Newsletter 4
8/22/2011
In this issue:
Final Days in Japan
God's Work in Japan
Prayer Requests
---
Final Days in Japan
Wednesday was our final work day in the Shintate neighborhood of Ishinomaki. God blessed us with some cloud cover, which kept the day from getting too hot. We spent the day finishing projects such as cleaning up debris and power washing the streets near our work site.

One task that we had worked on throughout the two weeks was cleaning debris out of a farm field. The tsunami had destroyed a neighboring factory that produced small parts for cell phones and cars. All of these small pieces had been washed into this field. The owner despaired that the field could never be used again but several Samaritan's Purse teams worked on the field, including ours. One row at a time, each team meticulously combed through the soil and removed rocks, plastic buttons, tiny plastic parts, broken glass, blobs of oil from the harbor, trash and debris. The owner was amazed at the progress and is now able to till the soil and will soon be able to use the field to plant crops again.

The highlight of Wednesday was the hula and kakigori (shaved ice) party. Rick and (Little) John built a simple stage out of plywood and carpet and turned the shed into a dressing room. Two hula dancers from another missions group arrived to dance and teach hula to the crowd (we later learned that one of the hula dancers had accepted Christ that very morning!). About 50 people from the neighborhood attended, including several children. Our team then served kakigori and held umbrellas to shade the line from the sun. The laughter of children filled the lot as they played with leftover ice and downed their delicious treats.

After the party, we cleaned up and prepared to say goodbye. It was a sad moment as we filled out cards with our thoughts and presented them individually to each of the families we had served. Even though we had been the ones working, we thanked them for the honor and opportunity to serve and get to know each of them. One gentleman, an expert Japanese calligraphy artist, presented us with beautiful paper cards on which he had written, "Arigatou" which means "Thank You." Some also stayed and joined our prayer circle as we prayed for the neighborhood and Japan.

Finally, we packed up the van and drove away, waving through misty eyes to those who remained. We drove through Ishinomaki one more time to reflect and pray for the work that still remains and headed back to the Samaritan's Purse Base where some team members shared their thoughts and participated in our final night of worship with the rest of the base.
---
Thursday morning we packed up all of our things and loaded them into the van. With the Millhous's gone, our second car was smaller so the van was packed to the brim with all of our belongings. We said goodbye to the Samaritan's Purse base staff that had cared for us the last two weeks and various other friends we had made at the base. Then crammed into our vehicles and hit the road.

On the way, we stopped at the Red Cross Hospital so Dexter could have his stitches removed. 8 hours later, we arrived in Tokorozawa where we picked up Elaine, John's wife, and somehow fit her into the van.

We arrived at the missionary house in Tokorozawa at sunset. We unpacked then said goodbye to Araki-san and Suzuki-San as they continued to their own home. They thanked us for a wonderful experience and Araki-san presented us with a drawing he had made of the entire team.

Afterwards, the remaining team members went out to do laundry and stopped for dinner at Denny's (note that the food at Denny's in Japan is totally different from America) and had some dessert for a job well done.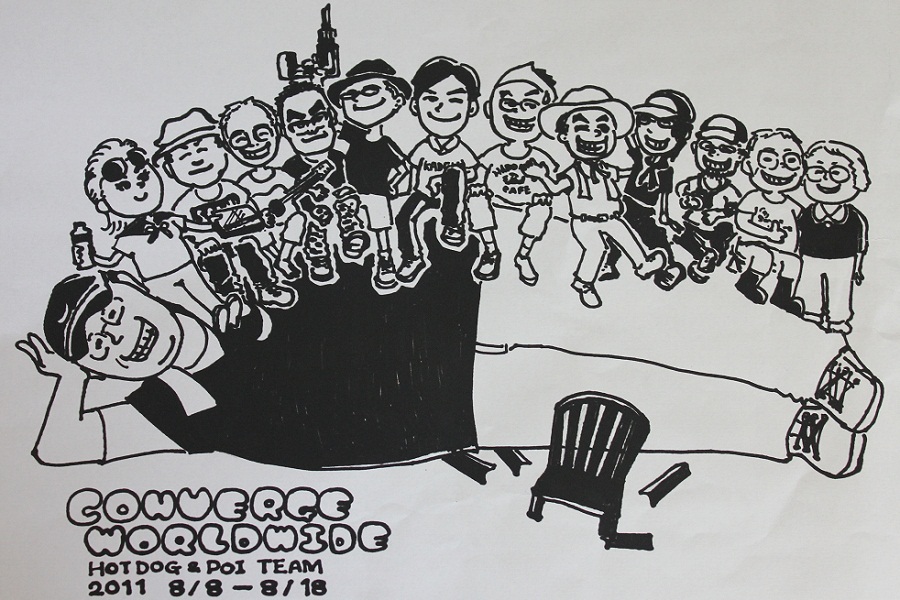 Agnes, Dexter, Rick, Little John, Matt, Yoji, Phil, Mas, Suzuki-san, Araki-san, Ken and Gerry perch atop our fearless leader, Big John.
---
Friday, God granted us with heavy rain to cool things down as we spent the morning relaxing. We had lunch at McDonald's to try the Terriyaki Burger where we met a councilman of Tokorozawa. The afternoon was spent shopping and after our final team dinner at the house, we took some final pictures and said goodbye to Yoji, the first team member to leave.

Saturday, we spent the morning reflecting and sharing our thoughts about the trip. Then Mas, Matt, Agnes and Phil packed their things and went to the train station. There, Agnes and Phil boarded a bus to the airport while Mas and Matt boarded a train to Tokyo where they would split and head to their next destinations.

Sunday, the Poi Boys attended the Kokobunji Baptist Church before heading to the airport as well.
---
God's Work in Japan
Our trip may be complete, but God's work is just beginning. God has used this time not only to impact the people we met in Japan but to impact us as well. In our sharing time on Saturday, we had the opportunity to share the ways God has been working.

(Big) John remarked that no human would have picked the people in our team, yet God chose each person to be a critical part of this team, a perfect set of skills and personalities to do His work. Stories were told of how God moved each person to be a part of this team through small miracles such as a passport being renewed in less than two weeks and an obscure connection that brought new members to the team. There were stories of doubt and fear that were given to God and steps of faith taken that brought us together. As a result of the trip, members shared how God healed past struggles, renewed passions for Japan and gave new callings to continue serving Him.

God has big things planned for Japan and the team can feel it. At no other time in history have there been so many Christians in Japan and so many churches active and working together. Even though this team's work in Japan is over, please continue to pray for God's will in Japan and for more workers to be called as there is still much work to do.

We leave you with this passage from Matthew that depicts how we felt driving through the destroyed towns and villages of Japan.
Jesus went through all the towns and villages, teaching in their synagogues, proclaiming the good news of the kingdom and healing every disease and sickness. When he saw the crowds, he had compassion on them, because they were harassed and helpless, like sheep without a shepherd. Then he said to his disciples, "The harvest is plentiful but the workers are few. Ask the Lord of the harvest, therefore, to send out workers into his harvest field." - Matthew 9:35-38
---
Prayer Requests
Pray for the families we met, the lives we've touched and the seeds we've planted, that they may bear fruit.
Pray for the future of Japan, that God's will would unfold and that a new age of faith would dawn on the Land of the Rising Sun
Pray that more workers would rise up and follow God's call to serve in Japan
Pray for physical, emotional and spiritual recovery of the team after 2 weeks of hard work, long travels and spiritual challenges.
Pray for the team members, that our hearts for Japan would grow and that we may faithfully return or send others, according to God's will.
Posted 08/22/2011 10:36 PM in Christianity, Japan
Link To This Blargh | View/Add Comments (20)
---
Bethel Japan Missions Trip 2011 Newsletter 3
8/14/2011
It's hard to believe that our time in Japan is almost over. We have just one more day of work before heading back to Tokyo for debriefing and rest! Thanks for all of your support and prayers for making all of this possible!

In this issue:
Work Progress
Team Changes
Devotions and Sharing
Prayer Requests
---
Work Progress
For the remainder of the first week, we focused on the home that needed walls to be stripped and the store house that needed to be stripped to the frame.

Significant progress has been made on the store house. The steel siding was completely removed, as was all dry wall. Due to the corrugated steel siding, the store house was the primary source of minor injuries. Several team members received multiple small scratches and cuts, however last Thursday Dexter received a severe cut on his finger despite his leather work gloves. He was taken to the Red Cross hospital where he received six stitches. His wound is healing well.

The home being stripped has seen significant progress as well. All five closets were stripped and the owners were so pleased with our work (we didn't damage or ruin any expensive wood pieces) that they requested that we perform additional work. Unfortunately, Phil stepped on a rotten floor board on Friday which gave way and dropped him half a meter to the ground, resulting in a sprained ankle. His ankle is healing well and he should be fully mobile in a couple days though he will not be able to do any more heavy lifting or strenuous activities.

We finished Friday by driving to the coastline of our city, Ishinomaki, to view the destruction there and pray for the city. After five months, much of the coast line is still devastated and several intersections, including major roads, remain without traffic signals or electricity.

Over the weekend we continued various projects in the neighborhood but also prepared to visit some temporary housing facilities (trailer homes) by purchasing over $1000 of food, including non-perishables, fresh produce and frozen meat for forty families. On Sunday we visited a small home church for worship service where our translator, Pastor Mas, gave the message.

After church we distributed clothing and basic supplies at a small temporary housing facility. We then visited another housing facility and distributed food to the families there. This was a tough time emotionally as we got to meet and talk with families that had lost their homes. Some tears were shed and we received many thanks for our help. In this city alone (Minami-Sanriku) there are 58 housing facilities with over 2000 units housing approximately 6000 displaced Japanese.

In the second week we focused on finishing as many projects as possible. We finished "mudding out" the newly exposed sections in the home being stripped. We also power washed and disinfected the store house in time for Japanese carpenters to begin rebuilding it. Other tasks included removing several dead trees and stumps from a garden, putting up a fence to protect a field, weeding the area around a house, cleaning a graveyard, removing debris from a farm field, moving accumulated trash to the road for pick-up and power washing the street.

Lastly we canvased the neighborhood and invited the community to our final event, a Hawaiian Hula show and Kaki-gori (shaved ice) party. This gave us an opportunity for the whole team to spend time in the community developing relationships, listening to stories and offering additional help. This was another difficult time emotionally as we heard many stories and saw many tears.

---
Team Changes
On Friday, the team said goodbye to Ken and Gerry Millhous. This couple served in Japan for 40 years and retired 6 years ago. After the disaster they felt called to return to Japan and spent two more months serving. This was their last week in Japan and their kindness faithful service will be missed. They also took their car back to Tokyo leaving the remaining 9 team members and all of our gear to fit into a single van for the weekend.

Sunday night, the team welcomed two new Japanese members: Suzuki Hirohumi and Araki Hiroto. These fresh volunteers joined our team for the second week of work. They will be a great asset as they are native Japanese speakers and will make it easier to build relationships at our Hula and kaki-gori party. They also brought a car so we will be able to return to Tokyo with all of our equipment in two cars (like we arrived in).


---
Devotions and Sharing
Our team has been trying to be good stewards to the base, which means volunteering to wash dishes, participating in evening sharing time and singing hymns. It also means preparing and leading morning devotions which are translated between English and Japanese. John, Ken, Mas, Phil and Yoji have all led devotion time. Attached below is Phil's devotion, which includes verses that some of you may recognize from his support letter.
In the midst of all the destruction that surrounds us in Japan, some of you may be asking, "Why did God let this happen?" Maybe some of you have even struggled with your faith because of this disaster.

I hope to encourage you with some favorite verses from Habakkuk. If you don't know who Habakkuk was, he was the 8th out of 12 Minor Prophets in the Old Testament. His book can be found about 9-10 pages before the New Testament, between Nahum and Zephaniah.

Chapter 1, verse 5 is one of my favorites and became my theme verse for my first short term missions trip to Japan in 2001.

"Look at the nations and watch - and be utterly amazed. For I am going to do something in your days that you would not believe, even if you were told." - Habakkuk 1:5

We all know that God has a plan. But God's plan is so amazing that even if He told us what it was, we would still not believe it.

Now, just so you know the context, Habakkuk was a prophet that was frustrated by the sinful decline of the nation of Judah. He cried out to God and asked Him to do something about it. What do you think God did?

God told Habakkuk he would raise up the Babylonians to destroy Judah. That's probably not what Habakkuk expected.

So Habakkuk asked why God would let such a thing happen? God's response can be found in Habakkuk 2:4 "See, he (the enemy) is puffed up; his desires are not upright - but the righteous will live by his faith."

In the rest of the chapter, God assures Habakkuk that despite the coming destruction, all will be made right at the appointed time. All Habakkuk needed to do is wait for it and live faithfully.

I'm guessing here, but this is such a powerful verse, that I think it was one of the Apostle Paul's favorite verses. Paul actually referenced it three times in his writing.

Romans 1:17 - For in the gospel a righteousness from God is revealed, a righteousness that is by faith from first to last, just as it is written: "The righteous will live by faith."

Galatians 3:11 - Clearly no one is justified before God by the law, because, "The righteous will live by faith."

Hebrews 10:37-38 - For in just a very little while, "He who is coming will come and will not delay, but my righteous one will live by faith..."

As we look around at all the destruction around us, we may not be able to fathom or comprehend why it happened or what the future will bring. But that's ok, because God has an amazing plan that we would not believe anyway.

Like Habakkuk, all we need to do is live faithfully: to faithfully serve the Japanese in the name of the Lord.

Now that I have shared one of my favorite verses and what I like to think is one of Paul's favorite verses, let me leave you with some of my sister's favorite verses, found at the end of Habakkuk.

"Though the fig tree does not bud and there are no grapes on the vines, though the olive crop fails and the fields produce no food, though there are no sheep in the pen and no cattle in the stalls, yet I will rejoice in the LORD, I will be joyful in God my Savior." - Habakkuk 3:17-18

I hope that despite all of the destruction around us and our inability to comprehend God's plan, you will continue to serve Him faithfully and rejoice and be joyful in the Lord.
---
Prayer Requests
Continue to pray for health and safety in our work environments
Pray for continued healing without complications for those who sustained injuries
Pray that we would build more bonds in the community at our final party day
Pray for the relationships we have made and built with the Japanese and the seeds we have planted in their hearts
Pray for safe travels back to Tokyo and back home
Pray for physical and emotional health of the team as we are fatigued after 9 straight days of hard labor
Posted 08/16/2011 07:48 AM in Christianity, Japan
Link To This Blargh | View/Add Comments (0)
---
Bethel Japan Missions Trip 2011 Newsletter 2
8/10/2011 - Newsletter 2
In this issue:
Arriving in Tokyo and Tome
The Samaritan's Purse Base
The First Two Days of Work
Prayer Requests
Arriving in Tokyo and Tome
The entire team arrived safely in Tokyo. Some early travelers stayed at John's home in Machida (southwest Tokyo suburb) but then all team members met at a Converge Worldwide volunteer house in Higashi Tokorozawa (northwest Tokyo suburb) on Sunday night (where there was one shower for 9 people). We gathered all of our supplies and re-packed to minimize our luggage. Monday morning we ate breakfast together at 6:30am, had orientation at 7:30 when we met our last two team members, then gathered all of our supplies and packed it into a wagon and a van.

At 10:00 we left the Tokorozawa house and headed north to the Samaritan's purse Tome base (about 45 minutes north of Sendai). The trip took 8.5 hours including two rest stops, lunch and some significant construction traffic but we arrived just in time for dinner and orientation.
The Samaritan's Purse Base
The SP Base is an old sewing factory (you can still see the ceiling mounted electric outlets and compressed air lines) that has been rented out for two years and converted into a volunteer center. The one floor building is split into 4 areas: Office, Kitchen, Men's Quarters and Women's Quarters. The men's quarters contains 36 cots for volunteers while the women's contains 16, supporting a total of 60 volunteers (ear plugs are highly recommended). Last week the tiny kitchen prepared nearly 1500 meals for volunteers (including some meals for other external groups)!

Outside the main building are a large storage shed, 4 portable bathrooms, 8 portable showers and one sink. When running at full capacity, lines can be long during the morning and immediately after work, however we are fortunate that only a couple other teams are present this week so the base is only half full. Two more sinks will be installed and eventually these facilities will be enclosed. Three military tents will also be set up to house long term volunteers.

The base is run by a dedicated staff of volunteers that handle everything from registration, orientation, work assignments, translation, worship, cooking and cleaning.

A typical day at the base:
6:00 - Cold Breakfast (bread, cereal, yogurt)
6:30 - Hot Breakfast (eggs, meat)
7:00 - Daily Devotion
7:30 - Head to work site
12:00 - Lunch
4:00 - Return to Base
5:00 - Shower and rest
6:30 - Dinner
7:00 - Sharing
8:00 - Hymns (led by an accordian)
9:30 - Lights Out
The First Two Days of Work
Converge Worldwide has been focusing its work in a neighborhood in Shintate (we are the fourth CW team to come to Japan). By focusing on one neighborhood, returning volunteers have been able to build relationships in the community and provide continuity and reassurance to the people they have met.

Tuesday morning we immediately began working on several projects in Shintate. First and foremost was cleaning up and weeding an empty lot that had been lent to volunteers by the owner. On the lot is a storage shed for CW supplies that had to be completed as well. Meanwhile three others moved belongings and supplies out of a building so it could be worked on. In addition to these tasks, any interaction with neighbors was considered ministry, whether it be talking, listening, playing with children and even supporting local businesses by getting hair cuts.



After lunch teams were switched with three working on tearing out a water logged closet in a sound proofed house (due to it's proximity to the Japan Self Defense Force flight path). Four more closets will be completed throughout the week. The rest of the team worked on stripping the cleaned out building to the frame. This required removal of corrugated steel siding on the outside and drywall on the inside. This building also caused our first (minor) injuries of the trip, two cut arms and a minor head injury.

Wednesday our focus was on a community barbecue and concert. We arrived early in the morning and worked on setting up tents, a small stage, tables and a kitchen area in preparation for 60 guests from the community. Music was provided by two Japanese Christian musicians from Sendai that lived through the disaster. In addition, a Japanese chef who works at the Swedish and Norwegian embassies brought and cooked meat and yaki-soba (stir fried noodles) to supplement our terriyaki chicken and hot dogs. Following the concert we had shaved ice and cookies for dessert.

The day was extremely hot with temperatures in the mid 90's, 95% humidity and an intense sun, with little opportunity to work indoors. Some team members were quite fatigued and heat exhaustion was a concern for those working around the four grills, however regular sprays from the hose and an ample supply of water, tea and sports drinks kept the group in good spirits.
Prayer Requests
Thank you all for all of your prayers. They have been encouraging and powerful as God has provided for us in every way. Here are some new prayer requests.
Pray that those who we helped and attended the concert would be touched and would want to know more about God
We have heard stories of people who have lost loved ones and wish they had died as well. Please pray that we can give them hope that God has a plan.
We have already made new contacts and been asked to help with more relief work around the neighborhood. Pray that we would continue to be diligent, Godly workers
Weather will remain hot and humid this week. Please pray for health and endurance in these conditions
The Samaritan's Purse base will be filling up at the end of the week. Pray that all would be gracious and we are not constrained too much by time.
Posted 08/10/2011 07:54 AM in Christianity, Japan
Link To This Blargh | View/Add Comments (1)
---

Bethel Japan Missions Trip 2011 Newsletter 1
Welcome to the newsletter for the Bethel 2011 Missions Trip to Japan! This list will be used to share updates and prayer requests regarding the trip.

In this issue:
Meet the "Hot Dog and Poi Team"
Trip Updates
Prayer Requests
How to Contact Us
Meet the "Hot Dog and Poi Team"
Our journey to Japan is coming up fast! Different team members across the world will be leaving for Japan on Tuesday, Wednesday, Friday and Saturday so we are scrambling to tie up loose ends and complete last minute preparations.

The Bethel Team is composed of four people from Chicago and St. Louis, however, we are part of a larger team that will be working together in Japan.

The Bethel "Chicago Hot Dog" Team
- Matt Baumgartner, 30, attends the Japanese International Harvest Church in St. Louis where he is part of the music ministry. He lived in rural Japan for four years and will be the first team member to leave on Wednesday.

- Phil Tsai, 34, attends Bethel Christian Church in Chicago. He has been to Japan 7 times doing missions work including teaching English, running a multimedia team and doing disaster relief after the 3.11 earthquake and tsunami. He will be leaving on Saturday.

- Yoji Takahashi, 31, attends the Japanese International Harvest Church in St. Louis. He grew up attending a Japanese school in Costa Rica and is fluent in Japanese, Spanish and English. He is currently in serminary and will be our back-up translator. He will also be leaving on Saturday.

- Agnes Calabrese, 24, attends Bethel Christian Church in Chicago. She has been on short term missions trips in high school and felt called to serve in Japan after the 3.11 earthquake and tsunami. She will be leaving on Sunday.

The Larger Team
John Mehn, Director of Japan Disaster Response for Converge Worldwide, is originally from Rockford, IL. He has been a missionary in Japan for 25 years with his wife Elaine. He will serve as our overall team leader and coordinator in Japan. He was on vacation in July and returned to Japan on Tuesday.

John Alejado, Dexter Yamamoto and Richard Simafranca attend the Calvary Church of the Pacific in Hawaii. Nicknamed "The Poi Boys" by John, they will be leaving on Friday.

Mas Kobayashi is a native Japanese speaker and now serves as a pastor in Canada. He has been in Japan a month serving and preaching in the Kansai area (Osaka, Kyoto, Kobe) and will meet us in Tokyo on Sunday. He will be our team's primary translator.

Ken and Gerry Milhouse are a missionary couple serving in Japan. They have been on multiple disaster response trips and will be joining us for the first week.

All together, that brings our team to 11 volunteers! Praise God!


Trip Updates
A big thanks to all of you who are supporting us with prayer and finances! We couldn't have done this without you! On the finance side, we are currently 87% funded which allows our team to get to Japan but means we are floating $1,043 on various people's credit cards. If anyone has been planning to give but hasn't yet, it's not too late!

In terms of our itinerary and work, John has been busy coordinating all of our travel schedules to make the most of our time. We have been confirmed to be working with Samaritan's Purse at their Tome base, just north of Sendai in the Tohoku region's Miyagi prefecture. The base provides cots, electricity, running water and hot meals for 30-50 volunteers each week. We will be leaving for the base early Monday morning which will be tiring for half the team that is arriving Sunday night (those flying on Saturday lose a day due to the international date line).

We will be working in a town that previous teams have been working in. Our primary work will be "mudding out" homes. When the tsunami receded back into the ocean, it left debris and mud in the foundations of all the buildings. The work sites are littered with glass and nails and the mud can contain debris, crude oil, bacteria, mold and fungi. We will be wearing water proof boots with puncture resistant soles as well as water proof gear, gloves and breathing masks to protect ourselves. In order to do this, homes will need all of their floor boards pulled up and in some cases, walls opened as well. The mud will have to be shoveled out and the floor boards salvaged, cleaned and disinfected. The average house requires 12 people to complete in 10 days. We may also be asked to clean yards, parks, farms, sidewalks, gutters and more.

In addition to this work, we will have some outreach events including a community barbecue and possibly a concert to build relationships and open doors, not only for more work but also for God's word. We may also visit local community shelters and churches to serve and pray as well.


Prayer Requests
Pray for final preparations (paperwork, packing, spiritual and mental preparation) as we prepare to leave for Japan
Pray for safe travels and the smooth coordination and meeting of everyone in Tokyo since we have team members traveling from many places on different days.
Pray for good rest for the team as this will be a busy and physically demanding trip. Some team members will be traveling for 2 or 3 days in a row and some will be struggling with jet lag.
Pray for health as some work conditions may be hazardous, especially in Japan's hot, humid summer weather.
Pray for team relationships as we have a lot of people from different places with different backgrounds and expectations
Pray for the Japanese that we will be in contact with. Pray that we would be a blessing to them and that their hearts would be open to us and to the seeds of God's love that we will be planting
Pray for the churches in Japan, that they would not be overwhelmed by the needs of today and can continue to minister and serve after the volunteers are gone
Pray for God to provide whatever last minute support we need as we are still a little short on fund raising.
How to Contact Us
John maintains two different sites for Japan team updates if you would like to read those:
Pray4Japan Group
GospelRest

If you would like to e-mail us, please send messages to: japan@bethelcc.net
Note that we are not certain if internet/coverage will be readily available or not.

Posted 08/02/2011 11:05 PM in Christianity, Japan
Link To This Blargh | View/Add Comments (1)


---

Report from May Japan Trip
Here is a brief report that I gave to my church after my trip to Japan in May. It was given along with this slide presentation (PDF).

Good Morning. I am Phil Tsai and I am up here to talk about my trip to Japan in May and then share some details on the upcoming trip in August.

[Slide 1]

In many ways my trip in May was an exploratory one. While I helped in whatever ways I could, I also had the opportunity to see how things are progressing, how organizations are working and where the greatest needs are. Not only was I able to help in many ways, it also allowed me to understand where we could help the most in August.

For instance, the amount of effort that goes into organizing a response to a disaster is huge, and I got to see some of that. I spent two of my weeks in Tokyo doing administrative and IT work for two organizations, CRASH Japan and Converge Worldwide. During that time I worked on managing a database of donors, building a tool to aid in translation and fixing some websites.

I also spent one week in the region of Tohoku with the Rengo network, which is an association of Japanese Baptist churches. Tohoku, which was the region hit hardest by the tsunami, has 6 prefectures (which are roughly equivalent to states), as you can see in this map

[Slide 2]

Three of these prefectures were severely damaged by the tsunami: Fukushima, where the damaged nuclear reactors are, Miyagi, where Sendai is, and Iwate. I went up with 40 people from the Rengo network. This included several pastors, church members and seminary students. The focus of our trip was the prefecture of Iwate, which is north of the epicenter. There we did physical labor and outreach in three different cities.

This portion of the trip allowed me to serve in a more direct, tangible manner. It also let me see the enormity of clean-up and rebuilding work that faces Japan. Even though it had been two months since the disaster (three months now) the work is really just beginning. In fact, some groups are estimating that full recovery will take over 6 years.

For additional information, please see my other blog entries below. For now, here are some pictures from the areas we worked in:
The first city was Miyako. [Slides 3-4]
The next city to the south was Yamada. [Slides 5-7]
Going even further south was Otsuchi. [Slides 8-9]


[Slide 10]

So that was my trip to Tohoku. We learned a lot on this trip, for instance there are some unique challenges to doing relief work in Japan. The Japanese generally don't like to ask for help, as it is considered a sign of weakness. The government has relief centers, like the one we visited in Yamada, where people can go for help. But when we were there, they told us that people aren't asking for help, and if they do, they often feel indebted and obligated to return the favor, and I suspect that many people do not want to feel obligated to the government.

This is actually where we can make a big impact as volunteers. We can go in and get to know people and offer our services, for free, and they do not have to return the favor. In fact, we met people who struggled with the concept of volunteering. They were surprised that we would give up our work and vacations to serve them, without getting paid for it. This gives us an opportunity to tell them that we are Christians and we want to serve them because Christ served us and gave us salvation, no strings attached. In August, as we spend a couple weeks in one neighborhood, we hope to build relationships through that, we can connect people to the local church. Our work will include tearing down walls and floors to clean out mud from the tsunami; cleaning debris and mud from buildings, yards, parks, sewers and streets; delivering supplies and providing meals to families; and reaching out to people to address whatever other needs they have. Through all of this, we will also be giving emotional support and connecting people to the local church.

[Slide 11]

The team will go with Converge Worldwide and work with Samaritan's Purse (who you may recognize as the group that does Operation Christmas Child). The team will be made up of myself and Agnes from Bethel. We will also have Pastor Mas Kobayashi from Edmonton, Alberta. He will be our translator and I actually worked with him when I went to Japan 4 years ago. There are two others from St. Louis who will be joining us as well as three from Hawaii. And there will be some local Japanese church members too.

In order to make this trip possible we need your support. First of all, we need your prayers.
Pray for the people of Japan: that they may find God in their time of need.
Pray for our team: that we may be faithful in our calling and trust in the Lord to provide
We also need your financial support. Each of us needs to raise $2,300 for daily living expenses and airfare. If God has so moved you, we ask that you please consider supporting us in any way you can.

[Slide 12]

Thank You
Posted 07/18/2011 11:08 PM in Christianity, Japan
Link To This Blargh | View/Add Comments (2)


---

Japan Trip Update 5/21/2011
Hi All, This week's update is kind of ginormous because there are just so many things to talk about. I broke it down into the following sections:
Sunday 5/15 - Morioka
Monday 5/16 - Miyako
Tuesday 5/17 - Yamada
Wednesday 5/18 - Otsuchi
Thursday 5/19 - Ofunato, Kesennuma, Ishinomaki
Personal Reflections
The Story of the Ryokan
Prayer Requests

Sunday 5/15 - Morioka
Sunday, John and I met up with four pastors and a couple from some local churches. After the earthquake, many roads were damaged but now, two months after the disaster, the vast majority have been fixed and you can travel at full speed on the highway.

After eight hours, we arrived at a church in Morioka, 2 hours inland from the coast. We met with volunteers from another church and a seminary. After an overview and slideshow of the local effects of the disaster, the 20 of us slept on the floor of the church.

Monday 5/16 - Miyako
Monday we drove east to Miyako on the coast. The Tsunami was reported to be 30 meters tall here, but the area we stayed in did not receive the full force. The downtown area saw 10 feet of water and primarily suffered water damage instead of destruction. Areas closer to the sea saw significant destruction, primarily to the first floor, though many buildings had to be condemned completely.

My team's job was to clean up of the kitchen in the ryokan where we stayed. We removed all debris and cleaned up any salvageable dishes, flatware and cookware. We pulled up damaged linoleum, cleaned the floor, laid down tarps and boarded up windows so the kitchen could be used until it was ready for full renovations. More details on the ryokan are available below.

Finally we hauled the debris to the temporary dump. There was a constant flow of trucks dropping off trash, rubble, cars, along with things you wouldn't think of, like an entire car wash machine! The debris at the dump gave just a glimpse of the immensity of destruction that the Japanese are facing.



Tuesday 5/17 - Yamada
Tuesday our team drove south to the next town, Yamada, which was hit much harder. Sections of the tide wall were pushed aside, over turned or sunk into the ground by the power of the tsunami. Whole blocks of buildings were swept away leaving crumbling concrete foundations and rubble. Boats of varying sizes were strewn on the side of the road or in the middle of a block. In one case, both a boat and a Porsche had been lifted up and left teetering precariously on the roof of a two story retirement home. Throughout the area, the pungent smell of rotting fish permeated the air.

We reported to the local government volunteer center where they assigned us to a destroyed hospital. For safety we wore water proof armored boots, work gloves and breathing masks. We met two women at the hospital. One woman's father was the hospital administrator and the other woman's husband was a doctor. Our job was to salvage their furniture and books from the second floor.

Most of the first floor was completely ruined. We walked past a file room filled with papers and x-rays. A door had been ripped off its hinges but was lodged in the ceiling, hanging on by the auto-closing arm. On the second floor the water had come up to waist level. Debris, office furniture and medical supplies were tossed throughout the hallway.

We hauled a couch and some book shelves downstairs to a waiting truck, then about 300 books and magazines (including three complete sets of encyclopaedias) from the administrator and doctor offices. The furniture was dropped off at one of the women's homes and the books were brought to another hospital where we carried them up another flight of stairs to their new home.

We said goodbye to the women, who were extremely thankful and on the brink of tears as we left. Meanwhile, other teams set up a free concert in the ryokan in Miyako. There they cooked dinner and handed out basic supplies for the community.



Wednesday 5/18 - Otsuchi
Wednesday we headed farther south to Otsuchi, another city that was hit very hard. Otsuchi has a large river that feeds into the ocean and the tsunami followed this river inland. Our primary task was to provide food and services to an entire community that lived on the side of the river.

By the river you could see the side of the road piled high with trash, debris and bags of mud. The water level reached the top of the first floor and even two months later, many people are just returning to their homes to begin the clean-up. We set up at a small convenience store that had just finished cleaning inside.

The team broke up and canvased the neighborhood, inviting everyone to come for a free spaghetti lunch and food, clothing and other supplies. We asked if anyone had any additional needs. One woman needed help removing floor boards so they could be cleaned and her foundation could be cleared of mud. John and I were given a pry bar and assigned this task while the rest of the team helped cook lunch.

The people in this neighborhood were extremely grateful and everyone we contacted showed up. Providing a free lunch doesn't sound like much, but when you have an endless list of things to do to return to normalcy, one less thing to worry about goes a long way. After handing out a couple dozen boxes of supplies, we told them to contact their local church if they had any additional needs.



Thursday 5/19 - Ofunato, Kesennuma, Ishinomaki
Thursday was our day to travel back to Tokyo. Instead of heading straight for the highway, we followed the coast south, passing through town after town that had been destroyed by the tsunami, each with its own unique story. Some towns dealt with huge fires that broke out from liquid propane tanks that ruptured. Some towns were partially protected by their sea walls but some towns had sea walls that were destroyed. Some towns lost roads and train lines.

Seeing the destruction from city to city gave us a chance to pray for the Japanese and reflect on all that we had seen. But there were also times that the shock was overwhelming and we rode in silence. The latest estimates say rebuilding these areas will take at least 6 years.

Personal Reflections
For me, the biggest impression was how fragile our lives are and how quickly our earthly posessions can be destroyed by the power of this Earth that God created. It reminds me of the parable from Luke 12:16-21 (NIV)
And he told them this parable: "The ground of a certain rich man yielded an abundant harvest. He thought to himself, 'What shall I do? I have no place to store my crops.'
"Then he said, 'This is what I'll do. I will tear down my barns and build bigger ones, and there I will store my surplus grain. And I'll say to myself, "You have plenty of grain laid up for many years. Take life easy; eat, drink and be merry."'
"But God said to him, 'You fool! This very night your life will be demanded from you. Then who will get what you have prepared for yourself?'
"This is how it will be with whoever stores up things for themselves but is not rich toward God."
We often live in this world gathering money and stuff and building walls to protect it. Yet it can all be taken from us, in a single moment. Can you imagine that? Your home, your school, your work, your car, your grocery store, your favorite restaurant: gone in an instant. What do you do when that happens? What can you count on?

Are we rich toward God? Are we building up treasures in heaven? Are we working for the Kingdom of God? Are we serving and building relationships with the lost? Are we sharing the Truth with those who have not found it? Or are we pursuing earthly things that do not last?

Those are questions that I know I need to pray and meditate on. How about you?

The Story of the Ryokan
During our travels, we stayed at a ryokan, a Japanese style inn. How this ryokan became a place for volunteers is an interesting story of God's divine provision.

The three story ryokan is located across the street from the sea wall. It is owned by the Abe's, a couple in their 70's. The tsunami came over the wall and heavily damaged the first floor and basement, destroying windows, doors and an entire interior wall. The husband was swept out of a second story window but was miraculously saved when his cell phone strap caught on something. His wife pulled him back into the building, breaking her leg in the process.

Weeks later, a team of American volunteers came to help clean up. It took them some time to find the building where Mr. Abe was waiting for them but by the end of the day they had boarded up the first floor and made significant progress cleaning it. It was at that time that the team discovered they had been working at the wrong building!

However, Mr. Abe was so appreciative of the help fromt he volunteers that he invited the team to stay at his ryokan which had a dozen usable rooms on the upper floors. After discussions with local church leaders, he opened up his ryokan to all volunteers from the church who in turn pay a reasonable amount to provide the Abe's with some much needed income.

Thus, a divinely blessed mix-up brought volunteers to the Abe's which in turn became a resource that allowed volunteers to stay in a better location in better conditions, saving precious travel time and allowing the volunteers to be better immersed in the community. I'm certain that God has and will continue to use this location to touch many more lives.

Prayer Requests

Pray for the emotional, physical and spiritual health of the Japanese. Many people have lost not only things, but family, friends and careers: literally their entire lives.
Pray that the hearts of the Japanese may be filled with love and hope from the volunteers serving them.
Pray for the volunteer teams coming from all over Japan and the world to serve
Pray that the Abe's would be blessed for opening up their home and business to volunteers
Pray for the governments, organizations, churches and individuals that have an immense amount of work to do to restore
Posted 05/22/2011 10:19 PM in Christianity, Japan, Travel
Link To This Blargh | View/Add Comments (1)
---

Japan Trip Update 5/14/2011
I landed at Narita airport in Tokyo, Japan on Monday afternoon. A quick three hour commute got me to John's house (John is my friend and a Converge Worldwide missionary) where I would stay for the week.

For my first week I helped John with some IT related tasks for his ministry, then hooked up with CRASH Japan, a Christian relief organization that is setting up long term base camps for disaster response. CRASH is growing fast and needs a lot of volunteers in their headquarters which moved into a new building this month. 30-50 volunteers work in the HQ every day in the midst of renovations.

The needs change on a daily basis requiring flexibility and a willingness to serve in whatever capacity is needed. I was assigned to help maintain the database of volunteers and donors as well as to help develop a tool to aid with automatic translation between Japanese and English.

Today (Sunday) I will be heading up to the disaster area for a week with a local team to do more hands-on work. Specifically we will be driving to Miyako, which is about 100 miles north of Sendai (300 miles from Tokyo) and will take 8-10 hours.

Our main task will be to distribute supplies in the area though that may change on a daily basis as well. We may also be removing debris, cleaning, watching children or just helping people emotionally. More details below.

We will be staying in an old ryokan (Japanese inn) that survived the devastation and is owned by a couple who lived through the earthquake and Tsunami. Electricity has been restored in the building but there is no water so we will need to bring drinking water and travel 20 minutes to a public bath every day.

I am currently packing supplies for the trip which include rain gear, waterproof boots with armored soles (so we don't step on nails), safety goggles, particulate masks, work gloves, flash lights, sleeping bags, food and duct tape of course. This should be an interesting trip!

Prayer Requests:
For all the people we come in contact with, that we would be a source of comfort, hope and love for them
For the couple who owns the ryokan and are opening it up to volunteers
For opportunities to share the Gospel with those we meet
Health and safety for all the volunteers while we travel and serve
Thanks for your support. I will send another update after we return.

Here is some additional information from John.
John Back to Iwate, May 14th

John will be leaving today with Phil Tsai, short-term worker, to work with a Rengo Disaster Response team in Iwate prefecture from the 15th to the 19th. The eight member team will include Pastor Sasaki, Rengo Board member, Pastor Kurashima of the Masago church, Associate Pastor Yamauchi of the Chuo church, the Wakaos of the Ishikawa Kita church and Pastor Yokota of the Minami Urawa church. This team is loaded with pastors!

John and Phil will pick up Pastor Yokota and supplies and then rendezvous the rest of the team at the Morioka Bible Baptist Church in Morioka, Iwate Prefecture on Sunday evening where we will spend the night. From Monday we will be working in Miyako City, Iwate Prefecture distributing relief supplies, cleaning, removing debris, helping people emotionally, playing with kids, etc.

In this city of nearly 58,000 there are only two churches which together have only a weekly attendance of 39 people. Like the whole Tohoku region, this is a very unchurched and unevangelized area. We will be working with the Iwate 3.11 Church Network which is supporting relief efforts through local churches throughout Iwate Prefecture. Please pray for our hearts and our hands as we bring the love of Christ to this area.

Miyako lost more to 400 to the earthquake and tsunami and is the city where photos showed a waterfall-like tsunami over 124 feet high (about 10 stories) inundating the city. Photo video

Please pray for opportunities to share the love of Christ both in word and deed on this trip. Pray that we may make many smile with hope. Pray to that God would give both John and Phil wisdom and sensitive eyes this trip. After this month trip, Phil will be returning to Japan later in August with a Disaster Response Team from Chicago (and St. Louis). Maybe some want to join him.
Posted 05/14/2011 06:21 PM in Christianity, Japan, Travel
Link To This Blargh | View/Add Comments (1)
---
2011 SUMMER TEAM FOR JAPAN RELIEF WORK
Posted 04/21/2011 00:08 AM in Christianity, Japan, Prayers, Travel
Link To This Blargh | View/Add Comments (1)
---
Going to Japan for this:
Posted 10/21/2009 09:56 PM in Christianity, Japan, Travel, Videos
Link To This Blargh | View/Add Comments (10)
---

I'm such a geek/nerd...
I haven't done any real coding in 2.5 years. I mean, I've done minor PHP stuff on my website, but I don't consider that coding, it's more like scripting and can be done using telnet or Notepad. I'm talking about programming an application, in my case, using Java.

My plan is to start coding Google Android applications, starting with a simple application that contacts the Bible Gateway Web Service to read and display their daily Bible verse. Depending how that goes, we'll see if I can think of something else to code after that.

Since I've gotten a new computer and lots of things have changed since I last coded, I have to go through a fairly extensive setup process:
Removed an old Java Runtime Environment (JRE) that was on my computer from standard web browsing. Also, I cleaned up some old programs and defragged my hard drive.
Downloaded and installed the latest Java Development Kit (JDK) which includes the latest JRE and weighs a hefty 176MB.
Downloaded and installed Eclipse, the most popular open source Integrated Development Environment (IDE) which provides a robust environment to program in (the complete opposite end of the spectrum from the remedial Notepad). This was a slightly smaller 167MB.
Downloaded and installed the Android Software Development Kit (SDK) which comes with an Android phone emulator and foundational components. That comes in at a slightly momma bear-ish 91MB.
Downloaded and installed the Android Development Tools (ADT) plug-in for Eclipse, which allows easy Android application configurations with a mere 2MB download.
The total download for all these components was 428MB and total installation time (including troubleshooting) took about 2 hours. Sounds awfully nerdy and geeky, but I have to admit that when I finally decided to do this last night, I couldn't sleep b/c my mind was busy getting geared up to code again. Hence the title of this entry...
Posted 12/05/2008 10:48 PM in Christianity, Geek Stuff, Work
Link To This Blargh | View/Add Comments (7)


---

Alternative Christian View on Voting?
I don't normally talk about politics, but I was quite surprised to see an ad on Facebook with a picture of Derek Webb (an ex-member of Caedmon's Call) on it. The ad suggested that the right decision may be to NOT vote.

I read the linked article and he's not saying that you shouldn't vote, but that if you have serious misgivings about both candidates, choosing the "lesser of two evils" is not the Christian thing to do.

One of the points that Derek makes is, "By voting, especially when based on just one or two issues, you're giving your 'yes' and 'amen' to that party's entire platform, which likely goes far beyond the statement you're trying to make on these few issues."

I would agree with that. Far too many people vote based on a couple issues that they're interested in with little regard to other (often larger) issues. One of the key assumptions of a democracy (which we don't actually live in) is that the people are intelligent and informed. Unfortunately, reality is far from this ideal and the number of people who vote with that sort of logic bothers me.

I remember watching some exit poll interviews in 2004 asking a young lady why she chose to vote the way she did. Her answer was, "The economy hasn't been very good so I thought it was time for a change." That's absurd. Most people grossly overestimate the influence that the president has on the economy, not to mention that it can take years, if not decades, to see the effects of a President's economic policies.

Thinking that simply voting for the other party is going to cure our economic woes or that every economic problem is caused by the current president is sheer stupidity. I'll tell you that I'm much more infuriated by people voting for stupid reasons than not voting at all.
Posted 11/03/2008 10:42 PM in Christianity, Politics, Ramblings
Link To This Blargh | View/Add Comments (9)


---

We need more of God's love
I was really surprised to see a commercial on TV declaring in a catchy tune that "we need more of God's love to help us love one another." I was even more surprised to find that the commercial was from Interstate Batteries. Here's a message from their CEO, Norm Miller, followed by the commercial, "God's Love."


Posted 09/13/2008 06:25 PM in Cars, Christianity, Videos
Link To This Blargh | View/Add Comments (3)


---

Bible Study, Condo, Car Updates
A new bible study has started at church. Previously we had been meeting at Paul and Jina's but this year they are changing the format a little. Primarily, most of the groups will be moved to church instead of someone's house. This makes it difficult on the weekdays b/c it's a long commute to church. So I've joined the Sunday bible study and there's a lot of people I don't know so well, which is good. It should be a fun a group.

My only concern is... I can't remember the last time we actually studied the BIBLE in Bible Study. We seem to be doing a lot of book studies, which are good sometimes, but in the end, if we're not studying THE Book then reading as many other books as we want can misguide us or take our focus away from God. We'll see how it goes though.

I am one step closer to getting a house. I may have to pull some financial tricks to get it done but I've learned about more options. The big one is the 80/20 (or piggy back) loan. You take a 80% mortgage on your house to avoid PMI (mortgage insurance) and a home equity loan on the other 20%. No down payment necessary. Interest is higher, but the monthly payment is usually lower. There are risks and disadvantages but they are balanced against building equity in your own home instead of paying rent as well as tax benefits.

This way, I wont be dependent on my parents so much and I will be able to keep my savings and potentially pay off my car sooner, since that comprises a sizeable monthly bill. The other interesting development is that the unit (10A) directly under Ben (10B) went on the market yesterday. That is quite an interesting option...

The other thing that has been occupying my mind is the tuner equipment I ordered. It was created by a reputable Subaru tuner, TurboXS. It's called the User Tunable Engine Computer (UTEC) and is a piggyback Engine Control Unit (ECU) system. This means literally that it piggybacks to the top of the stock ECU and figuratively piggybacks (intercepts and modifies) the electric signals coming from and going to the engine from the ECU.

So far I've read about 150 pages of information on how to install and tune the UTEC. A stock STi, it should be good for about 20 extra HP using a conservative tune. Alas, I cannot do any serious tuning until I get the gauges and sensors to safely do so. Amazingly enough, all these gauges and sensors will cost at least twice as much as the UTEC so that's going to be a long time from now.

My favorite part is note on the cover page, "THE UTEC PROVIDES MORE THAN ENOUGH CONTROL FOR YOU TO DESTROY YOUR ENGINE!" Yee ha!
Posted 01/10/2005 02:06 PM in Cars, Christianity, DIY, Ramblings
Link To This Blargh | View/Add Comments (10)


---